Where or how do I even begin this series? For a four-day trip, it sure was wonderful!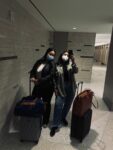 Let's take it from the top. After searching for flights for days, my friend Renata and I finally settled on departing from New York City mid-week, as it would work best for our schedules and plans.
I took the train into a hectic New York City on the Tuesday of the horrible subway attack; it was madness in the Midtown West areas as Ubers, Lyfts and every other shared ride service was unavailable and prices were through the roof … not to mention the long subway delays. I waited about 45 minutes for a Yellow Cab driver willing to head uptown. I made it to Renata's house; and after going over our itinerary and checking in for our flight, we called it an early night to rest up for the travel that awaited us.
Up bright and early the next day, we basked in the sunrise on our way to La Guardia Airport and were ecstatic to not encounter traffic on the way. If you're familiar with the city's morning rush hour, then you know this makes for a happy commute. Although long, the line through security moved rather quickly, which left us with enough time to grab coffee and breakfast.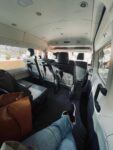 Our first flight from New York to Dallas was smooth and quick; our second flight was quick but not as smooth, as we were on a flight full of people heading to the same retreat. Read this as chaos: trays of food being passed down the aisle, grumpy teenagers kicking the back of our seats, and the couple in front of us fighting with the flight attendants about mask mandates and smoking their vape. Yes, you read that right: smoking their vape on the plane.
Needless to say, getting through security and exiting Los Cabos International Airport was the breath of fresh air we both needed. If you caught our Instagram stories last week, you might know we used Transcabo's shared shuttle as our mode of transportation from the airport to our first hotel. We shared the ride with five other travelers, and one of them was the girl directly across the aisle from us on the second flight who was part of the big retreat hosted for Passover that weekend.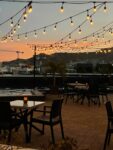 We were last to get dropped off since we were staying in the heart of the island (as locals describe it), which we didn't mind at all as it was a beautiful, scenic drive. On our first night, we stayed at Medano Hotel and Suites and didn't do much; after a nice shower, we watched the sunset from our room's balcony and ventured out for dinner. Luckily for us, we didn't have to go too far as there are a few restaurants surrounding the hotel. We found a spot that wasn't too crowded and had an open terrace. I believe the menu was more tailored for tourists, as there were more fusion dishes than actual traditional Mexican dishes. Nonetheless, I enjoyed a delicious bowl of pasta with grilled chicken in a velvety lemon caper sauce. The cherry on top was the saxophone player who serenaded us as we enjoyed our meal.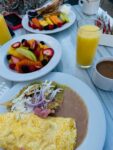 As you can imagine, we were spent after 10-plus hours of travel, so we went to bed somewhat early that night. The next morning was slow; we woke up, showered, walked around the hotel and then had some delicious chilaquiles verdes (fried corn tortilla strips simmered with salsa verde topped with cotija cheese) and eggs for breakfast. We hung out in the room for a bit before we checked out and headed to Corazón Los Cabos, where the most amazing stay awaited.
No worries, you won't have to wait two weeks to read the next part, I'll be back with more from this trip next week. Until then, check out our latest post and reel on Instagram (@globaltravelermag) to get an idea of the experience.
— Yasser Ogando, advertising & production manager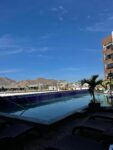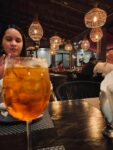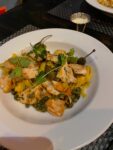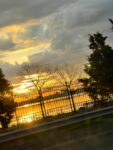 FX Excursions
FX Excursions offers the chance for once-in-a-lifetime experiences in destinations around the world.
COMO Hotels and Resorts offers travelers new immersive luxury retreats for 2022. Perfect for couples, small groups or solo travelers, the new COMO Journeys are available to book in Australia, Bhutan, Indonesia and Thailand.
Sponsored Content
Set on a seaside bluff overlooking Land's End in Cabo San Lucas, Vista Encantada Spa Resort & Residences is a Baja paradise specializing in serene vistas and impeccable hospitality, offering a Pacific coast lifestyle with authentic Mexican touches. Guests can now earn a fourth night free at the stunning resort, plus a $100 resort credit, when booking through March 20, for travel through June 15.
Anantara Chiang Mai, the deluxe resort on the banks of Thailand's Mae Ping River, relaunched the city's most famous high tea experience, served on the terrace of the 100-year-old British Consulate that today houses the resort's Service 1921 Restaurant & Bar.