As quarantine is still active in Mexico and more cases are confirmed, all we can think about is our new reality and how we're going to still be safe as we go on without normal routines and travel.
These days, having masks and gloves are as important as having socks; our responsibility is to keep ourselves and the ones around us safe to avoid a new outbreak, and not only being careful near home but having it in mind that these elements are now an important part of our travel kit. It doesn't matter whether you go to a near destination or another country, we have to stay alert, be careful and be serious about it.
Also, think about our new way of partying or getting together. Before we could be careless about people drinking from our cup, sharing a beer, singing out loud our favorite songs while hugging and without the need of a safe distance. Now we can't, at least for a while, until it's safe.
The good thing is we get to continue with our lives; at some point we will be able to get back to our daily routines; we will be able to get back to travel; we're lucky. The day will come when we will hug again safely, when we will be able to go out to our favorite restaurant or movie theater without needing to think about the danger or the risk.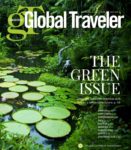 But we need to be responsible, we need to hang in there — we're almost there! Most of all, we need to be thankful to all the heroes who keep us safe!
We will travel again, and Global Traveler is ready to provide you with many good ideas for that trip you're longing to take.
— Mariana Zenizo, account executive & media rep
FX Excursions
FX Excursions offers the chance for once-in-a-lifetime experiences in destinations around the world.
Pantone recently unveiled its color of the year for 2023. The highly anticipated announcement has become a tradition, each year introducing a new color to represent the coming year. In 2021, Pantone declared 2022 to be the color of Very Peri 17-3938, a blend of purple and blue. For 2023, Pantone's Color of the Year is Viva magenta 18-1750. A shade from the red family, this color represents a new signal of strength. Brave and fearless, Viva Magenta is rooted in nature and embraces joy and celebration.
Sponsored Content
There's no better time to plan the vacation you've been missing. Step aboard with your better half, your friends or the whole family and reconnect, reunite and rejoice with 25 percent off cruise fares for all guests. We'll also help everyone get there with 25 percent off airfare from 20 major gateways across the country or $100 savings per person on flights from all other gateways when you book your air travel using Flights by Celebrity.*
The UNESCO World Heritage neighborhood of Balat rivals İstanbul's Old City for its historic significance, with an added splash of color. Its cobbled hilly streets boast a full rainbow of houses, cafés, restaurants and churches painted in pinks, reds, oranges, yellows, greens and blues — parts even surpassing my native San Francisco's steep, colorful corridors. The most vibrant stretch of homes, dating anywhere from 50 to 200 years old, runs along Kiremit Caddesi.