The "Technology" column of Global Traveler is one of my favorite each month. In this article, Jack Guy presents four technological gadgets intended to enhance the quality of life of readers. Featured in the December issue is Fizzics DraftPour, which transforms a bottle or can of beer into a glass of beer that tastes as though it has been poured from a tap. After I read about this gadget, I immediately ordered one for my husband as a Christmas gift.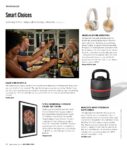 Upon opening it he was skeptical, but I told him it had even appeared on the popular television show Shark Tank, so it must be good. He proceeded to grab two bottles of beer to perform a test. The DraftPour is powered by batteries and is easy to operate. Simply place any size can or bottle of beer into the DraftPour and pull the handle. Pouring just the right amount of beer takes a bit of finesse since, if you reach the bottom, the tap sputters somewhat. So you need to pour about 2/3 of a 16-ounce glass, then remove the bottle and pour whatever is left into the glass.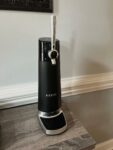 We did a taste test with one bottle of beer poured directly into a glass and the other bottle dispensed through the DraftPour. The DraftPour glass definitely tasted better and had a nicer head. I don't know exactly how this gadget works, but the company claims it uses "micro-foam technology" to convert beer into a nitro-style draft. I think it's magic!
I'm just happy my husband enjoyed his Christmas gift, inspired by our "Technology" page.
— Tracey Cullen, art director
FX Excursions
FX Excursions offers the chance for once-in-a-lifetime experiences in destinations around the world.
Recaro's new CL6720 business-class seat with doors took off recently on Iberia's Airbus A350 cabin, flying Madrid (MAD) to Buenos Aires (EZE), with a total of 31 of the seats in the aircraft's business-class cabin. The premium-economy and economy cabins also feature Recaro seats.
Sponsored Content
Exclusive Sailing with Global Traveler
In a city where new hotels, restaurants and experiences emerge seemingly every day, it's expected to feel overwhelmed when deciding where to dine. London consistently sees delicious and top-notch restaurants appear, but how can one possibly keep track of all the new and updated restaurants?