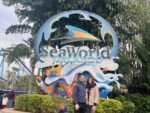 Florida reached record low temperatures this Christmas holiday, causing people to bundle up, light fireplaces and sip on hot beverages. Perfect timing, as it made Christmas more alive. I have been amazed at how innovative Florida is at keeping the spirit of Christmas traditions. For example, I could go ice skating on Christmas Eve in an outdoor skating rink made of ice, which interested me since typically temperatures are well above freezing here.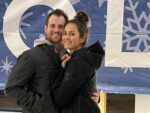 In addition, amusement parks in Orlando are busy over the holidays as they completely transform the grounds into festive wonderlands, offering many of the activities available in the colder north in the south. I was able to witness this the day after Christmas at SeaWorld.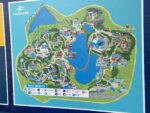 My boyfriend and I bundled up and took a road trip to SeaWorld, as we were given tickets that were about to expire. We were shocked at how busy the park was and how much Christmas décor was still up. They made all the attractions into something to spread Christmas cheer. The entire wing, from the main entrance to Orca Stadium, was a Christmas wonderland. It was filled with shops; hot cocoa and cookie stands; elves on stilts; life-sized snow globes with ballerinas inside; games with Christmas prizes; and shows performed only during the holidays, such as Rudolph the Red-Nosed Reindeer. Learn more here.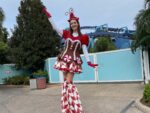 If it weren't for the cold weather, Zach and I would have stayed to ride more of the roller coasters, but instead, we decided to walk and watch all of the shows. My favorite was the orca show. The killer whales enjoyed the cold and made it their mission to splash the audience. Overall, Orlando is an excellent location for families to go during any holiday because they do a fantastic job of amplifying the spirit.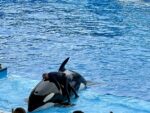 — Christyn Pek, business development executive
FX Excursions
FX Excursions offers the chance for once-in-a-lifetime experiences in destinations around the world.
Recaro's new CL6720 business-class seat with doors took off recently on Iberia's Airbus A350 cabin, flying Madrid (MAD) to Buenos Aires (EZE), with a total of 31 of the seats in the aircraft's business-class cabin. The premium-economy and economy cabins also feature Recaro seats.
Sponsored Content
Exclusive Sailing with Global Traveler
In a city where new hotels, restaurants and experiences emerge seemingly every day, it's expected to feel overwhelmed when deciding where to dine. London consistently sees delicious and top-notch restaurants appear, but how can one possibly keep track of all the new and updated restaurants?