Our recent visit to San Diego was brief, so we squeezed as much as we could into the short time we were there. Most of one day was devoted to visiting the Zoo (see last week's blog about that adventure), and we chose to spend our Sunday checking out several of the city's well-known neighborhoods. Though we had a car, a little investigation showed us a public transit option would be our best choice. All the locations we wanted to visit were stops on the San Diego Mass Transit System's Green Trolley Line, and a park-and-ride lot at a transit hub was only a mile or two from our accommodations in the Mission Valley area of the city. An inexpensive day pass would allow us to move easily between the different neighborhoods we wanted to visit without having to find and pay for parking at each spot (nor navigating our way between each of them). Even though it was a Sunday,  the trolleys (actually electric light rail trains, air-conditioned, clean and comfortable) ran roughly every 20 minutes or so and at least up until midnight.
Our first stop was Old Town San Diego, a state park since 1968 containing a small town's worth of restored and reconstructed homes and buildings from 1821 to 1872. It required merely a one-block stroll from the trolley station to enter the park, where we first wandered about Fiesta de Reyes,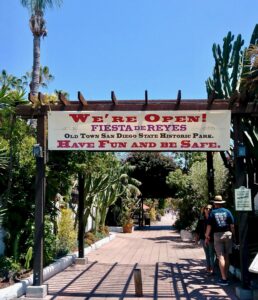 a collection of shops and restaurants surrounding some open-air performance spaces and small plazas shaded by large trees.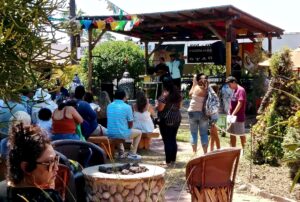 We checked out boutiques selling copper and metalwork, ceramics and textiles before venturing to the large, grassy La Plaza de Las Armas, dominated by a lovely old oak tree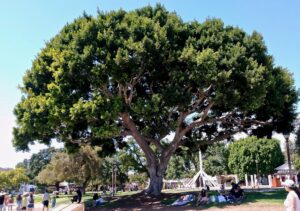 and surrounded by a host of modern businesses housed in restored buildings, many of which featured antiques and displays of period furniture and collectibles. One such shop, Racine & Laramie Tobacconist, sold an impressive array of cigars and tobacco displayed in beautifully crafted old glass and wood display cases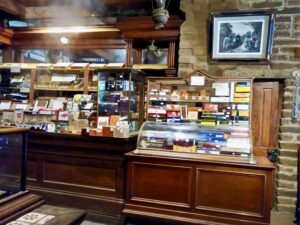 and with a massive wood stove planted squarely in the middle of the store.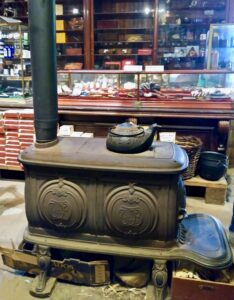 Even the shopkeeper dressed in 19th-century garb,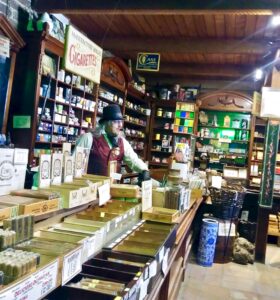 and items in the cases not for sale included an enviable collection of pistols and smoking-related accoutrements.
We wrapped up our tour through Old Town at La Casa de Estudillo, now a museum but for generations the home of a wealthy Mexican family. The large, u-shaped adobe compound boasts many large rooms set up to show how the family lived and provided housing and employment to many in the community.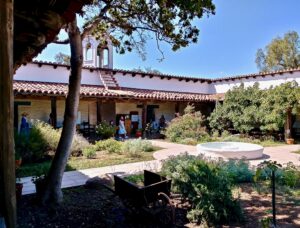 We could have spent many more hours in Old San Diego, but we were ready to wet our whistles and step back into the present, so we hopped on the trolley and traveled several miles south to the lively Gaslamp Quarter. It lies just beyond the bayside Convention Center, with the San Diego Padres' Petco Park at its southern edge.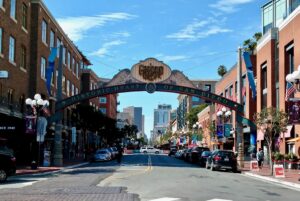 Parts of several streets in the neighborhood had been given over to pandemic-era sidewalk/outdoor dining for the many restaurants and cocktail lounges, and some empty buildings indicated businesses that hadn't survived the lengthy lockdowns this area endured. However, even on a Sunday afternoon with no ball being played at the nearby stadium, there were plenty of folks enjoying the lovely weather and the chance to eat and drink with friends again. We grabbed an outdoor table at Rockin' Baja Lobster and ordered up some calamari with a zingy-sweet dipping sauce to go with our cervezas. We also appreciated the gratis tortilla chips and trio of salsas brought to us by a very friendly server; she was clearly happy to be serving customers again.
Later, we meandered about the neighborhood and headed toward the trolley stop as the sun lowered in the sky and light breezes cooled us off. Our day's final destination was Little Italy, a charming, pedestrian-friendly neighborhood with brewpubs, restaurants, upscale boutiques and cocktail bars. We passed a lovely little piazza where folks sat at tables and listened to live music as made our way to Nonna for a casual Italian meal at a sidewalk table.
My husband and I shared a very refreshing Insalata di Cetriolo, consisting of diced cucumbers, corn, tomatoes, avocado and gorgonzola; just superb.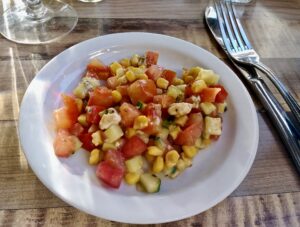 I chose short rib raviolis for my entrée, swimming in a butter herb sauce and covered with shaved Parm,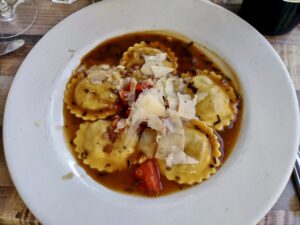 while Harry opted for the Saltimbocca, veal cutlets and prosciutto with fontina, sage and spinach.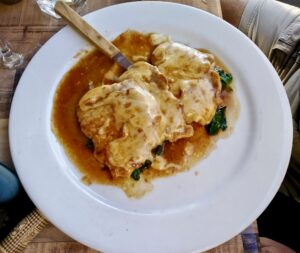 It was not fancy but very good food. We shared a nice bottle of a red Barbera d'Alba with our friends,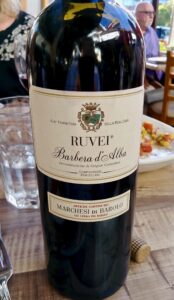 who split a light green salad and a linguini pasta dish with shrimp, mushrooms, garlic, onions and tomatoes. We enjoyed a nice, leisurely meal as we reviewed our day and wrapped it up with a nice cannoli.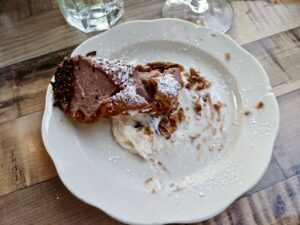 Although our first visit to San Diego was a bit of a whirlwind, I'm glad we got to see several unique corners of the city in such a brief timespan. Of course, we've left plenty still to discover on our next visit!
— Patty Vanikiotis, associate editor/copy editor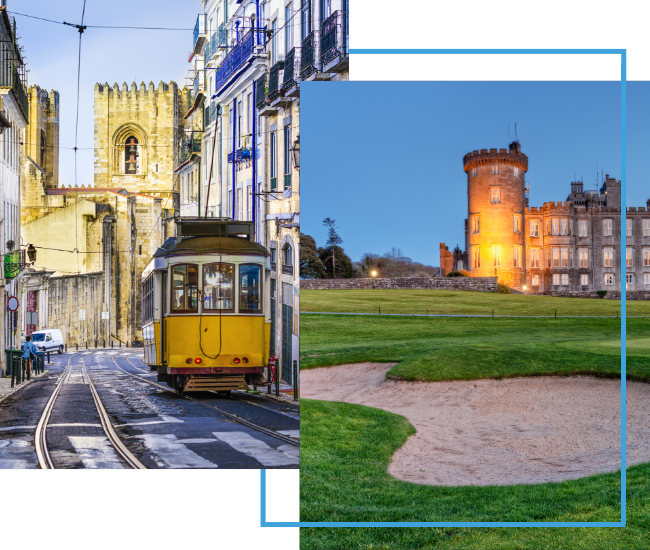 FX Excursions
FX Excursions offers the chance for once-in-a-lifetime experiences in destinations around the world.
Explore Excursions
There may not be snow in Los Angeles this season, but Waldorf Astoria Beverly Hills is certainly full of the holiday spirit, with Christmas, Hanukkah and New Year's events happening in the hotel's gorgeous event spaces.
Sponsored Content
The Islands of Tahiti offer a range of captivating activities for travelers with diverse interests, from hiking to breathtaking waterfalls, riding horses on secluded beaches; swimming with sharks; or immersing in Polynesian culture through traditional dance, music and art. For watersports enthusiasts, the crystal-clear lagoons offer exhilarating experiences like surfing, kiteboarding and paddleboarding. And if you're looking to relax, the pristine beaches, overwater bungalows and tropical sun offer the perfect setting. With 118 islands and atolls to explore, island hopping is an excellent way to experience the full diversity of The Islands of Tahiti. With its blend of adventure, culture and relaxation, The Islands of Tahiti offer a truly unique travel experience.
Looking for fun things to stuff into the toe of a few holiday stockings? Here are some great choices: