Saturday night I joined my friends Jim and Lenora Strong to celebrate Jim's birthday at an evening of dueling pianos. Double Treble supplied the excellent music, and Moretti's provided the relaxing atmosphere and delicious food.
Locally owned and operated, Moretti's has 10 locations around the Chicago area, including one in Morton Grove, a 15-minute walk from my place. Known for pizza, both pan and thin crust, Moretti's also offers a wide selection of Italian and American dishes. I have celebrated many softball wins at Moretti's over the years, and I am loving the new close location!
On the rare occasion I don't have the pizza, I love the pan-seared salmon or the lemon and garlic shrimp scampi over angel hair pasta. For appetizers, I recommend the bam-bam shrimp or grilled calamari.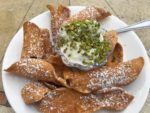 The cannoli dip is the star of the dessert menu, although there are several other excellent options. The cannoli dip features cannoli cream served with broken cannoli shells for dipping. The ricotta-based cream is just sweet enough and the shells are crisp and flaky. It passes the cannoli test for this cannoli elitist.
Double Treble is comprised of John Guerrini and Robert Kramer, two pianists who duel all evening, treating the audience to music with some comedy added to the mix. Guerrini and Kramer have been performing together as Double Treble since 2017.
Covering a wide range of music from the Beatles to the Blues Brothers to Vanilla Ice, Double Treble sticks close to the originals while making them their own. The end result is a lively set of music that not only encourages singing and clapping along, it almost demands it. They also perform some original tunes, including Just Another Piano Man, a rocking number, which obviously channels the Piano Man, Billy Joel!
It was a beautiful night on the patio, one of those nights you never want to end. It was for Jim's birthday, but we all were celebrating.
— John Wroblewski, online writer
FX Excursions
FX Excursions offers the chance for once-in-a-lifetime experiences in destinations around the world.
With fall soon upon us, California's hospitality industry ramps up for an exciting season of hotel openings. From retreats in the mountains to urban escapes, these new hotels soon hit the scene in California this fall.
Sponsored Content
THE MOST EXCLUSIVE TOURS OF EGYPT EVER OFFERED
This past May, the location of Dunfermline in Fife, Scotland, was granted status as a city of its own during Her Majesty The Queen's Platinum Jubilee. Not too shabby for a town that's actually been around for a while, boasting structures dating to the 11th century.