Yesterday I had a cool experience at Restore Hyper Wellness. More specifically, I had a well-below-freezing whole-body cryotherapy experience there . . .  -180 degrees, to be exact.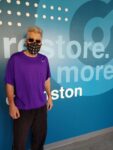 Restore Hyper Wellness offers whole body cryotherapy, local cryotherapy and cryotherapy facials. Studies show cryotherapy may help reduce pain, heal muscles, support the weight loss process, reduce inflammation, reduce anxiety and depression, alleviate migraines and more.
Cryotherapy is just one of the many services offered at Restore Hyper Wellness, a comprehensive health and wellness center. First opened in Austin, Texas, in 2015, Restore Wellness Center also offers IV drip therapy, stretch therapy, Cryoskin Facials, mild hyperbaric oxygen therapy, infrared sauna, red and near-infrared light therapy, compression therapy and micronutrient testing. With more than 70 locations, they specialize in relief from chronic pain, injury recovery, improved athletic performance, enhanced immune wellness and health-span longevity.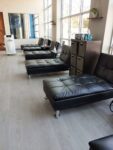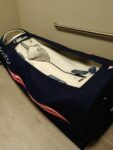 Arriving early at the Evanston location, opened in October 2020, I was warmly greeted by manager Nicole Fusco, who offered a tour while I waited for my appointment time. She showed and explained all the services they offer.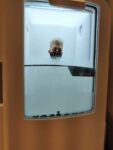 After a few minutes, it was time for my whole-body cryotherapy session. After changing into the socks, shoes, gloves and a robe provided by Restore, I stepped into the Cryotherapy room. Nicole gave a quick rundown of the process and asked me to pick a song from their list to be played during my 2.5-minute session. After Nicole set the chamber to -180 degrees, I stepped into the cold fog.
For the first half, the front window was around shoulder height, but since I was comfortable, Nicole raised the window to above my head to maximize my experience. This is when I really started to feel the therapeutic effects. Definitely cold, it was more than tolerable. It was enjoyable.
The 2.5 minutes went by quickly. After Nicole gave me a lively countdown to end the session, I walked out feeling completely invigorated. On the way home and through the next day, I felt really refreshed. My skin felt revitalized, and I generally felt more relaxed.
Aside from the excellent experience I had, an additional benefit saw 100 percent of all sales going to the Special Olympics. This was a positive day all around at Restore Hyper Wellness, thanks to Nicole and the rest of the staff.
— John Wroblewski, online writer
FX Excursions
FX Excursions offers the chance for once-in-a-lifetime experiences in destinations around the world.
It's never too early to plan that next big trip. Look ahead to 2023 with travel inspiration from these international destinations.
Sponsored Content
IHG® Hotels & Resorts certainly has a lot to celebrate, starting with an incredible growth story. Over the past five years, IHG has acquired or launched six new brands: Six Senses® Hotels Resorts Spas, Regent® Hotels & Resorts, Vignette™ Collection, voco™ hotels, avid® hotels and Atwell Suites™. Most recently, IHG reached an important milestone with its 6,000th open hotel. The company looks to further expand its portfolio by 30 percent with 1,800 hotels in the development pipeline, with significant focus on growth in the luxury segment where IHG is positioned as one of the top two hotel chains.
Tickets are now available for the 10th annual South Beach Seafood Festival, taking place this fall, Oct. 19–22. The region's best seafood and South Florida's top chefs and restaurants will be the focal point.