One challenge many people face in preparation for a trip is whether or not to bring a checked bag. The first question is, is it feasible to fit all necessities into one 22-inch-by-14-inch-by-9-inch rolling bag? Then comes: Can I manage to pack without adding all of my favorite full-sized cosmetic products and beauty commodities? The answer is, yes, I can survive without, but that might be a more complex question for some. It sounds crazy, but I have seen friends overpack for weekend getaways, or I have sacrificed my portion of a shared checked bag because they feel they need to bring everything in their bathroom on a short trip. I've met individuals who even travel with a personal makeup mirror, which takes up more space than a pair of shoes. But realistically, are those items truly needed? If you stay with friends, don't you think they would have things to borrow, or, if you're at a hotel, don't you think you can survive using provided shampoo and blow dryers as opposed to packing every gadget in hopes you will use it for an evening out? I guess that depends on the person. Below is a checklist and tips for deciding if a checked bag is necessary.
If you are flying Southwest, a checked bag makes perfect sense, as it is free!
If you are flying a discount airline where you have to pay for both a checked bag and a carry-on, such as Allegiant and Frontier, perhaps paying an extra $5–10 makes having space more worth it.
American, Delta, and United, however, charge for a checked bag but allow a free carry-on.
How long is my trip?
If it is less than three to five days, you may manage without a checked bag.
How many nights do I plan to go out? Dresses take up the least amount of space.
Bring one set of your favorite comfortable shoes that will go with all outfits.
Will I be active on this trip?
The more active you are, the more changes of clothes you will need to pack due to sweating. However, workout clothes are lightweight and should be able to easily fit as long as you are okay with wearing running shoes on the airplane. Try rolling clothes to save room and pack shorts instead of leggings.
How is the weather supposed to be? 
It may be more challenging to fit all your items in a carry-on if it is cold, as pants and sweaters take up way more space than shorts and tank tops.
Bring jeans that go with several tops.
Wear your jacket on the airplane and your chunkiest pair of shoes to save space.
If you are staying with friends or family, ask them if there is anything you can bring or if they have you covered with cosmetics and household supplies. Most of the time, friends will have all the items needed, such as curling irons, flat irons and even makeup. If you're lucky, you might even be the same clothing size.
If you stay at a hotel, they most likely have a nicely lit mirror and a blow dryer as well as shampoo and conditioner, so there is no need to pack your own.
How many pairs of shoes do I need? 
When I pack a carry-on, I limit myself to three pairs of shoes. (I wear sneakers on the airplane, I pack one pair of heels and then, depending on the temperature, I pack sandals or an additional pair of everyday sneakers.)
Shoes take up the most space and weigh the most; therefore, the fewer pairs of shoes, the better!
Will I work while on vacation? 
If you do have to work, that means your one personal item will consist of a backpack filled with a laptop and work gear, limiting extra space.
Do I have gifts to bring where I am going? 
If you are packing more than just the things you need, it might make sense to bring a checked bag, especially if you are getting alcohol to or from your trip's destination.
Am I traveling alone or with friends? 
If you travel with a friend, it might make sense to share a checked bag so you both can have extra space, and it lowers the cost.
Make sure to cross-check each other's packing lists so you aren't packing doubles of items.
What style carry-on do I have? 
Look for lightweight suitcases with spinner wheels and an expandable feature if you need to shove extra items inside.
Overall, in my mind, I try to tell myself less is more and that as long as I plan, I most likely will be able to condense down what is and isn't needed for a trip. I tend to give myself space if I go shopping or bring home something for a friend. I usually never end up wearing all the clothes I pack, so the more universal I am with my selection of clothing, the better.
— Christyn Pek, business development executive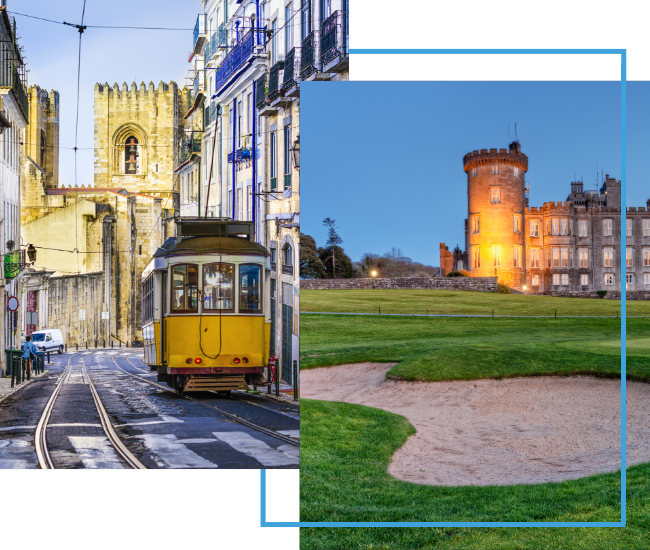 FX Excursions
FX Excursions offers the chance for once-in-a-lifetime experiences in destinations around the world.
Explore Excursions
Imagine yourself lounging in a stone cottage suite with a fireplace and freestanding tub, sipping hot chocolate in a rustic game and reading room with a raftered ceiling, and ice skating and cross-country skiing in the crisp mountain air. Sounds pretty perfect, doesn't it? Especially when you add in seasonal touches.
Sponsored Content
One affordable plan can protect an entire year of trips: business or pleasure, short or long, domestic or international.
For the first time in Olympic history, when the 2024 Summer Olympics kick off on July 26, 2024, they will not do so in a stadium. Instead of an Olympic venue, the entire city of Paris will become the Olympic stadium, hosting the games among monuments, on bridges and on the grounds of some of the world's most historic sites. The Opening Ceremony will take place on the River Seine, where athletes will drift along on a flotilla of boats as spectators wave them on from the quays and bridges throughout the city.