Ral Donner was a singer with several hits in the 1960s. He had a voice similar to Elvis Presley but a style all his own.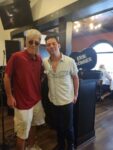 My friends Paul and Lori Myers turned me on to his son, Erik Donner, also a musician. Yesterday I finally had the chance to see Erik perform. We all met at Avanzare, a classic Italian restaurant west of Chicago, where Erik was the happy hour entertainment.
Although I enjoyed many of his performances online, seeing Erik live brought a new appreciation. He has an amazing raw energy and a connection with his audience. I definitely heard his dad's influence in his singing, but this wasn't a novelty act. When he broke into "The Girl of My Best Friend," I was in awe. It was a great blend of him and his dad, with a little Elvis added to the mix.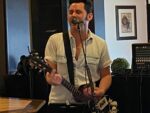 For more than two hours, Erik delighted the crowd with his takes on songs, mostly from the 1960s and '70s, including a couple of his dad's hits. Taking requests, Erik showcased his range. Erik sprinkled in just enough banter to add to the show without taking away from his music.
Avanzare provided the perfect atmosphere. Erik sang in the bar area but could easily be heard in other parts of the restaurant.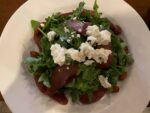 Wanting something light in the summer heat, I ordered the pear salad, a mix of poached pears, arugula, almonds and goat cheese with a lemon dressing. My friends ordered linguini with chicken and pizza. Everything tasted as good as it looked.
After the show, Erik came over and talked for a bit. He gave us a few facts about his dad, including him providing voice-over narration (in the voice of Elvis) in This Is Elvis, a 1981 film. Displaying a deep respect for his late father, Erik is carrying on the Donner legacy in his own way. His father would be proud.
— John Wroblewski, online writer
FX Excursions
FX Excursions offers the chance for once-in-a-lifetime experiences in destinations around the world.
New Orleans has a full roster of activities, events and festivals enticing guests throughout February and March.
Sponsored Content
Located in the South Pacific, The Islands of Tahiti are just eight hours by air from California. Surrounded by pristine, crystal-clear blue waters, the 118 islands and atolls offer natural beauty, authentic island culture and unique French Polynesian style. The Islands of Tahiti are world-renowned for white-sand beaches, stunning turquoise lagoons and varied landscapes ranging from coral atolls to volcanic mountain peaks. Privacy comes naturally in The Islands of Tahiti and offers visitors the space to relax and reconnect and to be Embraced By Mana. Mana is the life force and spirit that connects all things in The Islands of Tahiti.
With Black History Month and Women's History Month right around the corner, it's time to highlight and recognize South African women working hard to make the travel industry better.