Ral Donner was a singer with several hits in the 1960s. He had a voice similar to Elvis Presley but a style all his own.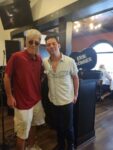 My friends Paul and Lori Myers turned me on to his son, Erik Donner, also a musician. Yesterday I finally had the chance to see Erik perform. We all met at Avanzare, a classic Italian restaurant west of Chicago, where Erik was the happy hour entertainment.
Although I enjoyed many of his performances online, seeing Erik live brought a new appreciation. He has an amazing raw energy and a connection with his audience. I definitely heard his dad's influence in his singing, but this wasn't a novelty act. When he broke into "The Girl of My Best Friend," I was in awe. It was a great blend of him and his dad, with a little Elvis added to the mix.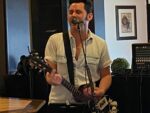 For more than two hours, Erik delighted the crowd with his takes on songs, mostly from the 1960s and '70s, including a couple of his dad's hits. Taking requests, Erik showcased his range. Erik sprinkled in just enough banter to add to the show without taking away from his music.
Avanzare provided the perfect atmosphere. Erik sang in the bar area but could easily be heard in other parts of the restaurant.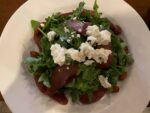 Wanting something light in the summer heat, I ordered the pear salad, a mix of poached pears, arugula, almonds and goat cheese with a lemon dressing. My friends ordered linguini with chicken and pizza. Everything tasted as good as it looked.
After the show, Erik came over and talked for a bit. He gave us a few facts about his dad, including him providing voice-over narration (in the voice of Elvis) in This Is Elvis, a 1981 film. Displaying a deep respect for his late father, Erik is carrying on the Donner legacy in his own way. His father would be proud.
— John Wroblewski, online writer
FX Excursions
FX Excursions offers the chance for once-in-a-lifetime experiences in destinations around the world.
Manchester, a city already buzzing with energy, welcomes some exciting new additions, from boutique hotels to highly anticipated culinary destinations to historic venues. Plan a trip to Manchester to not only indulge in your favorite soccer team but also to enjoy delicious food, both charming and luxury accommodations, and lively events and venues.
Sponsored Content
Sweet tea. Soul food. Y'all. Sound familiar? Though these words and phrases are commonly associated with the South, it's understood in any language. If you're seeking a city abroad that will enchant you, capture your attention from start to finish and welcome everyone as family, we cordially invite you to visit Savannah.
Porvoo, Finland, only an hour from Helsinki, is a medieval coastal town and a cultural haven, well known for its exciting culinary scene, colorful wooden houses and cafés. Here, you will discover the new Runo Porvoo Hotel, a family-owned landmark building and business blending Finnish traditions with contemporary Nordic design, world-class artwork and the rustic-meets-modern allure of American Shaker-style furnishings.