I don't think anything will surpass watching the Chicago Cubs play in the World Series at Wrigley Field, but seeing Billy Joel perform there is a close second. I've seen him there three times, including this past Friday night.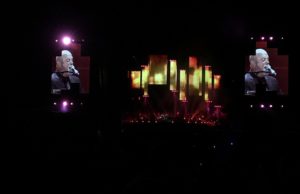 It was a near-perfect summer evening when "Miami 2017 (Seen the Lights Go Out on Broadway)" signaled the start of the show. "Pressure" followed, and a nostalgic two-hour romp through Joel's discography was well underway.
Joel played up the Chicago crowd by belting out "Go Cubs Go." The crowd roared its approval and sang along with the chorus. Continuing with the baseball theme, he had a few "fielder's choices," where the audience got to choose between two songs. While I appreciate the audience participation, choosing between any of his songs is always tough for me.
Paying homage to the Beatles on the 50th anniversary of the iconic Sgt. Pepper's album, Joel performed a magical version of "A Day in the Life." He later revisited the Beatles by breaking into "A Hard Day's Night" in the middle of "The River of Dreams" and also performed an abbreviated version of Chicago's "25 or 6 to 4."
By the end of the 28-song night, I was emotionally spent. Joel's music has spoken to me since the moment I heard "The Stranger" 40 years ago. Back then, I never dreamt I'd be sitting in the outfield at Wrigley as Joel strolled through 40 years of my favorites.
Joel has performed at Wrigley six times, and I will be there if he comes back for a seventh. Seeing him at his home stadium of Madison Square Garden is on my bucket list, but I will not miss any future visits of his at Wrigley.
— John Wroblewski, distribution specialist
FX Excursions
FX Excursions offers the chance for once-in-a-lifetime experiences in destinations around the world.
COMO Hotels and Resorts offers travelers new immersive luxury retreats for 2022. Perfect for couples, small groups or solo travelers, the new COMO Journeys are available to book in Australia, Bhutan, Indonesia and Thailand.
Sponsored Content
TAP Air Portugal, or rather Transportes Aéreos Portugueses, was founded 77 years ago, March 14, 1945, and flew its first commercial flight September 19, 1946, inaugurating service from Lisbon to Madrid, Spain, aboard a Douglas DC-3.
Anantara Chiang Mai, the deluxe resort on the banks of Thailand's Mae Ping River, relaunched the city's most famous high tea experience, served on the terrace of the 100-year-old British Consulate that today houses the resort's Service 1921 Restaurant & Bar.