Serendipity is the occurrence of events by chance. Serendipity is also a pop/rock band from the Chicago area. Last night, serendipity led me to Serendipity.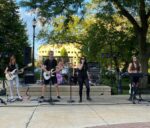 Last week my friend Jim mentioned enjoying a Serendipity concert. While at my library, I saw a poster for Wednesdays on the Green, a concert series in the courtyard. Serendipity was the next band.
We arrived early and set up our lawn chairs. By the time the concert started, I was surprised to see about 300 people. Serendipity started on time and immediately filled the air with lively covers of songs from the 1960s–80s.
Serendipity played an energetic 90-minute set. The popular songs were mixed with fun banter. Each musician had a solo moment to shine. The vocals were strong and the music was tight. I was really impressed by the entire band.
One other wonderful part of the show was seeing the mix of ages. Toddlers danced in front of the stage while folks of all other ages danced off to the sides or grooved in their seats. I'm sure the neighboring retirement home had many of its residents in attendance.
I really enjoyed Serendipity. While talking with them after the show, I picked up a card listing future concerts. I look forward to seeing them again. I also learned they are working on original songs.
Just blocks from my place, I look forward to a few more concerts this summer. It'll be tough for anyone to top Serendipity, but I'm sure they will be excellent.
— John Wroblewski, online writer
FX Excursions
FX Excursions offers the chance for once-in-a-lifetime experiences in destinations around the world.
COMO Hotels and Resorts offers travelers new immersive luxury retreats for 2022. Perfect for couples, small groups or solo travelers, the new COMO Journeys are available to book in Australia, Bhutan, Indonesia and Thailand.
Sponsored Content
Start planning that long-awaited trip to the island of Ireland. With all travel restrictions now lifted, there has never been a better time to visit.
Anantara Chiang Mai, the deluxe resort on the banks of Thailand's Mae Ping River, relaunched the city's most famous high tea experience, served on the terrace of the 100-year-old British Consulate that today houses the resort's Service 1921 Restaurant & Bar.