Last Saturday night, a group of my friends watched our mutual friend Tommy Else live out his unimaginable dream. Tommy played an acoustic set at Madame ZuZu's Tea Shop in Highland Park, Ill. Also in attendance was Billy Corgan, owner/operator of Zuzu's, frontman for the Smashing Pumpkins and Tommy's musical idol. We all know Corgan from working together on various events and projects.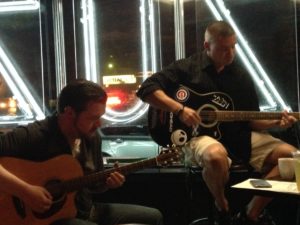 I like, respect and appreciate Corgan, as do the others, but Tommy's emotions run much deeper than ours. Prior to the performance, Tommy said, "Billy Corgan has been one of my biggest musical idols/influences for 20 years. The 15-year-old me would never believe a day would ever come that not only would I have the opportunity to perform at his tea house, but that he'd be there for it." Tommy is a self-taught musician. Music is a passion but not his profession. He is a personal trainer. Aside from his bulging biceps, you would never know that based on his performance Saturday. Accompanied by his longtime friend Bill Harris, Jr., Tommy strummed and crooned through a two-hour set, performing a flowing mix of covers and original tunes. His version of "The Gambler" was especially poignant, as it was inspired by Corgan. I also have to mention I totally popped for "This Magic Moment," a last-minute addition to his set (and one of my favorites from the 1960s).
Everything about this night was perfect. Zuzu's is an intimate setting with a lot of character. The bright neon Zuzu's sign gave a cool backlight to Tommy and Bill. The night was filled with good music and great friends. As the set ended and applause boomed, Corgan came forward to thank and congratulate Tommy, after he had been keeping a low profile and making certain this was Tommy's night. It most definitely was Tommy's night, and we were all just happy and proud to be there with him.
— John Wroblewski, online contributor
FX Excursions
FX Excursions offers the chance for once-in-a-lifetime experiences in destinations around the world.
First opened in 1742 by George William Wilton, a seller of oysters, shrimp and cockles near Haymarket in London, Wiltons continued drawing diners with its delicious food for more than two centuries. This summer, Wiltons celebrates its 280th birthday and its place as one of London's most beloved fine-dining establishments with a unique dining experience.
Sponsored Content
Global business travel is making its way back, even as the pandemic and other world events continue to challenge its return. In a recent poll from the Global Business Travel Association, more than four in five respondents (86 percent) from across the industry said they feel more optimistic than they did at the beginning of the year. Business travel bookings, the need to travel to do business and employee willingness to travel are all on the rise.
Resting on the edge of Reykjavik's Old Harbour next to the soaring, sparkling glass edifice of Harpa concert hall and conference center, the brand-new Reykjavik EDITION brings a new level of swish lodging to Iceland's capital city. Steps from Laugavegur — the city's main shopping street — and an easy walk to a wide selection of museums, restaurants and cafés, the newly opened hotel delivers high on luxury and service in a location ideal for becoming fully engaged in the energy of this spirited capital city.