First off, plan on AT LEAST 4–5 days, ideally a week, to get to know The Eternal City. I mean … it's eternal, not Reno. As anyone with even a grade school grasp of world history knows, Rome has been there/done that. The Romans not only did it, chances are they invented it.
Yes, contrary to the delightfully hilarious "Greeks invented everything" propaganda Nia Vardalos infuses into her Big Fat Greek Wedding movies, the Romans did their share of inventing; concrete, the calendar, central heating. Every time I flush a toilet and enjoy the benefits of indoor plumbing, I think of Rome.
But whether your first visit is four days or four weeks, Episode #98 of A Fork on the Road podcast featuring Rome's No. 1 tour guide will give you a plan to make eternal memories.
TRAVEL & ACCOMMODATIONS
AIRFARE from the United States varies greatly in cost and service by the season and origination city. If you have lots of points on one of the big three, buy an economy seat and use points to upgrade to premium economy or business class. Flying on Tuesdays and Wednesdays will be the least expensive. We have flown several times on the new Norse Airways. As you can see in one of the videos in the episode, premium economy first row bulkhead seats almost lie flat and are comfortable seats for a fraction of business class. Book an overnight flight on one of their new 787 Dreamliners, sleep, then when you wake up its lunchtime in Rome. Less jet lag and more comfort allow you to hit the ground fresh and ready at FCO.
LODGING: The most important element to your selection is LOCATION. Where will you be spending most of your time? Stay near there in a 3-star or better hotel. If you're going to rent an apartment or villa, same thing. Tuscany is gorgeous, but know that you're looking at a train ride to get into and out of the city every day. Staying in a gorgeous, lush hotel is always nice, but consider how much time you're going to be spending there. It's not a Caribbean resort where you never leave. In Rome you wake up, eat breakfast, then are gone until late. Why pay for amenities you will never use? Blitch recommends a value and a luxury hotel during the episode.
LOCATION
Rome has seven hills and many neighborhoods worth exploring; Vatican City, Trastevere and the Spanish Steps are among many worth your time. A great way to get a big-picture feel for Roma on Day One is the Vepsa Food Tour from Eating Europe. You sit behind a fearless Vespa driver and hang on for dear life as they zip you over ancient stone roads (another invention), down tiny alleys and into piazzas filled with street food, local wine and loud Italians. The tour includes five to eight stops at local restaurants featuring Rome's best appetizers, mains, wines and gelato. When it's over, you have a good idea of the areas you want to revisit in detail.
MUST-SEE
FORUM/COLOSSEUM: The Forum/Colosseum was ancient Rome's central entertainment and social zone. Gladiator fights, lions eating vanquished enemies, even dramatic re-enactments of ancient naval battles were all ticketed events in the venue. Don't carve your name into the Colosseum or you'll pay a fine and do time like the idiot American wannabe influencers did in the summer of '23. Take a pre-booked guided tour of the Colosseum to avoid lines and get the most out of your visit. The best value we've found is When in Rome Tours. Great guides, many languages, line-cutting access that gets you inside faster with more access than just wandering on your own.
VATICAN CITY/ST. PETER'S BASILICA: The Vatican Museum and Sistine Chapel tours, via a tour guide/company, allow you to skip the lines that snake for 1,000-plus meters along the massive wall that encircles the independent city where the pope Netflix and chills. The When in Rome guides are all artists themselves and provide unique insights that help you grasp the magnitude of the world's most amazing collection of art under one amazingly painted ceiling.
Rome's #1 Tour Guide, our guest on the episode, Blitch, recommends several other tour companies, one of which gets you inside the museum before it opens to the public. The tour includes food and a complete tour before the public is admitted. After your Vatican City tour, grab lunch two blocks away at Ristorante dei Musei, a brother-sister family joint frequented by the Vatican guides. The food is so good, patrons burst into song. Tell Guilio, the owner, we sent you. And when he drops a bottle of limoncello on your table, drink it, then follow @markdecarlo on X and @markdecarloTV on IG and say "Thanks!"
TRAIN TO FLORENCE: For USD46 you can take a two-hour train ride from the main Termini in Rome to the cradle of Renaissance art, Florence. Why would you do that? The David … and days' worth of literally world-class original painting and sculptures.
NIGHTLIFE
TRASTEVERE: For dance clubs, prowl the night around the Spanish Steps to see Euro fashion and mating rituals in their natural habitat. For dinner, aperol spritzes and a huge melting pot of Romans and tourists, Trastevere is the most electric neighborhood right now. Restaurants spill out into alleys, live music fills the air, and the world's best food is everywhere. In Italy, the gas stations are Zagat-rated. Follow your nose and the crowd, talk to strangers, make new friends. Then repeat every night until you're dragged out of the city.
FOOD
Morning: As you can see from our video in the episode, all hotels you'd want to stay in will have a breakfast buffet of fruit, breads, pastries, cheese, prosciutto and local creations you'll dream about the rest of your life. If the hotel you're considering doesn't have one, stay somewhere else. If you're renting a private residence, stop into your local caffe shop and slam an espresso at the counter, grab a pastry and start exploring.
Lunch: For some reason, there is a Pizza Hut in Rome! Stand outside and slap every American who considers eating there. Follow your nose into a well-populated outdoor café in a buzzing gathering spot like Piazza Navona and watch the world shuffle by, just like Italians have been doing for 2,000-plus years. Piazza Navona has it all: food, shopping, drinks and people who can't talk without their hands. Walk by the tables and listen for Italian … the locals know the best food.
Dinner is served later than in the United States. Same rules: find a momma and poppa place filled with Italians, have a drink and eat what they suggest. Don't overpay for wine. Ask your server to bring their house wine. It will be excellent because the Italian restaurateurs have too much pride in their food to ruin it with crappy wine. Blitch's faves include Mimi e Coco, O'Pazzariello and La Montecarlo. The food will be less than a day old, the meats will have been cured for months, and you'll eat more than one basket of bread — even you gluten-free folks. The ancient grains in Italy typically don't cause the same problems as American GMO-grain breads. And don't even get me started on the local olive oil and cheese you mix together to dip that bread into. Marone!
Dessert is gelato. Always … sometimes more than once a day. Blitch talks about his favorites in the episode, including Gelateria Artigianale, and how to avoid "tourist" gelato and only eat genuine Italian gelato.
Italy has the best food in the world. Find me anyone who says different, and I'll show you someone with an empty passport. If you have anything less than a spectacular meal in Rome, you haven't been paying attention.
@MarkDeCarlo – X
@MarkDeCarloTV – Instagram
— Mark DeCarlo and Yeni Alvarez, A Fork on the Road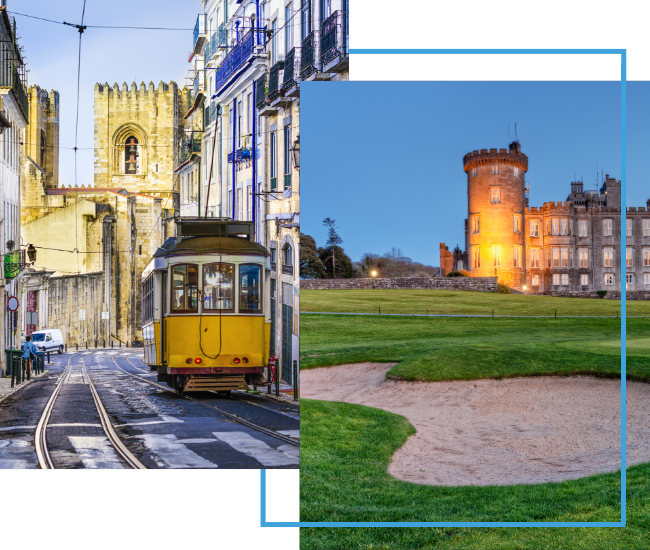 FX Excursions
FX Excursions offers the chance for once-in-a-lifetime experiences in destinations around the world.
Explore Excursions
Everyone loves a good Christmas tree, but these iconic hotels around the world take it one step further with designer-styled trees illuminating lobbies and public spaces, wowing all who enter. From Lela Rose to Louis Vuitton, don't miss these ultra-luxury trees redefining tree decorating as we know it.
Sponsored Content
IHG Hotels & Resorts is thrilled to announce the launch of a new mobile product feature for members: IHG Wi-Fi Auto Connect. This feature is now available exclusively in the IHG One Rewards mobile app for both iOS and Android users and will automatically connect IHG One Rewards members to WiFi upon arrival at more than 5,000 IHG hotels worldwide — no separate passwords or log-ins needed. This is in addition to the exciting benefits of being an IHG Business Edge member. IHG Business Edge provides small- and medium-sized businesses access to a user-friendly portal that displays comprehensive spending and savings data while providing the convenience of direct booking with a guaranteed discount.
As another phenomenal year of travel comes to an end, it's time, as always, for Global Traveler to celebrate and award those who do it best as we announce the 2023 winners of the GT Tested Reader Survey awards. But that's not the only cause for celebration here: We've hit another major milestone, as this marks our 20th year honoring the best of the best inn world of travel!