No trip to Amman is complete until you sip the steeping mint tea, dive into delectable sweets and set your sights on the unparalleled antiquities as visitors pour into the busy souks that lap the city center and surrounds. You'll likely hear the Jordanian welcome, "Ahlan wa sahlan," meaning, "Welcome, you are part of the family, and there are no hills between us!"
In a wave of ancient cultures that meshes Byzantine, Christian and Islamic roots, this desert kingdom bestows an oasis of calm — a purveyor of stability and safety in a Middle Eastern region that has seen its share of unrest.
Established only in 1946, the Hashemite Kingdom of Jordan is a relatively new kid on the block. Its capital, Amman, presents a fascinating contradiction of old and new, with past relics amid new urban developments. Situated in a wadi (valley), Amman offers an ideal starting point to discover a nation of riches in a compact country. There's something extraordinary for everyone to experience beyond the city. Relax by the renowned resort retreats cupping the Dead Sea. Explore the epic desert setting of Wadi Rum made famous by T.E. Lawrence, aka Lawrence of Arabia, or bask in the mysteries behind ancient Petra, a UNESCO World Heritage site described by English poet John William Burgon as "a rose-red city half as old as time."
But upon arrival at the new, energy-efficient Queen Alia International Airport with its sensational design inspired by palm fronds and Bedouin-style tents, it's time to refresh and regroup at one of the luxury hotels like the family-friendly Sheraton Amman Al Nabil Hotel or the adult-favorite Four Seasons Hotel Amman, among a smattering of other fine international urban properties.
After a demitasse of cardamom-infused Arabic coffee, gear up for sightseeing. Great for kids and friends, head to jam-packed Rainbow Street. The congested street in central Amman is a beehive of traffic, so it's best to stroll (not drive) past the cornucopia of cafés and shops that snake along the narrow alleys. Considered the "to-be-seen" spot for local Ammanis, shisha bars unfurl as patrons gather to gossip and people-watch.
For couples or friends, discover a "serenity now" moment at the Al-Pasha Turkish Bath off Rainbow Street. A panacea of steam and soothing waters, this Turkish bath haven of marble archways and domed ceilings is a his-and-hers bathhouse (call ahead for schedules) accentuating relaxation by offering popular body scrubs and massages.
In the market-rich Al-Balad district near the Ottoman-inspired King Hussein Mosque, a maze of vendors selling everything from prayer beads and mats to tiles and teapots dizzies the mind but proves worth the visit in these aisles of shops and eateries at the buzzing Bukharia souk. For vegetables and spice shops, Souk Al-Sukkar in the same area offers street commerce at its best. Amid the friendly vendors, see geometric mounds of cinnamon, sumac and well-stocked olives and dried fruit. If jewelry and ornate costume-designed pieces pique your interest, stop at the nearby Gold Souk, laden in fanciful displays of shining jewelry; prepare to barter for some of the best deals around.
The Al-Balad area also houses Roman antiquities. Observe the Nymphaeum, built in the year 191 and dedicated to river nymphs, once boasting a swimming pool. The nearby restored Roman amphitheater, built facing north to shade spectators, now hosts concerts and houses the Folklore Museum and the Museum of Popular Traditions. Both venues possess a rich collection of mosaics and traditional household items. After the museum visits, spot the remains of the intimate Odeon theatre, believed to have held roughly 600 spectators in its heyday.
Looming over the city like a sentinel, the towering Citadel offers fabulous 360-degree panoramic views including the extraordinary vestiges of an Umayyad-period palace, the Temple of Hercules and a Byzantine church. Visitors can also glimpse the past at the nearby Jordan Museum, home to a collection of artifacts.
On the other hand, modernity reigns supreme in the city center at the multilevel Abdali Mall. Pegged as the "new downtown" by insiders, the Abdali mega project boasts the city's newest shopping complex — the country's first using green technology and local materials. Moms and friends can get their retail therapy fix ambling inside a state-of-the-art center that houses luxury boutiques, restaurants and palm tree-fringed cafés. Families, meanwhile, converge at the on-site space-themed entertainment center, Galaxy Park, an action bastion bedecked in arcades, a roller coaster and a kids' play area.
For play and critter spotting, stroll the trails at the city's first thematic park, Prince Hashem Bird Park in the Shmaisani area. Later, for quiet contemplation and fabulous sunsets over the fabled capital, couples and families gather at the city's favorite green space, King Hussein Park. Considered the city's most important park due to the green space, locals enjoy the natural setting as they peruse a cultural village and gardens and watch the end of the day in this beguiling land of the Levant.
Amman Info to Go
The state-of-the-art Queen Alia International Airport (AMM) — in the past ranked the best airport in the Middle East by Airport Council International — lies 19 miles south of Amman, roughly a 30-minute drive. International travelers have options for airport transfers from shuttle buses to car rentals. For taxis to downtown expect to pay on average $20–30, depending on traffic. Some travelers may choose to use Uber or Careem, a Dubai-based ridesharing program, recently introduced.
Where to Stay in Amman
FOUR SEASONS HOTEL AMMAN Located on a hill overlooking the city, this luxury hotel near the business and shopping districts boasts the city's largest room sizes and convenient shopping. 5th Circle, Al-Kindi Street $$$$
INTERCONTINENTAL AMMAN The luxury property in the heart of the diplomatic district proves a popular stay for professionals and couples who enjoy the finer creature comforts like a blissfully peaceful pool and spa. Islamic College Street $$$$
SHERATON AMMAN AL NABIL HOTEL Among its roster of amenities and services, this comfortable family-friendly property includes an outdoor children's pool and childcare, plus free internet for SPG members. 5th Circle $$$
Restaurants in Amman
HASHEM RESTAURANT A famous fixture on the culinary scene since 1952, this local establishment epitomizes sublime Levant vegetarian cooking with a crowd of patrons dining alfresco on legendary hummus, falafels and other classic dishes. King Faisal Street $
ROMERO RESTAURANT A small piece of Italy, this fine-dining restaurant showcases seafood, pasta and carne inspired by the creator's Italian roots and is a nod to her father, who established the city's Italian hospital in the 1920s. 3rd Circle $$$$
SUFRA RESTAURANT A favorite of King and Queen Hussein, this upscale casual restaurant specializes in Jordanian fare with spicy Bedouin-style kitchen influences in a classic contemporary setting of faience and natural accents. Al Rainbow St. 26 $$–$$$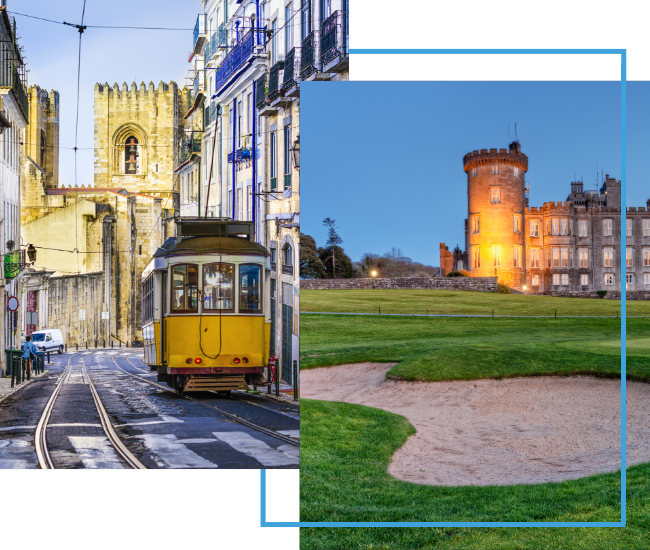 FX Excursions
FX Excursions offers the chance for once-in-a-lifetime experiences in destinations around the world.
Explore Excursions
It's time to start dreaming of your next trip. Here's some destination inspiration for you. Take a visual journey with us through these historic (and famous) cemeteries in Europe.
Sponsored Content
Learning more about our readers' travel habits and preferences ensures Global Traveler delivers the content you desire. As the travel industry has adapted and changed over the last few years, it's more important than ever to connect. To best meet your short- and long-term travel content needs, please help us!
A new and expanded campus at the Buffalo AKG Art Museum has been completed, reopening this summer and featuring new architecture designed by the architectural office of OMA New York, led by partner Shohei Shigematsu and project architects Lawrence Siu and Paxton Sheldahl, with Cooper Robertson (executive architect). The new expansion includes the Jeffrey E. Gundlach Building and extensive renovations to existing buildings. A $20-million commitment from New York State and Governor Kathy Hochul helped fulfill the expansion's budget and completes the $230 million capital campaign, the largest campaign for a cultural institution in the history of Western New York State.