No single description fits the Algarve, Portugal's 100- mile southern coast. Ask a northern European taking refuge from the cold, gray February of Bristol or Bremerhaven and you'll hear of its miles of golden-sand beaches, eroded honey-colored cliffs, lively nightlife and welcoming pubs, its watersports, sea caves and golf courses overlooking the sea. But ask a traveler used to the stunning architecture, lush gardens and rich history in the rest of Portugal and you're more likely to hear of the Algarve's crowded resorts and hillsides covered in rows of holiday apartments.
They're both right. With 3,000 hours of annual sunshine, the sands of Portugal's southern Atlantic coast can be elbow-to-elbow at popular resort enclaves. But they can also be nearly deserted in coves reached by local boats — the same boats that bring in the seafood sizzling so temptingly on the grills of its restaurants.
Once ruled by Moors and lapsed Knights Templar, the Algarve was the brain center of Portugal's explorations of the unknown world and has been welcoming holiday-makers for at least a century. Each area, each resort, each village has its own character.
For five centuries the Moors — Islamic invaders from North Africa — ruled this coast and much of the rest of Portugal, finally driven out by Crusaders in 1249. The Moors left behind their castle at Silves as well as their influence on architecture (look for the distinctive Algarve chimneys) and a taste for elaborate glazed tiles, known as azulejos.
You'll see these azulejos in the churches of Faro, the Algarve's capital and largest city. Faro spreads around an old, partially walled center, its streets bordered in white buildings with stork nests balanced on their chimneys. Broad avenues meet near the harbor at the graceful palm-shaded Jardim Manuel Bivar. The city remains largely aloof from the resort hubbub, with few leisure travelers staying here. Although you'll find an easy day's worth of attractions, most visitors go right from Faro's airport to the beaches.
Golfers and Portuguese high-rollers head straight for the nearby resort towns of Val do Lobo and Quinta do Lago, where the most luxurious resorts are set amid pine forests, salt lakes and sweeping sea vistas. Four championship courses attract golfers, and others enjoy multiple watersports, lake fishing or just lounging at the pool or beach.
A purpose-built resort of tree-lined avenues separating apartment-hotels, Vilamoura has the Algarve's largest yacht marina, holding as many as 1,500 boats. Shopping or boat-related activities — from scuba diving and deep-sea fishing for big game fish to cruises along the spectacular cliffs — draw a largely upscale international clientele.
Halfway between Faro and the Spanish border to its east is Tavira, an elegant little city with a new pousada, fine dining, lively riverfront and gardens inside the ruins of its small hillside castle. Beaches are a short ride away by boat, bike or mini-train in the large Ria Formosa Natural Park. You'd hardly know Tavira was in a resort region at all.
At the center of the beach-resort region west of Faro, the old town of Albufeira drops through steep winding streets to the little fishing beach and, despite the high-rises that surround it, maintains some of the charm of its origins. As in other towns in the western Algarve, the accents you'll hear will be largely those of British visitors on packaged vacation weeks.
Carvoeiro is perhaps the prettiest, and certainly the least visibly changed by tourism, with village streets dropping down to the little cove beach. Don't look for upscale luxuries but for a sense of the old Algarve and the feel of the little fishing village it was. Just east is Algar Seco, the most impressive of the fantastic rock cliffs that characterize much of this coast.
Praia da Rocha (Beach of Rocks) doesn't pretend to be anything more than it is — a beach resort. The 17th-century fort offers wonderful sunset views, and the rocks for which it is named soar above the sand in weird eroded shapes. A somewhat raucous nightlife draws a youngish crowd, and the resort is also popular with families.
In Portimão, a busy port and commercial center, you'll find tiled-front houses with iron balconies and a few streets full of character around its main square. Cruise up the river in a traditional moliceiro (high-prowed boat) to visit Silves.
Inland and apart from the coastal holiday resorts, Silves was the Moorish capital; its major attraction is the sprawling castle of the last ruler, surrounded by walkable ramparts with views over the entire valley.
West of Portimão, Lagos is a genial blend of lively working town and resort, with enough attractions — a fort, shops and a knock-out gold church interior — to warrant its share of visitors and hotels to house them.
To sense the history of Sagres and Cape St. Vincent — the most southwestern community in continental Europe — brave its winds on a glowery day, when the forbidding cliffs and even more forbidding gray sea could make you believe — as ancients did — that this is indeed the end of the earth. Prince Henry the Navigator knew otherwise and set up his school of navigation here at the point of some of Europe's worst seas, overseeing Portugal's great age of discovery. Even though you may get less of a feeling of its haunting history on a clear day, it is glorious, the bare point abloom with wildflowers, birds soaring overhead and the sea pounding below.
In short, head to Val do Lobo, Quinta do Lago and Vilamoura for golf, yachts and upscale pleasures; Albufuera and Pria da Rocha for typical sun-and-sand atmosphere; Carveiro for a taste of old-time Algarve and magnificent sea cliffs; Sagres and Silves for a history fix; Lagos and Faro for real life and gold-washed churches; and elegant Tavira to add the grace note.
---
LODGING
POUSADA DE SAGRES, INANTE
Settings for hotels don't get much better than this spot where pre-15th-century Europe was sure the earth ended. Poised above the Atlantic at Europe's southwestern tip, each of its 51 contemporary guestrooms has a balcony overlooking the sea, air conditioning, minibar, cable TV, a desk, a safe, hairdryer and bathrobes. The dining room specializes in seafood caught off this coast. The pousada has a swimming pool and tennis courts, WiFi and ample attractive public spaces enclosed in glass to take advantage of the views. $$$–$$$$
POUSADA DE SAGRES, INANTE
Rua Afonso de Almeida 11, Sagres
tel 351 282 620 240
http://www.pousadasofportugal.com
POUSADA TAVIRS HOTEL CONVENTO DA GRACA
Founded in 1569 as a convent, Convento da Graca was completely renovated into a 36-room luxury hotel in 2006. Its Renaissance cloister and baroque central staircase have been restored, and a portion of an earlier Moorish building discovered during restorations is visible in the bar. Spacious guestrooms have Internet, cable and LCD television, minibars and hair dryers. The property has two swimming pools (one reserved for adults), a gymnasium and parking. One advantage is its location, near the castle and handy to a variety of restaurants, although the hotel's own is excellent — think dishes such as tuna steak sauced with Parma ham and garlic. $$$$
POUSADA TAVIRS HOTEL CONVENTO DA GRACA
Rua D. Paio Peres Correia, Tavira
tel 351 281 329 040
http://www.pousadasofportugal.com
VILA VITA PARC RESORT & SPA
The glitzy cliff-top resort and its sumptuous spa are members of the prestigious Leading Hotels of the World, and the exceptional wine cellar (ask about evening tastings), 22 acres of perfectly manicured landscaped grounds, swimming pools and private 9-hole golf course add to its attractions. Exceptionally family-friendly, Villa Vita has separate kids' pools, an adventure playground and day camps, but maintains plenty of child-free space (even at breakfast) for those seeking romantic quietude. Standard double rooms are split-level, with small sitting areas and balconies, along with WiFi, CD players and minibars. Guests can charter the resort's luxury motor yacht to explore the coast.$$$$
VILA VITA PARC RESORT & SPA
Alporchinhos (Armacao de Pera), Porches
tel 351 282 31 0 100
http://www.lhw.com
---
DINING
A VER TAVIRA
Entered from the shaded plaza opposite Tavira's hillside castle, the smartly furnished dining room blends onto a terrace overlooking the tiled rooftops and the river.
The menu is sophisticated, based on products of local farms and waters. The carpaccio de bacalhau — paper-thin slices of fresh-from-the-boat cod drizzled with aged balsamic — sets the tone for what's to come. The restaurant serves light dishes at lunch (a rarity in Portugal), such as delectable quiches and salads enhanced by shellfish or Serano ham.$$_$$$
A VER TAVIRA
Calcada da Galeria 13, Tavira
tel 351 281 381 363
O LICORNE
The setting is romantic, lit by a silver candelabra on each table. These are well spaced around a fireplace in winter or on the terrace in summer. The chef's specialty is a first course of chicken breast in a creamy sauce of local cheese from Monchique, in the mountains just to the north. Wild duck may be served with almonds and olives, and vegetarian dishes are always available.$$$
O LICORNE
Estrada de Albufeira (toward Olhos d'Agua), Albufeira
tel 351 917 313 207
VILA JOYA
Michelin grants two stars to the Austrian chef of this quinta overlooking the sea for his deft use of fresh local ingredients in a world-cuisine menu. The five-course set menu offers two appetizers and three entrées, with options such as saddle of venison roasted in chocolate. In reality, dinner is closer to nine courses, due to the succession of "chef's surprises" — perhaps a set of tiny plates, each with a perfectly arranged tasting-size tidbit, or a soup blending shellfish with seasonal fruit. The dining room is intimate, the menu handwritten, the service impeccable and cordial. The piano music blends with waves crashing below in just the right background for a romantic evening.$$$$
VILA JOYA
Praia da Gale
tel 351 289 591 795
http://www.vilajoya.de
---
DIVERSIONS
For most people who come to the Algarve, the beaches are diversion enough, and even these offer quite a variety, from the low and flat eastern shore where beaches are bordered by the grassy marshes of Ria Formosa Natural Reserve to the mile-long strands of the central coast and the dramatic eroded cliffs that hug beach coves of the west.
But the Algarve is more than just a pretty beach. Three major historic sites vie for attention. Just north of Faro at Milreu are the extensive ruins of a first-century Roman villa with outstanding mosaics and a nymphaerium, later transformed into a Visigoth church. Castelo de Silves is the finest Moorish fortification in Portugal, its 10 towers joined by continuous battlements that enclose 4.6 square miles. Archaeological digs inside uncovered the 12th-century city and its Roman and Phoenician predecessors. Inside you can also descend into the gigantic cistern. A 60-foot Moorish well is preserved in the adjacent Museu de Arqueologia de Silves, built into the old city walls next to a massive gate tower. The third must for anyone with a sense of history is the windswept fortress at Sagres with its giant wind compass on the site used by Prince Henry's navigators, cartographers, geographers and astronomers. Henry set his caravels into the angry sea pounding the cliffs below.
Portuguese churches are like museums, preserving the arts of several centuries. Faro's Cathedral blends styles from Gothic through Baroque, with spectacular views of the entire coast from its square 13th-century bell tower. In the adjacent former convent, a 30-foot stretch of Roman mosaic floor, one of the largest found in the northern Roman colonies, highlights the Museu Arqueológico, Faro (tel 351 289 897 400). Local folk life, crafts and replica rooms are at the Museu Etnográfico (tel 351 289 827 610), and boat lovers will like the Museu Maritimo (tel 351 289 894 990) for models of ships from several centuries.
At Faro's Igreja do Carmo, the alt ar's carved pillars, cherubs and saints are covered in dazzling Brazilian gold. But most visitors go to see the adjoining Capela dos Ossos (Chapel of Bones), lined in intricate patterns of the bones and skulls of more than a thousand monks. Flamboyant carving, painting and gilding form a riot of decoration at Igreja de São Francisco in Faro. By contrast, Capela São Lourenco dos Matos, in Almancil (near Val de Lobo) is entirely lined in tiles from the early 1700s, even on the ceiling and dome.
The carved interior of Igreja de Santo Antonio in Lagos is also covered lavishly in Brazilian gold, and on Praca Republica is Portugal's only Old Slave Market. Cross a moat to the 17th-century Forte da Ponta da Bandeira, a fort featuring exhibits of the ships built in Lagos for Prince Henry's navigation school.
Birders will appreciate the marshes at Ria Formosa Natural Park, as well as those near Salema (west of Lagos) and the egrets nesting on sea stacks near Ponta de Piede, all accessible by local boats. Nearly every port in the western Algarve has boats offering a sea perspective of the magnificent cliffs of Algar Seco, Ponta de Piede and others. East of Carvoeiro, walk along the cliffs to the Farol de Alfanzina, a lighthouse, where paths lead you through wildflowers and around a huge chasm where the headland has collapsed.
Together, Vilamoura, Val do Lobo & Quinta do Lago have 10 golf courses, including the 36-hole Millennium and Victoria, the longest 18-hole course in Portugal. You'll find 13 more courses in the western Algarve (http://www.algarvegolf.net). Book horseback riding trail rides and lessons through your hotel at several stables, including Quinta Da Bica (http://www.algarveadventures.net), north of Albufeira in São Bartolomeu de Messines.
Most resort towns have extensive watersport facilities. The Watersports School in Praia da Luz, west of Lagos, offers windsurfing, waterskiing and sailing lessons, as well as boat trips along the shore. The beaches of Carrapateira, north of Sagres, are famous for windsurfing, hosting the 2005 World Championships. The PADI-certified Tivoli Dive Center at Carvoeiro offers instruction for all levels and challenging trips for experienced divers (http://www.tivoli-diving.com).
In most towns, after-dark activity centers around the strip of beachside bars and pubs, where Portuguese is hardly heard. As might be expected, the nightlife of Vilamoura is a bit classier than the noisy disco and bar scene along the Montechoro road in Albufeira.
---
INFO TO GO
At the far western corner of Europe, bordering Spain, the Algarve is easy to reach and accessed by frequent TAP flights from Lisbon (LIS) to its capital, Faro (FAO). Several airlines, including BMI, offer direct flights from more than 25 U.K. airports, and Aer Lingus connects from Ireland. At the airport, TAP's Navigator Lounge is open 8 a.m.–midnight. A variety of shuttle firms whisk arrivals off to all the resort towns. Avis, Budget, Europcar, Hertz, National and Sixt have desks in the arrivals concourse. For more information, visit http://www.visitalgarve.pt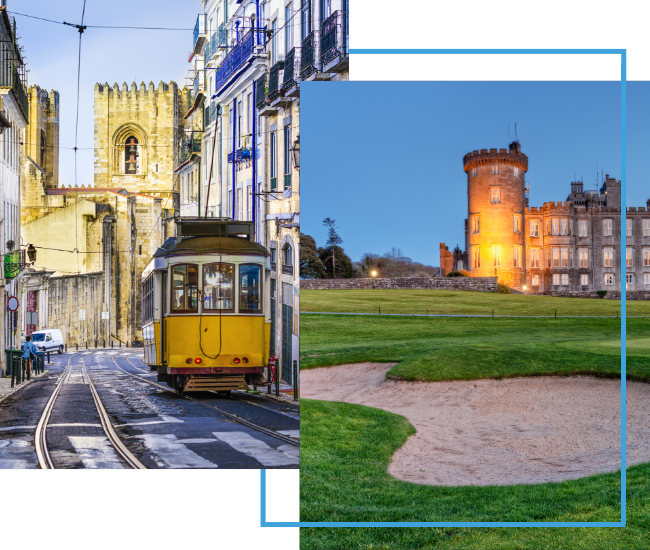 FX Excursions
FX Excursions offers the chance for once-in-a-lifetime experiences in destinations around the world.
Explore Excursions
Think of Tokyo and your mind may wander to the neon signs and bustling crowds of Shibuya and Shinjuku, or the tranquility of the Meiji Jingu shrine, but this huge city offers much to those who explore away from the main tourist areas.
Sponsored Content
Nashville's once-modest skyline continues to evolve as its luxury market grows. Lavish hotel properties are added to the landscape while acclaimed chefs stake claim in the robust culinary scene and premier cultural offerings round out the city's repertoire.
Automotive museums of all sizes will always capture the imaginations of car and racing aficionados. However, the best deliver a lot of substance beyond the machine itself. Some place an emphasis on science and technology or history, while others display iconic cars from film and television. Museums established and operated by the world's top automakers (think Mercedes, BMW, Audi and Porsche in Germany, and Toyota, Honda and Nissan in Japan) have built-in followings.