The capital of the United Arab Emirates, Abu Dhabi sits southwest of Dubai on the coast of the Persian Gulf. Its economic history continues to impact its business sector today.
Originally, pearls harvested from the Gulf attracted traders from around the world to the area, but the local economy shifted to oil when developers discovered huge reserves offshore in 1958. Because Great Britain had a long-standing, exclusive trade deal with the local sheiks, it helped bring the oil to market four years later.
Although Great Britain left when the U.A.E. formed in 1971, its influence remains in Abu Dhabi, making it easy for Americans and Europeans to navigate. Most people speak English, and most signs are written or translated into English. Additionally, because it was a trade city, Abu Dhabi has always welcomed people of all ethnicities and religious backgrounds. In fact, the mostly Muslim city's first synagogue is scheduled for completion in 2022 as part of a multifaith complex.
That doesn't mean the city takes a casual approach to Islam, the nation's official religion. The call to prayer sounds five times a day, and the work week begins on Sunday and ends on Thursday, with Friday serving as the weekly holy day and Saturday as a day of rest. Islam also influences attire and the way Emiratis conduct business.
In public, Emirati men usually wear a white shirt-like garment called a kandura that reaches their ankles, accompanied by a white or checkered headdress. Emirati women similarly wear a loose abaya, traditionally black, with a headscarf or veil. Visitors aren't expected to cover from head to toe but should dress in a similarly conservative fashion.
For male business executives, a dark-colored business suit and tie makes the best impression; women should choose a blouse that doesn't show cleavage and a skirt that at least covers the knees. As with men, female business executives should stick to dark, conservative colors. Headwear is not required for either gender.
Greetings between same-sex business associates are generally warm, with handshakes and generous praise. When faced with an Emirati of the opposite sex, proper etiquette dictates waiting until he or she extends their hand first, then extending your right hand. (Muslims consider the left hand unclean.) If a handshake is not offered, simply smile.
Emiratis value connection, so it's not uncommon for business meetings to begin with small talk. Keep the conversation light, but aim to build trust. If an Emirati asks you a question, avoid saying anything negative about the city, where you're staying or anything else, for that matter. Because trust is key, Emiratis expect you to honor your word. Failure to deliver can ruin your relationship with your business associates.
Coffee figures prominently in U.A.E. culture. Traditionally, sheiks conducted business over a cup of coffee poured by a deaf server who couldn't overhear the negotiations. While that is no longer the case, business associates often gather for coffee and dates or for a full meal. Most international hotels offer coffee service for guests or have a high-end coffee shop like Le Café at Emirates Palace, known for its 24-karat gold cappuccino.
As practicing Muslims, most Emiratis do not eat pork or drink alcohol. Some local restaurants even have sections where pork is not served, and some do not have a liquor license. However, restaurants at international hotels usually feature both. When ordering, follow your Emirati business associate's lead and skip pork and alcohol unless invited to partake.
Because the city is a hub for international business, you'll find cuisines from around the globe represented in Abu Dhabi. While most Emiratis enjoy dining on Middle Eastern fare at a restaurant like Li Beirut at the Conrad Abu Dhabi Etihad Towers, they are equally comfortable with a meal at restaurants such as Latin-inspired COYA at The Galleria at Al Maryah Island or Marco Pierre White Steakhouse & Grill.
During the meal, eat with your right hand; and if seconds are offered from a communal dish, accept graciously. (It is considered rude to refuse.) Tipping 10 to 15 percent is appreciated, especially at hotel restaurants.
Abu Dhabi has a reputation as one of the premier golf destinations in the Middle East and hosts the Abu Dhabi HSBC Golf Championship, a European PGA tournament at the Troon-managed Abu Dhabi Golf Club. Other top clubs include Al Ghazal Golf Club, which previously hosted the World Sand Championship, and Yas Links Abu Dhabi, known for its dramatic views of the Persian Gulf.
Golfing at one of these or other courses in the area presents an opportunity to develop a relationship with associates in a relaxed setting. Additionally, many golf clubs offer meeting facilities able to accommodate board meetings, training sessions and corporate banquets.
Navigating Abu Dhabi is fairly easy; although if you choose to rent a car and drive yourself, don't drink and drive. The faintest hint of alcohol can land you in jail. You can rent a car at Abu Dhabi International Airport or rely on taxis, usually cheaper than local rideshare options, during your stay.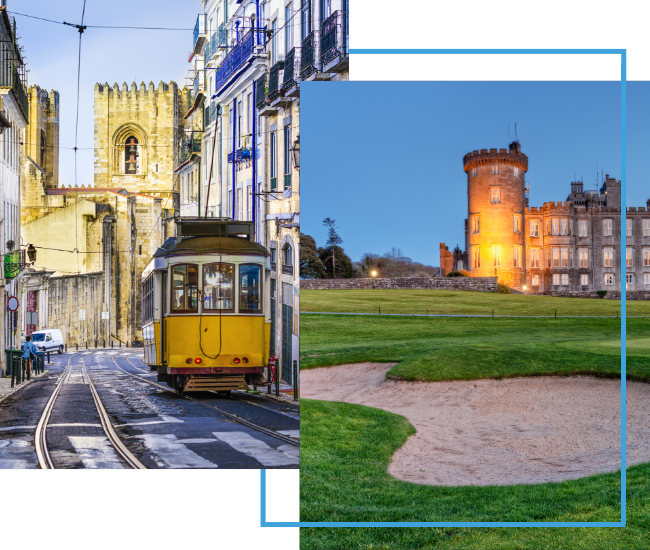 FX Excursions
FX Excursions offers the chance for once-in-a-lifetime experiences in destinations around the world.
Explore Excursions
There is something magical about sipping a glass of local wine while watching the sun slip into the Aegean Sea as the afterglow tinges traditional, white-washed Cycladic houses with glorious shades of rose, purple and gold. Ancient Greeks believed Helios, the Sun God, caused sunsets by driving his fiery chariot into the sea. Standing at water's edge in Mykonos, watching the sky slowly turn from purple to inky black, you almost believe it.
Sponsored Content
Don't risk losing all the money you've spent if you must cancel your trip at the last minute. Allianz Travel Insurance can give you:
The prospect of a post-visit treasure hunting session inside the shops of landmark museums such as the Louvre in Paris, the Uffizi Gallery in Florence and The British Museum in London can be irresistible. However, some of Europe's smaller and more unusual museums boast retail spaces with a surprising "wow" factor, often as well-curated as the galleries.