It's not every day you get a tour of the Presidential Suite at a luxury hotel.
When InterContinental Buckhead Atlanta offered such an opportunity, I did my best to remain calm and composed on the outside while doing my own personal "super happy dance" on the inside.
Our guide, sales and marketing director Drew Smith, gave Francis X. Gallagher and I a full tour of the property, kicking things off with the Presidential Suite. Anticipating nearly 1,900 square feet of living space (and an unexpected stop on our tour), I did my best to hold my levels of excitement and enthusiasm in check as Drew opened the front door.
Upon entry, wallpaper with floral shapes outlined in soft shades of grey created the feel of a southern salon using a neutral color palate. Just past the foyer, the expansive living room featured clean lines and what I would call "modern male décor" in tones of chocolate brown, light grey and black. Floor-to-ceiling windows let in an incredible amount of light and featured a phenomenal view of the city, with the fireplace and identical bookshelves serving as the key element (and perfect Instagram-able space) in the room.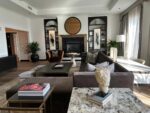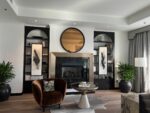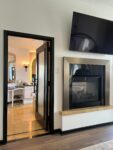 The separate dining room seated eight, complete with round dining room chairs that resembled bourbon tumblers around the edges of a black and white marble table. The master bedroom was expansive — again with the gorgeous view — and offered a California king bed with a modern canopy structure (sans canopy). Plus, there's also your own personal Peloton bike and MIRROR by Lululemon for a private morning workout. Finally, a dual-sided fireplace beckons you to see the master bathroom on the opposite side.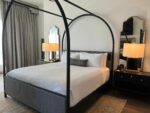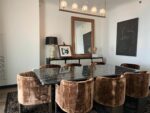 This is where my happy dance turned into a full-blown, happy-tango-disco-jitterbug all in one.
The master bathroom was gorgeous. Three large mirrors, two vanity areas, dual sinks and a full-sized jetted tub next to the fireplace made my heart sing. The waterfall shower with floor to ceiling glass doors was extremely spacious, featuring two black in-lays within the honey-colored, marble shower walls. The warmth of the lighting, the golden marble floors and splashes of contemporary gold fixtures gave the master bathroom a more feminine feel than the living area in the most subtle way possible.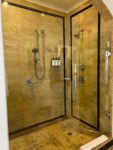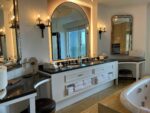 After seeing the fairly good-sized guest bath and significantly oversized walk-in closet (appearing bigger than my college dorm room), Drew also toured us around a smaller suite, the newly re-designed Club Lounge, the pool deck and graciously ordered us drinks at The Americano Bar.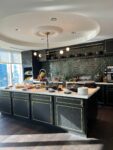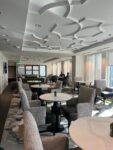 And while there's much more to talk about from my stay at this incredible hotel, I'll save those details for another post.
Until then, may you find opportunities to do your own happy dance as often as possible.
— Carrie Cox, account executive
FX Excursions
FX Excursions offers the chance for once-in-a-lifetime experiences in destinations around the world.
With the start of spring, travelers have their choice of new design-centric boutique properties opening in the coming months. Check out these properties for travel inspiration.
Sponsored Content
Learning more about our readers' travel habits and preferences ensures Global Traveler delivers the content you desire. As the travel industry has adapted and changed over the last few years, it's more important than ever to connect. To best meet your short- and long-term travel content needs, please help us!
Mendocino County is a self-contained universe of effortless, California-centric joy enveloped within the Redwood Forest National and State Parks, the rocky Pacific Coast and several prime wine production areas like Anderson Valley. If Highway 1 and Route 128 are the ribbons holding this package together, Elk Cove Inn & Spa can be considered the bow. Mendocino Coast's first vacation destination, established in 1968, is an ideal 16-room gateway to the destination.