The week of Halloween is an indicator Thanksgiving is right around the corner. Every year I cannot believe how quickly the holiday season sweeps in. Last year, during the pandemic, I hosted a small Thanksgiving with a few family members and neighbors who were in their apartments rather than with their families. Now this has become my holiday to host for years to come.
Since last year was a test, we did not write down the recipes we used for our meal. We do remember the turkey being juicy and flavorful with aromas of apple and orange. I would love to try to recreate that, as it was the first turkey I ever cooked and I was happy I didn't burn or undercook it.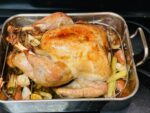 Scrolling through Pinterest, I am saving recipes for the meat, sides and desserts I would like to prepare, and I am already getting a sense of being overwhelmed. This year I will host 10 guests and am already collecting nonperishable ingredients, although I do like to use fresh when I can.
The holiday season created an emotional bond to my apartment, and my boyfriend agrees. Something about having all of our celebrations in 2020 there created a sense of home we are looking forward to — especially since this year we are able to spend it with our families together under our roof. After this weekend of Halloween festivities, cleaning and set up will begin in the Lee-Rivera household in preparation for our feast.
— Audrey Lee, assistant editor
FX Excursions
FX Excursions offers the chance for once-in-a-lifetime experiences in destinations around the world.
Sponsored Content
Exclusive Sailing with Global Traveler
NoMo SoHo recently announced the return of Rose Garden as well as the introduction of two new event spaces, The Penthouse and Nina's.