The week of Halloween is an indicator Thanksgiving is right around the corner. Every year I cannot believe how quickly the holiday season sweeps in. Last year, during the pandemic, I hosted a small Thanksgiving with a few family members and neighbors who were in their apartments rather than with their families. Now this has become my holiday to host for years to come.
Since last year was a test, we did not write down the recipes we used for our meal. We do remember the turkey being juicy and flavorful with aromas of apple and orange. I would love to try to recreate that, as it was the first turkey I ever cooked and I was happy I didn't burn or undercook it.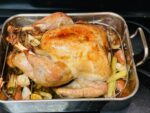 Scrolling through Pinterest, I am saving recipes for the meat, sides and desserts I would like to prepare, and I am already getting a sense of being overwhelmed. This year I will host 10 guests and am already collecting nonperishable ingredients, although I do like to use fresh when I can.
The holiday season created an emotional bond to my apartment, and my boyfriend agrees. Something about having all of our celebrations in 2020 there created a sense of home we are looking forward to — especially since this year we are able to spend it with our families together under our roof. After this weekend of Halloween festivities, cleaning and set up will begin in the Lee-Rivera household in preparation for our feast.
— Audrey Lee, assistant editor
FX Excursions
FX Excursions offers the chance for once-in-a-lifetime experiences in destinations around the world.
Grand Hyatt Vail offers travelers an exciting lineup of experiences for winter 2022/2023. The property celebrates its 40th anniversary in conjunction with Vail Mountain's 60th anniversary this December.
Sponsored Content
Start planning that long-awaited trip to the island of Ireland. With all travel restrictions now lifted, there has never been a better time to visit.
From Costa Mesa and Newport Beach to Corona Del Mar, Dana Point and Laguna Beach, there are no shortages of lavish hotels and full-service day spas spanning Orange County. Spa enthusiasts are spoiled for choice, with so many different flavors of high-end interiors, signature treatments, elaborate services, retail areas and, often, swanky snacks served in cafés and solariums.