A couple weeks ago I went to my first concert in about two years. Some of my friends from college and I spent the day at BB&T Pavilion in Camden, New Jersey, for the MMRBQ concert. Throughout the day there were a lot of different rock/alternative bands playing. I didn't really know many of the bands, but I went to have fun with my friends, enjoy the nice weather and listen to some music.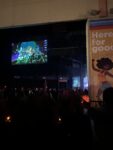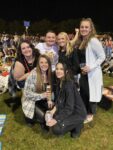 I love going to concerts at this venue because they offer lawn tickets, normally cheaper. Sitting on the lawn is the best because you have your own space, room to dance and can sit almost wherever you want! The MMRBQ was great, and I had a good time.
Last week I went back to BB&T Pavilion for my birthday to attend a concert I have been looking forward to since last May — the Jonas Brothers. I have been a fan of the Jonas Brothers since I was in elementary school. I didn't get to go to their concerts when I was younger, so I was excited to hear they were going back on tour!
I got a big group of my closest girlfriends to go to the concert. We got lawn tickets and had so much fun. They put on a really good show and made sure to play a mixture of old classics and newer hits.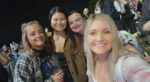 My friends and I spent the night dancing and screaming the lyrics to all of our favorite songs. Although I had the time of my life, I was sad the night went by so fast. I wish I could live it over again!
I am so happy live entertainment is back, and I can't wait for my next concert!
— Mary Melnick, social media and editorial coordinator
FX Excursions
FX Excursions offers the chance for once-in-a-lifetime experiences in destinations around the world.
Galataport Istanbul, a new cruise and lifestyle destination on the Bosphorus in Istanbul, welcomed its first ship, SeaDream II, on Oct. 1. Approximately 150 passengers and crew from Bulgaria Varna arrived at 10 a.m. for a two-day homeport operation before continuing to Bulgaria Burgaz.
Sponsored Content
This holiday season, escape to the Caribbean with Celebrity Cruises and reconnect with family and friends in luxurious accommodations that make you feel right at home. Savor globally inspired cuisine designed by our Michelin-starred chef, paired with the most awarded wine collection at sea. Elevate "me time" with a soothing spa treatment sure to renew. With both long and short cruises to celebrate in December, and even three special Ultimate Holiday Cruises that sail over Christmas and into the New Year, the time to gift an experience and create unforgettable memories is now. Celebrity Cruises' Always IncludedSM pricing — drinks, WiFi and tips — ensures a seamless, carefree vacation with the ones you love.
The countdown to Halloween weekend is on! Are you are still unsure about plans? Do you go to a house party? Stay in to hand out candy? Try something different this year and join Philadelphia's  The Mütter Museum at its 6th annual Mischief at The Mütter.