Over the past few weeks, my husband and I tried a couple new and new-to-us restaurants in Philadelphia and South Jersey.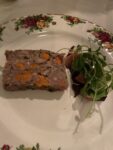 Up first, June BYOB. The French restaurant was formerly located in Philadelphia before recently moving across the river to New Jersey. The menu boasts modern French cuisine. My group and I decided to share appetizers and select our own entrées. We shared crab cavatelli, head cheese, escargot and sweetbreads. I was slightly nervous to try the latter three and was pleasantly surprised by the head cheese and sweetbreads. Both dishes were rich, flavorful and had enjoyable textures. As my main course, I opted for a trout special, with cream and lardons. It was delicious but quite rich, and I wasn't able to finish. We brought wine, which paired nicely with our meals. Overall, we were impressed with the newly opened restaurant and have reservations to return in a few weeks.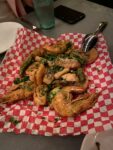 We dined at Irwin's on a beautiful Friday night. The Sicilian restaurant is located on the roof of the multipurpose Bok Building in South Philadelphia. The city skyline views at Irwin's are hard to beat, and we were happy to dine outside to take in the view. Our group of four decided to participate in the chef's tasting, which included a sampling of dishes from the small menu. To start we had eggplant caponata, olives and fritto misto. Up next was a pasta course where we tried each of the five pastas on the menu. My husband and friends didn't care for the pasta. While I enjoyed the sauces, the pasta itself was much more al dente than I prefer. There are two entrées on the menu, and we tried both. The bone-in chicken had a sweet and sour agrodolce sauce, and the fish of the day (mahi mahi) was grilled whole with citrus and salsa verde. We had fennel salad and broccoli rabe on the side. I was less disappointed with the meal than my husband and friends. Next time I would come in for wine, appetizers and view.
— Katie Skrzek, vice president/digital director
FX Excursions
FX Excursions offers the chance for once-in-a-lifetime experiences in destinations around the world.
Anantara Uluwatu Bali Resort's acclaimed Anantara Spa incorporates indigenous practices from world traditions, offering signature experiences individually personalized. And now, two renowned healers, experts in holistic, natural approaches to healing mind, body and spirit, join the celebrated Ibu Jero, High Priestess of Balinese Healers, at the spa.
Sponsored Content
Since its prestige for attracting the world elite grew in the 1960s, Greece remains the go-to destination for glittering holidays. Each step of the journey is enrobed in luxury, from culinary traditions with the highest standard of execution and name-brand, high-end shopping to first-rate wellness locales and elite accommodations, like 5-star hotels, private villas and yachts.
It's time to start dreaming of your next trip. Here's some destination inspiration for you. Take a visual journey through Tulum with us.