This is a special week as I am visiting Yellowstone National Park for the first time, adding one more stamp to my National Parks Passport. I'm enjoying my stay in a cute little cabin in an area where you can cross three states in the span of 30 minutes. It's honestly a fantastic time to be at the park, on an off week, because the crowds are quite tame.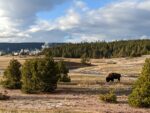 I can finally say I have experienced Old Faithful. We enjoyed some time in the general store to pick up some of the famous ice cream, which I traded for some hot chocolate because how do people eat that cold delight in such temperatures? After that it was time to see Old Faithful in real life. It's fascinating they've got the eruptions down to a science, although not precise. Hearing the pressure build up and to finally see the magnificent spout reach for the sky like the fountain show at Caesar's Palace in Vegas without the use of man-made technology was impressive. We visited various other geysers in the vicinity and even got a close-up experience with a bison enjoying his dinner. Apparently, the force of Old Faithful is more intense in the summertime, but it was impressive enough for a first timer like me.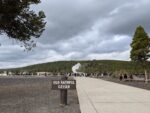 We later enjoyed a walk through Old Faithful Inn, built in 1904 with some of the most beautiful architecture I've seen recently. The property used to do tours, but, due to COVID, they are no longer doing them. You can still walk around and get a bird's-eye view of the lobby. All guests are required to wear masks inside the property. The terrace here is another great location to see Old Faithful with a warm drink in hand.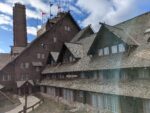 I'll have more to report in my next blog!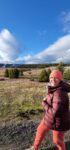 — Maria Angeles, account executive
FX Excursions
FX Excursions offers the chance for once-in-a-lifetime experiences in destinations around the world.
Crystal Bridges Museum of American Art, located in Bentonville, Arkansas, presents Diego Rivera's America, the first major exhibition focused solely on the Mexican artist in more than 20 years, on view until July 31. Crystal Bridges is the second and final stop for the exhibition, the only remaining opportunity for visitors to experience Rivera's expansive vision of America.
Sponsored Content
Europe is more fun with a Portugal Stopover.
In San Antonio, Texas, old buildings are seldom destroyed. When they fall into disrepair, they are instead repurposed and restored to maintain the city's history and traditions for future generations to appreciate. Whether it's a former brewery or bank transforming into a chic hotel or a candy factory evolving into stylish lofts, this Texas city embraces both history and sustainability.