I can only imagine becoming a parent and wanting to share every move your new baby makes with the whole world. This is certainly how I feel after recently adopting my new fur baby, Kahlua.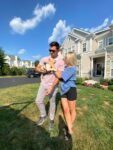 My boyfriend and I have been looking to rescue a pup for a couple of months. It was important we adopted versus looking at breeders, for personal preference. We came across Philly Rescue Angels, an organization in our city that works to place pups in foster homes and, eventually, "fur-ever" homes once they are adopted. Philly Rescue Angels is a nonprofit organization that's main goal is to rescue, evaluate and rehabilitate dogs and cats that have been abandoned or neglected.
Kahlua's story is a little different. Her mom, Blossom, was found abandoned in Georgia, saved by PRAI and brought to Pennsylvania to find a foster mom. Aimee, Blossom's foster mom, then realized Blossom was pregnant with a whole litter of puppies, helped her deliver and then guided the puppies to latch onto mama for food and comfort. Aimee told us that although this was one of the hardest things she's ever done, it has always been on her bucket list to foster puppies and be such an instrumental part of bringing them into this world.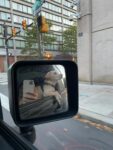 Blossom had eight puppies. She is a Plott Hound, and about four of the litter look just like her. The other handful, including my Kahlua, look like light yellow labs with a touch of white on their heads. We think there may have been a couple of dads … if you know what I'm saying.
Kahlua is currently 10 weeks old and already taking over the city. She loves alfresco dining with her mom and dad, mostly because of all the attention she gets from those passing us in Rittenhouse Square. She can confidently perform tricks such as sit, paw and lay down. We are still working on puppy jumps and leash walking.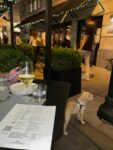 Our new pup has been such a light and great addition to our families, and we are very thankful for Philly Rescue Angels and Lulu's (Kahlua's nickname) foster mom, Aimee, who has been great at guiding and helping us with information, along with keeping us in touch with the rest of Lulu's litter and planning get-togethers for the siblings! Check out PRAI's site and consider donating to the nonprofit to support these sweet little cats and dogs.
— Haley Fogarty, advertising manager
FX Excursions
FX Excursions offers the chance for once-in-a-lifetime experiences in destinations around the world.
COMO Hotels and Resorts offers travelers new immersive luxury retreats for 2022. Perfect for couples, small groups or solo travelers, the new COMO Journeys are available to book in Australia, Bhutan, Indonesia and Thailand.
Sponsored Content
Whether you prefer a villa on the beach or an ultra-luxe suite downtown, you'll find everything you're looking for in Los Cabos.
Anantara Chiang Mai, the deluxe resort on the banks of Thailand's Mae Ping River, relaunched the city's most famous high tea experience, served on the terrace of the 100-year-old British Consulate that today houses the resort's Service 1921 Restaurant & Bar.