I recently saw Linda Eder perform at North Shore Center for the Performing Arts in Skokie. It has been a few years since I last went there, and I forgot just how great the venue is.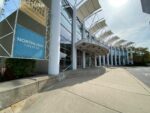 Designed by Boston-based architect/developer Graham Gundand, it opened in November 1996. The facility has an 867-seat main stage theater and a convertible 318-seat theater within 68,000 square feet of space.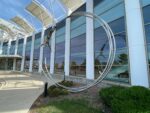 The Grand Lobby is highlighted by lighted sculptures created by artist Michael Gard. The first indoor installation by the Village of Skokie's Public Arts Advisory Committee, the sculptures commemorate the 20th anniversary of the Center.
Singer and actress Eder is known for ballads and standards, although her 2008 CD The Other Side of Me is more pop/country. She has performed on Broadway, at Carnegie Hall and at Radio City Musical Hall. She had an unprecedented 12-week win streak during the 1987 season of Star Search. Eder has released 20 albums.
Eder delighted the audience with a mix of her songs. I love Eder's rendition of  "Broken Vow," originally written and recorded by Lara Fabian in 1999. A powerful and moving ballad, it has been covered by several other artists, but none better than Eder.
We had such a great time, we already circled future dates for The Rocket Man Show, vocalist Storm Large and comedian Steven Wright.
— John Wroblewski, online writer
FX Excursions
FX Excursions offers the chance for once-in-a-lifetime experiences in destinations around the world.
While the lure of 10 tasting rooms along the only Urban Bourbon Trail in the United States (and the world) brings almost 19 million visitors to Louisville each year, business and city leaders have plans to grow the city to attract another type of visitor — the sports enthusiast.
Sponsored Content
This holiday season, escape to the Caribbean with Celebrity Cruises and reconnect with family and friends in luxurious accommodations that make you feel right at home. Savor globally inspired cuisine designed by our Michelin-starred chef, paired with the most awarded wine collection at sea. Elevate "me time" with a soothing spa treatment sure to renew. With both long and short cruises to celebrate in December, and even three special Ultimate Holiday Cruises that sail over Christmas and into the New Year, the time to gift an experience and create unforgettable memories is now. Celebrity Cruises' Always IncludedSM pricing — drinks, WiFi and tips — ensures a seamless, carefree vacation with the ones you love.
This holiday season, award-winning oceanfront hotel Prince Waikiki will partner with Miracle Bar's Sippin' Santa, making it the first time the state of Hawai'i has hosted a Miracle Bar pop-up. The hotel will turn its outdoor space into a tiki-themed winter wonderland furnished with both classic and Hawai'ian-inspired holiday decorations. The exclusive holiday cocktail event will be open Dec. 1–31, daily 4–10 p.m.