As you might remember, I'm a fan of bikes, and that includes motorcycles! This weekend was spent ogling vintage and modern motorcycles at the IMS Outdoors Motorcycle Show. The event took place at the OC Fair & Event Center in Costa Mesa, California. Those in attendance who have their motorcycle license can test drive any and all motorcycles to their heart's content. I do not have mine, but I did get the chance to test drive the Liv electronic mountain bike — man, that was fun!
There were spaces for vendors where you could buy helmets, leather jackets, biker boots and even coffee. I really enjoyed checking out the bike tents and sitting on dream bikes, with brands like BMW, Imperial and your standard Kawasaki, Suzuki, Harley Davidson and Indian showcased. It was also really cool to see electronic bikes; Zero Motorcycle was there representing the new side of the industry.
This is a great event to get a feel for different types of bikes and makes. You can even learn to ride here if you come prepared with your helmet. This was my first time at this event, so I will be better prepared next year.
Check out a few of the vintage bikes on display!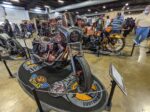 And as outdoor events go, you know you can always count on some impressive food. Check out this mountain of curly fries my friends and I grabbed to refuel — lunch of champions, amirite?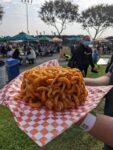 Wishing you all a wonderful Thanksgiving holiday ahead!
— Maria Angeles, account executive
FX Excursions
FX Excursions offers the chance for once-in-a-lifetime experiences in destinations around the world.
Raffles Hotel Singapore delights guests with curated, immersive experiences. Coming off a restoration in 2019, the iconic property welcomes back international guests with unique offerings.
Sponsored Content
GBTA's Convention 2021 will bring the business travel industry together for the first time in a long time. Once again, you'll learn and connect with experts and each other, along with discussions with leading thinkers, entrepreneurs and change makers addressing the issues that matter most.
The holidays are right around the corner and it's time to start thinking about gifts for your wine-loving friends. If you or someone you know is planning an upcoming trip to a wine region, check out Argaux. The all-women-operated and -owned online wine shop and educational platform offers a series of tasting sets to celebrate and introduce some of the best wine destinations. The Gaux-To Tasting Sets are perfect for travelers to experience the wine before they travel — or without having to travel.