A few years ago I remember speaking to a friend in the travel industry about the largest travel show in the world, hosted in Berlin. At the time it sounded fascinating, intriguing and somewhat implausible I would ever attend — especially because I had my fingers in other career paths outside of travel.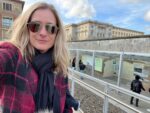 That same conversation also reminded me how strongly I was personally impacted by the fall of the Berlin Wall in the late 1980s. From the little 12-inch TV on top of my parent's mustard-yellow refrigerator, I remember watching national news coverage of the event, seeing celebrations in the streets and the reunification of people previously separated. I remember the way the wall was colorful on one side and untouched on the other. I remember wondering what it would be like to be there.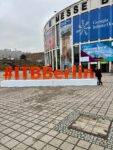 Hence, to be given an opportunity to attend the ITB Travel Show and see the Berlin Wall on the same trip caused me to feel a little more than utterly dumbfounded. It's during instances like these where you can't help but believe in something greater than yourself. In fact, I imagine the conversation sounding a bit like this:
"Oh, hello dear … . Did I hear you say you'd like to visit to Berlin, Germany, one day? Maybe check out that travel show your friend was telling you about and perhaps squeeze in a trip to see the Wall as well?"
To which I'd respond, "Ummm … well, yes. I think I'd like that very much."
"Okay, then. I tell you what. Why don't you give us a few years, and we'll get to work on that for you. Maybe check back in with us a little later? Let's see what we can do."
To which I would most likely forget about the request ever being made in the first place. And yet somehow, that little desire of mine became a reality.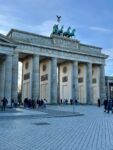 Further to my point, in addition to the Berlin Wall and ITB Travel Show, Brandenburg Gate and the Memorial for the Murdered Jews of Europe were both waiting in the wings for me, as well.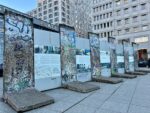 It's a fascinating walk around these different areas of Berlin. The Wall memorial is extremely somber and moving. A long stretch of concrete without great fanfare, several billboards and placards detail the many steps in the process prior to the erecting of the wall. History recounts numerous stories and photos about the sentiment at the time, how different people rose to power and political decisions were made.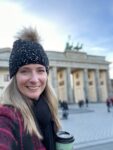 The Jewish Memorial was just completed in 2005 and is a unique design of concrete slabs all at different heights. At more than 19,000 square meters, the memorial appears to have fluidity and movement due to the different heights of the slabs, representing the variety of people who lost their lives during the Holocaust. Guests are allowed to walk through the slabs, causing one to be more aware of the vastness of scale, along with the diversity of stone sizes.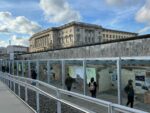 But the general feeling at Brandenburg Gate is different. The tone is much more jovial, exciting and alive. As the symbol of unification, the Gate truly encompasses togetherness, opportunity and festive celebration. Seeing it at sunset was another unexpected surprise and a bit like the cherry on top of my seemingly preordained experience.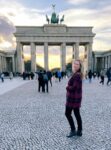 Many other extraordinary encounters took place during my time in Berlin, and I'm sure I'll write about them in future blogs to come. But, for now, I'm still reveling in the actuality of my trip and my small role as a willing participant.
And it makes me wonder what additional nods the universe still has in store.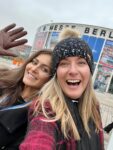 — Carrie Cox, account executive
FX Excursions
FX Excursions offers the chance for once-in-a-lifetime experiences in destinations around the world.
With the start of spring, travelers have their choice of new design-centric boutique properties opening in the coming months. Check out these properties for travel inspiration.
Sponsored Content
Now through May 8, sign up for a free six-month trial of the Global Traveler app and be automatically entered for a chance to win a $500 gift card of your choice for Amazon, Apple or American Express.
Mendocino County is a self-contained universe of effortless, California-centric joy enveloped within the Redwood Forest National and State Parks, the rocky Pacific Coast and several prime wine production areas like Anderson Valley. If Highway 1 and Route 128 are the ribbons holding this package together, Elk Cove Inn & Spa can be considered the bow. Mendocino Coast's first vacation destination, established in 1968, is an ideal 16-room gateway to the destination.