The title of this piece might lead you to think I'm going to tell you about how I celebrated the Fourth of July this year, and it would be a reasonable assumption, given Monday's holiday. However, we enjoyed a good old-fashioned, all-American summer evening several nights before the Fourth when we attended a Medford Rogues baseball game. Our summer collegiate wood-bat baseball team will play a total of 35 home games (out of 45 in all) during June and July in a facility that would make any city proud. The organization, now in its 10th season, makes its mission to not only provide quality, affordable family entertainment but also to support the community's nonprofit organizations with fundraisers, outreach and promotions.
We arrived at Harry and David Field not long before the opening pitch, due at 6:35 p.m. The weather was perfect: 88 degrees, a light breeze blowing and clear blue skies. Plenty of free parking surrounds the stadium, which boasts a capacity of just over 2,000, with both general admission bleacher seats ($10 per person) and comfortable, individual "Strike Zone" seats ($13) in the first five rows ringing the field. Concessions, the team store and a substantial press box and restrooms back the seating area, while a three-level patio area down the third baseline offers casual seating for groups and special events,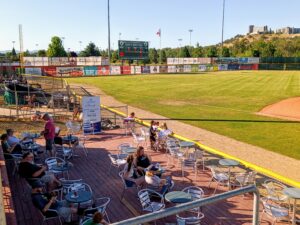 with its own dedicated private bar and staff.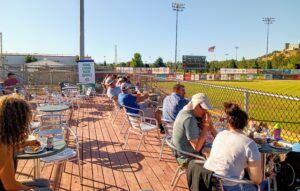 My husband and I made our way to our third-baseline seats, just above the home team's dugout, where we quickly learned we had access to in-stand food and adult beverage service. Servers armed with e-tablets took and submitted orders (keeping a running tab, if one wished) and quickly brought the requested items . . . so efficient for a small organization! We also took advantage of a promotion offered through the fourth inning: a local credit union doled out all-you-can-eat free hotdogs to its members (including us), and those were some quality dogs!
Our daughter and her family had seats in the bleachers just above us, but it soon became obvious that on this weeknight, the crowd would be small and a great number of seats would be open, so they could move down and sit closer to us. We basked in the convivial atmosphere, chatting with nearby fans until we rose for the national anthem (very ably sung by a young man); cheered the ceremonial first pitch; applauded Rowdy, the team mascot; and settled in for the first inning.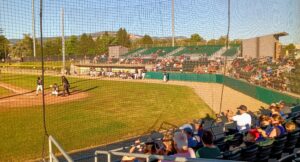 I wondered whether our 5- and 8-year-old grandsons would become bored part way through the game, but I needn't have worried. With the small crowd and the cozy confines of the park, they could get up and wander about under our supervision if they wanted, but there was plenty going on to keep them entertained. The management offers a series of diversions between each inning, starting with the giveaway of a free pizza to the loudest fan following the first inning. A team employee ran the length of the stadium as fans hooted and hollered. As he neared our section, grandson Sean really cut loose, and to our delight the pizza was delivered into Sean's hands (after a brief, mocked tug-of-war with Rowdy the mascot). What a great start to the evening (and what a tasty prize!). Sean kindly offered to share his reward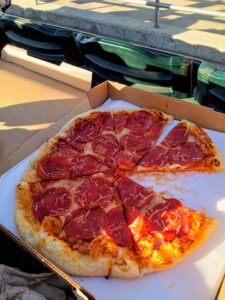 with our neighbors in the stands after posing with his trophy.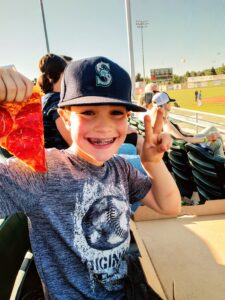 Different local businesses sponsored each of the inning-ending contests. Someone won a free car wash when their license plate was read out, proclaimed by the announcer to belong to the dirtiest car in the parking lot. A woman tried (and failed) to win a free round of golf at a nearby course by trying to sink three putts on an artificial green . . . and on it went all evening. Meanwhile, of course, we cheered on our team, who came out on top, 10–7.
I could not have asked for a more fun, pleasant evening with my family and America's favorite pastime. All that was missing was the apple pie!
— Patty Vanikiotis, associate editor/copy editor
FX Excursions
FX Excursions offers the chance for once-in-a-lifetime experiences in destinations around the world.
Pantone recently unveiled its color of the year for 2023. The highly anticipated announcement has become a tradition, each year introducing a new color to represent the coming year. In 2021, Pantone declared 2022 to be the color of Very Peri 17-3938, a blend of purple and blue. For 2023, Pantone's Color of the Year is Viva magenta 18-1750. A shade from the red family, this color represents a new signal of strength. Brave and fearless, Viva Magenta is rooted in nature and embraces joy and celebration.
Sponsored Content
Sweet tea. Soul food. Y'all. Sound familiar? Though these words and phrases are commonly associated with the South, it's understood in any language. If you're seeking a city abroad that will enchant you, capture your attention from start to finish and welcome everyone as family, we cordially invite you to visit Savannah.
The UNESCO World Heritage neighborhood of Balat rivals İstanbul's Old City for its historic significance, with an added splash of color. Its cobbled hilly streets boast a full rainbow of houses, cafés, restaurants and churches painted in pinks, reds, oranges, yellows, greens and blues — parts even surpassing my native San Francisco's steep, colorful corridors. The most vibrant stretch of homes, dating anywhere from 50 to 200 years old, runs along Kiremit Caddesi.