The first drive-in theater opened in Las Cruxes, New Mexico, in 1915. Reaching the peak in the 1960s, drive-in theaters saw a big decline as technological advances to home entertainment and multiplexes presented other options. Suddenly, social distancing brought drive-ins back to the forefront.
There are about 300 drive-in theaters in the country. The closest and best one near me is the Midway Drive-In in Sterling, Illinois, about two hours west of Chicago.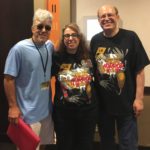 Opened in 1950, the Midway Drive-In is home to the oldest standing drive-in screen in Illinois, making it a genuine historical landmark. Owners Mike and Mia Kerz are dedicated to preserving the history and paying tribute to the American tradition of the drive-in theater. Mike and Mia are also the founders of Flashback Weekend, a horror and pop culture convention held in August in Rosemont.
The beautiful Midway combines the best of nostalgia with modern technology and convenience. The Midway experience starts with the classic retro "spaceship" ticket booth. From there, you find a spot in their spacious lot facing a giant, 90-foot movie screen. Classic tunes play, followed by shorts and previews. All sound is transmitted through FM radio. The Midway Diner has a full menu available for the classic dine-in booths or carry out to your car.
Wanting to get out, my friend and I made the trek to watch Ferris Bueller's Day Off and Grease. The Midway management announced the diner was temporarily closed due to the current health guidelines, but we were allowed to bring our own food for a nominal fee. The closed diner was the only change, and it didn't take much away from the whole night.
There is something relaxing and almost magical about watching a movie at Midway. The sky is so clear you can actually see star constellations. Covid-19 was the furthest thing from our minds.
I have been a fan and patron of Midway Drive-In for years. It has always been a great entertainment destination for friends or dates. Now, more than ever, I appreciate Midway.
— John Wroblewski, online writer
FX Excursions
FX Excursions offers the chance for once-in-a-lifetime experiences in destinations around the world.
With fall soon upon us, California's hospitality industry ramps up for an exciting season of hotel openings. From retreats in the mountains to urban escapes, these new hotels soon hit the scene in California this fall.
Sponsored Content
Sweet tea. Soul food. Y'all. Sound familiar? Though these words and phrases are commonly associated with the South, it's understood in any language. If you're seeking a city abroad that will enchant you, capture your attention from start to finish and welcome everyone as family, we cordially invite you to visit Savannah.
This past May, the location of Dunfermline in Fife, Scotland, was granted status as a city of its own during Her Majesty The Queen's Platinum Jubilee. Not too shabby for a town that's actually been around for a while, boasting structures dating to the 11th century.