The Victorian architecture, exteriors and landscaping of French Lick Resort, encompassing French Lick Springs Hotel and West Baden Springs Hotel, evoke the heart of Europe at first glance. On closer inspection, the surroundings reflect the influence of 19th-century German settlers in southern Indiana. A stay at West Baden Springs Hotel, however, surrounds one with an undeniably American "can do" spirit of the hotels' founders and the owners who followed. The hotel also has its membership in Historic Hotels of America since 2009 to back it up.
To fully appreciate the hotel; however, one needs to get familiar with the history of what now constitutes the full resort. French Lick Springs Hotel, founded by Dr. William Bowles in 1845, was one of America's first "destination" spas, attracting guests from as far as 100 miles away in its early days to soak up the benefits of "miracle waters" from the area's naturally occurring sulfur springs. Not to be outdone, Dr. John A. Lane built a competing hotel, The Mile Lick Inn, near what would become the town of West Baden. It was an homage to Wiesbaden, Germany, known across Europe for its hot springs, grand hotels and well-heeled visitors. The implementation of America's railroads eventually brought intrigued guests in from Indianapolis and Louisville, as well as Chicago.
When Lee W. Sinclair assumed ownership of the property in 1888, he converted it into a world-class resort, with the addition of an opera house, golf courses, church, ball field and double-decker pony and bicycle track. In spite of this effort going up in smoke in a 1901 fire, the undeterred Sinclair set out to do the impossible within one year and a budget of $414,000 (more than $14 million in today's currency) to make the now-monikered West Baden Springs Hotel all but outdo some of the grandest spas of Europe, especially with the architectural achievement of the world's largest, free-span domed atrium, measuring 200 feet across.
West Baden Springs Hotel had an interesting existence between the start of the Great Depression and its $100 million restoration in the early 2000s, undertaken by the Cook Family (one of the region's great philanthropic families). It served as a military hospital site in World War I, a seminary after the onset of the Great Depression and a college campus until 1983. The Cook's multimillion-dollar commitment for structural repairs and restoration (which also helped pay for improvements at French Lick Springs Hotel) led to its reopening in 2008.
Most of West Baden Springs Hotel's 243 guestrooms today either face into the impressive atrium under the dome or out onto the rolling hills. Interiors reflect the tastes of visitors from 1900–1929, with marble bathrooms and traditional but appealing hotel decor. Forty of these suites are balcony rooms with atrium views, and no two dwellings are alike. That said, all-important amenities available to guests in this century include pet-friendly accommodations, award-winning Bowles Mattress Company beds appointed with 820 thread-count sheets, and WiFi throughout the hotel. Another lovely feature is a hidden museum room tucked away between some of the shops and restaurants, showcasing the personal effects, photography and storied histories of the property's early owners.
While the two hotels share three world-class golf courses, equestrian stables, a sporting clay field, and hiking and bike trails, the quieter West Baden Springs Hotel features a small handful of history-inspired restaurants serving a mix of contemporary, global-inspired dishes and traditional-but-elevated comfort food the guests from a century ago would appreciate, especially when the dishes are subtly improved with produce from local farms and producers.
Sinclair's, the main dining room restaurant named for Lee W. Sinclair, one of the hotel's original owners, is a go-to spot for date nights, small family celebrations, and company mixers and dinners. Although originally intended to bring a taste of Europe into the American heartland, it now serves old-school fine dining to new generations of visitors. During the day, Cafe Sinclair offers a solid menu of generous omelets; its popular take on eggs Benedict; its fabled potato souffle; and several healthy selections, including yogurt parfaits and fruit bowls.
Ballard's in the Atrium and Ballard's Bar, meanwhile, are inspired by Ed Ballard, who owned West Baden Springs Hotel during its heyday in the 1920s and early 1930s. With reservations, group receptions and dinners can also be staged under the dome. Ballard's also serves afternoon tea, with an assortment of finger sandwiches, scones and petit fours baked in house by a three-person team, reflecting the area's German and central European underpinnings.
One of the resort's standouts, not surprisingly, is the 28,000-square-foot "natatorium" Spa at West Baden Springs Hotel, with light fixtures that visually capture the natural healing waters' eternal appeal; antique-inspired décor in the waiting room; and a prolific menu of old-world, contemporary and globally influenced treatments, massages and facials for women and men. The spa adjoins an indoor hot tub flanked with 30s-inspired photography, as well as an outdoor pool. Spa aficionados are also welcome to take the complimentary shuttle over to French Lick Springs Hotel to experience its equally well appointed, if more modern-looking spa.
West Baden guests can also use the free shuttle to access the French Lick Springs Hotel's restaurants, casino, bowling alley and a beloved theater with a legacy of hosting the 20th-century's biggest entertainers. Just a short walk off property, one can check out tastings at The French Lick Winery and Spirits of French Lick distillery, or go sightseeing around French Lick's historic downtown, including French Lick West Baden Museum.
8538 W. Baden Ave.
West Baden Springs, IN
tel 855 286 5859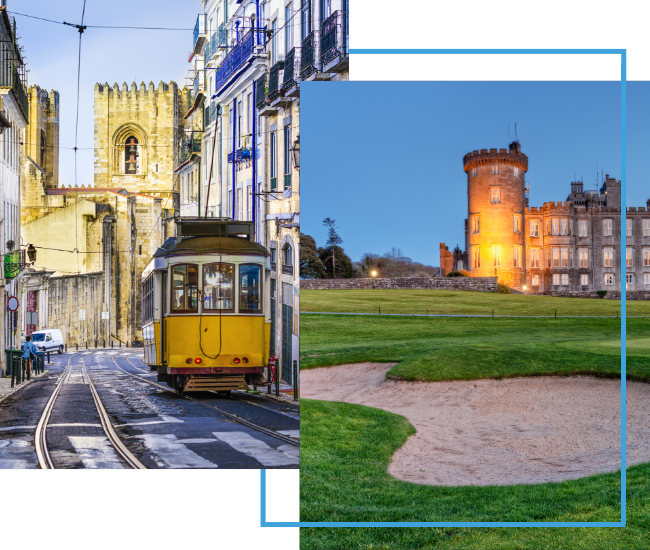 FX Excursions
FX Excursions offers the chance for once-in-a-lifetime experiences in destinations around the world.
Explore Excursions
Pleasant weather, autumn foliage and vibrant flowers are among the many delights awaiting nature lovers at botanical gardens and arboretums across the United States. However, some of these green spaces take on additional color this month and through Halloween when enterprising gardeners, landscape architects, management and other creative minds cast a spell with themed environments running the gamut from spooky to utterly bewitching.
For travelers who love all things autumn, Crystal Springs Resort, New York City's closest destination resort, features special offers and experiences to meet the demands of everyone's fall bucket list. Located only 80 minutes outside New York City in Sussex County, New Jersey, Crystal Springs Resort offers a quick getaway to enjoy fall foliage. Are any of these new offers or experiences on your bucket list?