IT'S BEEN CALLED THE next wave of travel, but you'll call it the most relaxing vacation you've ever had — discover all the ways Princess® MedallionClass™ gives you more time for "me time."
Exclusively on Princess, MedallionClass™ offers the fastest way to an easy, personalized and smooth-sailing vacation, all enabled by OceanMedallion™, a free, quarter-sized device key to opening doors: to your stateroom, the ship and to an array of enhanced experiences.
Princess MedallionClass debuted on Caribbean Princess® in late 2018 followed by Regal Princess® in February 2019 on Caribbean sailings. It can now be experienced all over the globe as Princess expanded its fleet of MedallionClass ships to include Royal Princess® (April 2019), Crown Princess® (July 2019), the new Sky Princess℠ (October 2019) and the new Enchanted Princess℠ (June 2020).
MEDALLIONCLASS GOES GLOBAL
With six MedallionClass ships, Princess now offers MedallionClass cruising on all Caribbean voyages starting in the fall of 2019. Also, this summer, Royal Princess debuts in Alaska, bringing with her the MedallionClass experience. There are also voyages to the Mediterranean, British Isles, Scandinavia and Russia, Panama Canal, Canada and New England, Australia and New Zealand, Mexico and the California Coast.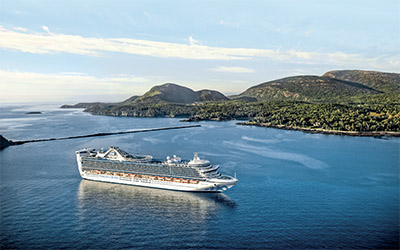 And as amazing as the destinations will be, Princess guests are in for an equally incredible experience on board as an array of Medallion-enabled features will allow them to get more out of their vacation and make it more effortless than they could ever imagine. Here is just some of what MedallionClass has to offer:
CURBSIDE TO POOLSIDE IN A BREEZE
The MedallionClass experience begins soon after you book your cruise, when you upload your essential travel information using the OceanReady™ App. Once you arrive to board at the cruise terminal, you'll go from curbside to poolside in a breeze and start your vacation sooner.
BEST WI-FI AT SEA
Even if you are on vacation to get away from it all, you can still stay connected, even while sailing across the sun-splashed Mediterranean or through the historic Panama Canal. Princess MedallionNet™ delivers land-like connectivity so guests can post photos of Alaska's amazing glaciers or a stunning Caribbean beach, text, video chat, and stream their favorite shows and sports and more.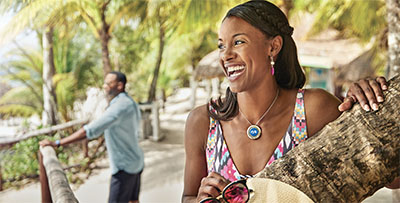 DRINKS AND MORE DELIVERED ON DEMAND
Once you're onboard, you'll discover a world of enhanced features, like drinks, food and more, on demand. Using your smartphone you can order your drinks anytime, anywhere and have them delivered right to your location — even to your stateroom, where you can toast an amazing sunset right on your balcony!
FIND YOUR WAY — OR TRAVEL MATES
Don't waste your vacation wandering — you'll never get lost on board with our way-finding directions that guide you exactly where you want to go whether you use the touchscreen portals around the ship or your smartphone. And if you need to find a travel companion, or are a family with children, you'll be able to locate them anywhere on board — all using your smartphone or touchscreens around the ship!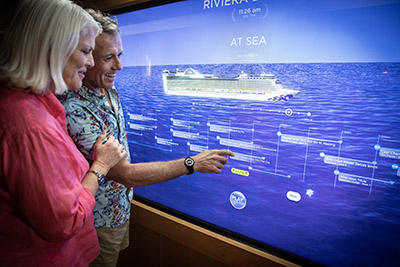 LET THE GAMES BEGIN
With Ocean® Casino, guests can wager real money on games, like slots, poker, roulette, even bingo. For family fun, try PlayOcean® for trivia, a word jumble, an interactive ship-wide digital scavenger hunt and more.
And there are more exciting features on the way, which will make the guest experience unlike any you could find on other cruise lines. Get ready to ride the next wave of vacation travel when you experience the incredible possibilities of a MedallionClass™ cruise, exclusively with Princess®! Visit princess.com/MedallionClass to learn more.
FX Excursions
FX Excursions offers the chance for once-in-a-lifetime experiences in destinations around the world.
The idea of a boutique hotel in the center of Rome's busiest crossroads may seem counterintuitive, but Singer Palace Hotel pulls off the impossible thanks to its minimalist exteriors, 30 gorgeous one-of-a-kind rooms and suites, smart-but-whimsical décor, simple-yet-elegant Roman cuisine and a stellar mixology-driven rooftop bar. It's a delightful study in contrasts — a quiet, intimate and plush setting nestled within a maze containing many of Rome's most noteworthy sites.
Sponsored Content
If you're traveling stateside, travel insurance is a must.
Uber app users can now book an Uber Boat in Mykonos this summer to enjoy even more of the Greek island's beauty. Uber announced the new addition allows up to eight guests to cruise to popular destinations and sites around Mykonos.