National Pro Fastpitch Cheri Kempf recently announced the 2020 NPF season was canceled due to the COVID-19 pandemic. While it is understandable and not a surprise, it is still disappointing.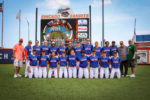 I have rarely missed a Chicago Bandits home game over the last six seasons. It's more than just a softball game. It has become a day of fun including tailgating, connecting with friends, working our way through all nearby restaurants, mingling with the players and more. I will miss Bandit Nation this season, but I am already planning other options to help fill the void.
I first looked to the Team USA women's softball team. Team USA started the "Stand Beside Her" tour after the postponement of the 2020 Olympics until 2021. Team USA was playing exhibition games all over the country. Unfortunately, Team USA officials just announced the tour was halted, but there is hope it will resume at some point. If the tour resumes, I assume Chicago would be a stop, but I will be ready for a road trip, too.
The USSSA Pride (of Florida) and the Scrap Yard Dawgs (of Texas) are two independent pro women's softball teams. Formerly in the NPF, these teams are reviving the "old school" barnstorming approach as they battle each other all over the country throughout the summer. I am friends with many of the players and am looking forward to catching a few games on their schedule.
Athletes Unlimited announced a new women's pro softball league to be played entirely in Rosemont, Illinois, starting in August. The league would run for six weeks and have a unique scoring system, awarding players and teams for various achievements. I'm interested to see how the new approach works, but mostly I'll be happy to see live softball.
My last hope for softball this year is Fall Ball at Northwestern and DePaul. The schools usually host three weekend tournaments in the fall. While the spring college seasons were halted, there has not been an announcement on Fall Ball yet. Still about four months away, I'm optimistic I will see the Wildcats and Blue Demons on the field. They might even add a few games.
I will miss watching the Bandits, but I am enjoying "Bandits Candids," an Instagram Live series featuring players interviewed by ace onfield reporter Kacy Standohar. I also am grateful for classic NPF games online. In the worst-case scenario of no softball this summer, I will defer to the classic Chicago adage, "Wait 'til next year."
— John Wroblewski, online writer
FX Excursions
FX Excursions offers the chance for once-in-a-lifetime experiences in destinations around the world.
Sponsored Content
IHG® Hotels & Resorts certainly has a lot to celebrate, starting with an incredible growth story. Over the past five years, IHG has acquired or launched six new brands: Six Senses® Hotels Resorts Spas, Regent® Hotels & Resorts, Vignette™ Collection, voco™ hotels, avid® hotels and Atwell Suites™. Most recently, IHG reached an important milestone with its 6,000th open hotel. The company looks to further expand its portfolio by 30 percent with 1,800 hotels in the development pipeline, with significant focus on growth in the luxury segment where IHG is positioned as one of the top two hotel chains.
National Rum Day is right around the corner on Aug.16, meaning it's time to start planning your celebration. Sandals Resorts, the all-inclusive Caribbean resort company, shares recipes from mixologists, allowing rum fans to celebrate as if they are staying on property.