Well, it's still quarantine in Mexico, and sometimes it feels like there's nothing left to do or try, but my mom always comes up with a new thing.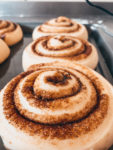 This time, cinnamon rolls were the goal since they're one of my favorite desserts. First, we searched for the recipe and bought all the ingredients. I'm not going to lie, this is by far the hardest dessert I've ever baked, and it takes a lot of patience and time.
The hardest part for us was getting the yeast on point because we've never baked with it before; we succeeded on the fourth attempt. After all of that we followed the recipe just as we were supposed to; kneading the dough was also heavy because you have to do it several times before making it a roll.
The final outcome was really pleasant and delicious! I will try it again.
— Mariana Zenizo, account executive & media rep
FX Excursions
FX Excursions offers the chance for once-in-a-lifetime experiences in destinations around the world.
Pantone recently unveiled its color of the year for 2023. The highly anticipated announcement has become a tradition, each year introducing a new color to represent the coming year. In 2021, Pantone declared 2022 to be the color of Very Peri 17-3938, a blend of purple and blue. For 2023, Pantone's Color of the Year is Viva magenta 18-1750. A shade from the red family, this color represents a new signal of strength. Brave and fearless, Viva Magenta is rooted in nature and embraces joy and celebration.
Sponsored Content
At nearly 30,000 square feet, United Airlines' newest United ClubSM now welcomes Newark Liberty International Airport travelers with its modern design, enhanced amenities, culinary offerings, locally sourced art and furniture and Manhattan skyline views. Seek airport solace at the new location in Terminal C3, near Gate C123.
The UNESCO World Heritage neighborhood of Balat rivals İstanbul's Old City for its historic significance, with an added splash of color. Its cobbled hilly streets boast a full rainbow of houses, cafés, restaurants and churches painted in pinks, reds, oranges, yellows, greens and blues — parts even surpassing my native San Francisco's steep, colorful corridors. The most vibrant stretch of homes, dating anywhere from 50 to 200 years old, runs along Kiremit Caddesi.