I've waited years to see a live production of Hamilton, Lin-Manuel Miranda's award-winning musical which he described as "America then, as told by America now." My oldest daughter saw a touring production when she lived in Chicago and loved it; she enjoys playing the original cast recording and singing along to it in the car. She got me hooked on the music as well, and I was watching for a production to come to the Pacific Northwest when COVID shut all live performances down. I did see the streaming performance on Disney+ and enjoyed it; nevertheless, a Broadway show on the small screen just doesn't match the excitement and immediacy of a live performance.
My husband spotted the announcement of Hamilton coming to Portland several months ago and, wise man that he is, ordered tickets for us as soon as they became available.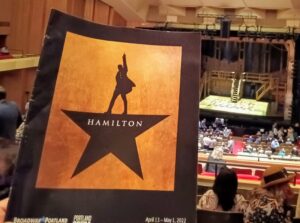 Last Sunday, as an early Mother's Day celebration, we made our way from our daughter's home to downtown Portland for the show's final performance in the city for this run. We had intended to have an early dinner out (the performance began at 7 p.m.) but ran into difficulty finding a restaurant that was serving early on Sunday evenings and was close enough to the theater that we wouldn't have to park first for dinner and then have to drive to the theater. We finally admitted defeat and ate a light dinner at home, giving ourselves more than an hour to get downtown, find a parking spot and allow plenty of time for providing proof of vaccination and getting to our seats.
We were surprised to find parking at a garage just across the street from the Keller Auditorium  . . . for only $5! We found the lines to enter the auditorium fairly short with 40 minutes before curtain time. We pulled up photos of our vaccination cards on our phones, my purse was quickly examined and, masks on, we passed into the lobby and headed to our first balcony seats. The Keller has a capacity of just under 3,000; and although we were some distance from the stage, we really had a great view of all the action.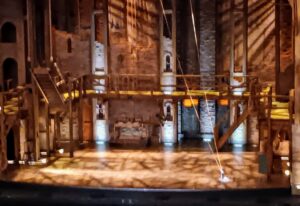 I've seen all kinds of performances there, from musicals to opera and ballet, comedians to singers and bands. It had been a long time since I'd been able to see a live show, though, and I was thrilled Hamilton would be the one to break the drought.
The show was everything I'd hoped it would be, with magnificent voices, great staging and choreography and the cast giving a high-energy performance. Harry really enjoyed it, too, and I was curious whether he, as a former high school history teacher, had been aware of some of the details of Alexander Hamilton's life. He said most emphatically that he had not, but he loved how the play brought that history to life in such a vibrant, entertaining fashion.
It was a wonderful return to live, professional theater, and I sincerely hope we never have to endure such a long break from such excellent entertainment again.
— Patty Vanikiotis, associate editor/copy editor
FX Excursions
FX Excursions offers the chance for once-in-a-lifetime experiences in destinations around the world.
Mövenpick, Accor's premium Swiss-born hospitality brand, officially launched its first property in New Zealand. Situated in Auckland, Mövenpick Hotel Auckland sets a new standard in the world of hospitality with unique and exciting amenities and a warm, contemporary design found throughout the property.
Sponsored Content
Whether you prefer a villa on the beach or an ultra-luxe suite downtown, you'll find everything you're looking for in Los Cabos.
Turkish Airlines offers premium travelers something new. After signing an agreement with fashion brands Coccinelle and Hackett, the carrier introduced redesigned premium amenity kits for its business-class passengers flying eight hours or more on long-distance flights. The new kits were introduced April 29.