You saw it right: drinking while throwing axes! Axe & Bull in Sarasota, Florida, offers indoor axe throwing, where guests can bring their favorite beer or wine for consumption during a thrilling, physical, hands-on experience.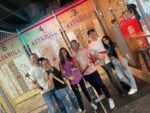 Last week I had the chance to test my throwing skills with a group of friends, challenging each other to games such as 21 and Cricket on an extra-large wooden target board. Before we began, an instructor provided tips for our safety and educated us on the best way to throw the axe. He remained by our side for much of our first game until we all got the hang of it. The new experience was exciting and gave me a spark of adrenaline as I threw the object toward the target. It was satisfying to hear the thud as the blade sank into the soft wood.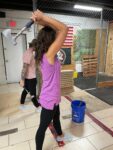 Now that I have gone once, I would love to go again to see how my skills have improved and to try out new games such as Around the World, Humans vs. Zombies, Horse, or Landmines. But, unfortunately, it's not every day I get my hands on an axe. Luckily Axe & Bull allows you to pre-book one- to two-hour sessions on their website, axeandbull.com. Looking forward to throwing again soon!
— Christyn Pek, business development executive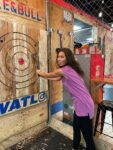 FX Excursions
FX Excursions offers the chance for once-in-a-lifetime experiences in destinations around the world.
Lovango Resort + Beach Club is the first newly built resort in the U.S. Virgin Islands in more than 30 years and prepares to return for its second season. Welcoming guests back Dec. 20, the resort will sport some new accommodations and guest experiences.
Sponsored Content
United Airlines remains firmly committed toward sustainability in aviation. The latest development in its eco-conscious goals includes working with Oxy Low Carbon Ventures to commercialize the production of sustainable aviation fuels (SAF) with biotech firm Cemvita Factory. Cemvita looks to develop a revolutionary new way to produce SAF by using carbon dioxide and synthetic microbes. Additionally, United Airlines Ventures (UAV) recently announced an equity investment in Fulcrum, and United has invested more in SAF production than any other airline in the world.
The world-renowned Italian fine-dining group with eight Michelin stars to its name, Da Vittorio debuts its new two-story restaurant, Da Vittorio Saigon in the hotel Reverie Saigon. The new restaurant reshapes Vietnam's high-end culinary industry through its blending of contemporary and sophisticated design with traditional Italian food.