There is a growing contingent who feels apples should replace pumpkins as the fall favorite. The Lincoln Square Ravenswood Apple Fest presents a compelling argument.
Presented by Lincoln Square Ravenswood Chamber of Commerce, Apple Fest is in its 34th year. Dozens of vendors lined a several-block stretch on the north side of Chicago, selling everything imaginable involving apples, including delicious and interesting food items.
Gayle V's Best Ever Grilled Cheese lived up to its billing with the Abreo, featuring white cheddar cheese, bacon, onion jam and Honeycrisp apple slices. The Abreo is a seasonal offering added to the usual menu, already stacked with several grilled cheese sandwich options. I am slowly working my way through all of the delicious grilled cheese sandwiches on the menu.
Cobblestone Restaurant offered loaded apple potato soup, with smoked apple bacon, cheddar cheese and chives. Thick and layered with flavors, it had the right degree of richness. The soup paired perfectly with the grilled cheese sandwich I got from Gayle V's.
On the sweeter side, Jerry's had spiced apple cider donuts and apple cheddar scones. They also had smoked chicken apple sausages, which I took home for later. On a side note, Jerry's restaurant menu has a fantastic fried shiitake buttermilk biscuit with fresh mozzarella, avocado and fried egg, among many awesome sandwiches.
Chicago treasure Alisa Rosenthal, a musician, comedian, teacher and more, handled the emcee duties for the family stage. Musicians took turns entertaining the crowd.
After a day ensconced in apple goodness, I admit the apple lobbyists have a point. As a devout pumpkin enthusiast, I am not ready to see pumpkins replaced, but I'd be happy with both sharing the spotlight.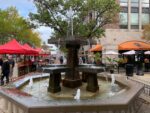 — John Wroblewski, online writer
FX Excursions
FX Excursions offers the chance for once-in-a-lifetime experiences in destinations around the world.
Galataport Istanbul, a new cruise and lifestyle destination on the Bosphorus in Istanbul, welcomed its first ship, SeaDream II, on Oct. 1. Approximately 150 passengers and crew from Bulgaria Varna arrived at 10 a.m. for a two-day homeport operation before continuing to Bulgaria Burgaz.
Sponsored Content
Without a doubt, the pandemic changed the role of airports in the travel industry. Hamad International Airport's role evolved in many ways since the pandemic hit. Now, more than ever, airports are responsible for creating a secure passenger experience. As the gateway to Qatar and the world, the safety and wellbeing of staff and passengers has always been at the core of Hamad International Airport's strategy.
The countdown to Halloween weekend is on! Are you are still unsure about plans? Do you go to a house party? Stay in to hand out candy? Try something different this year and join Philadelphia's  The Mütter Museum at its 6th annual Mischief at The Mütter.