This past weekend in many ways had the look and feel of Fourth of July weekends pre-COVID, and people seemed joyful at being able to attend parades, picnics and fireworks displays once again. My husband and I hit the road on Friday to spend the weekend with family in Portland, and while we found the interstate busy, we fortunately never had to sit in traffic or dodge construction or accidents on our way north. There were plenty of campers and RVs and vehicles towing boats and trailers; clearly, lots of folks were busting to get out and enjoy being able to go places again.
On Saturday my younger daughter and her husband hosted a family barbecue in their large backyard, and they welcomed more than 25 adults and eight kids (all adults were fully vaccinated) for an afternoon and evening of food, fun and catching up. Most of us hadn't seen each other (except via Skype or Zoom) since a similar gathering exactly two years ago, and it felt so good to hug each other and spend so much time together without a care. Unlike most of my East Coast colleagues, who experienced lots of rain, we enjoyed sunny skies and warm temperatures, and the kids romped in the sprinkler and splashed in a kiddie pool when they got too warm from running around.
We ate our fill of chicken and hamburgers
and all kinds of side dishes
and lingered around the tables talking until we were hungry again. Then a grand assortment of pies came out (with ice cream, of course),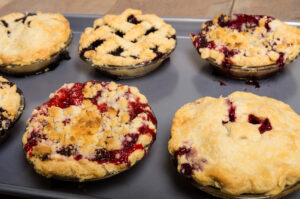 and no one left until there was just a hint of light left in the sky. Some were driving all the way back to Seattle, but it was hard to tear themselves away from that wonderful island of normal life.
The next evening Harry and I gathered with a group of friends we've known for at least 40 years. We've watched our babies grow up, get married and have babies of their own. Most still live in the Portland area, but even when careers and family obligations took some of us far away, we always managed to get together at least a few times a year to drink wine and share the special bonds that develop over so many years and life experiences. We really missed time spent with each other since we last gathered over Thanksgiving weekend in 2019. Again, there were lots of hugs throughout the course of the evening, and we all agreed we would not take the chance to share them for granted in the future. We were so absorbed in our conversations that we completely forgot to look out for the fireworks shooting off in the valley below us
or to tune in to those broadcast on TV. Our private celebration was more than enough to mark this Independence Day.
Another testament to how much we enjoyed our chance to reunite with family and friends: I failed to take a single picture at either gathering, and I don't think anyone else did, either! No matter; the images and the feelings from those celebrations are firmly locked in my memory. I hope your Fourth of July celebrations were equally memorable and glorious.
— Patty Vanikiotis, associate editor/copy editor
FX Excursions
FX Excursions offers the chance for once-in-a-lifetime experiences in destinations around the world.
With the autumn in full spring, now is time to start planning your fall weekend getaway.  Whether a relaxing weekend on the lake, leaf-peeping or hiking, check out these fall travel trends from vacation rental management company Vacasa.
Sponsored Content
Since its prestige for attracting the world elite grew in the 1960s, Greece remains the go-to destination for glittering holidays. Each step of the journey is enrobed in luxury, from culinary traditions with the highest standard of execution and name-brand, high-end shopping to first-rate wellness locales and elite accommodations, like 5-star hotels, private villas and yachts.
I imagine that when writer Hans Christian Andersen mused, "Life itself is the most wonderful fairy tale," he was standing at the edge of Copenhagen's historic Tivoli Gardens, one of his favorite haunts, enlivened by the swirl of human happiness that surrounded him: children laughing; carousels spinning; games of chance played for prizes; lovers holding hands; hungry people whispering over sweets, hot drinks, beer and towering, open-faced smørrebrød, Denmark's quintessential sandwich. That fairy tale lives on today at the second-oldest amusement park in the world, a spectacle of folly architecture, bakeries, gardens, rides, restaurants, puppet shows and joy ... and which also happens to be one of the city's most storied places to convene for business.