Every year, a family friend, Blair, reaches out to her friends and asks for their word of the year: something you will live by, follow or embrace for the next year. Once she has the words, she takes them and makes everyone some type of pottery with the chosen word.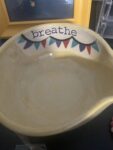 Last year I picked the word "happiness" because I figured that was something everyone needed in their lives after the pandemic.
This year I decided to go with the word "breathe" to go along with "happiness" from last year and because the pandemic is still lingering. I think we constantly need to remind ourselves to slow down and take a breath. We need to remember to roll with the punches and not stress about the little things.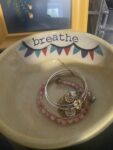 I always find myself stressing out about anything and everything I may come across that I either don't like or can't control; now with my reminder to breathe sitting on my dresser, I get to start every day on the right foot.
We also got a little star with our initials that says "stir something up." Right now I am using my bowl as a jewelry holder, but we will see if it turns into something else.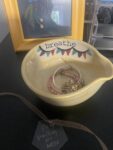 Blair lives in Newtown, Pennsylvania, and is a local artist who makes all different types of pottery. She showcases her art at local flea markets, craft fairs and more. If you are not local, find her on Instagram, @thenewtownstudio, or online. Most of her pieces feature a different motivational word and are always colorful.
I always look forward to the end of the year because I love thinking about what my word will be for the year to come as well as seeing what piece of art Blair came up with for that year.
— Mary Melnick, social media and editorial coordinator
FX Excursions
FX Excursions offers the chance for once-in-a-lifetime experiences in destinations around the world.
Mövenpick, Accor's premium Swiss-born hospitality brand, officially launched its first property in New Zealand. Situated in Auckland, Mövenpick Hotel Auckland sets a new standard in the world of hospitality with unique and exciting amenities and a warm, contemporary design found throughout the property.
Sponsored Content
Set on a seaside bluff overlooking Land's End in Cabo San Lucas, Vista Encantada Spa Resort & Residences is a Baja paradise specializing in serene vistas and impeccable hospitality, offering a Pacific coast lifestyle with authentic Mexican touches. Guests can now earn a fourth night free at the stunning resort, plus a $100 resort credit, when booking through March 20, for travel through June 15.
Turkish Airlines offers premium travelers something new. After signing an agreement with fashion brands Coccinelle and Hackett, the carrier introduced redesigned premium amenity kits for its business-class passengers flying eight hours or more on long-distance flights. The new kits were introduced April 29.