I seem to be on a bit of a sports roll lately …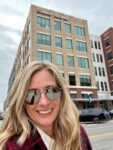 This time, I traveled to Kansas City to meet with an advertising agency shortly after the Kansas City Chiefs beat the Buffalo Bills to advance to the AFC Championship game. Without realizing it, I arranged to stay at the NFL's two-time AFC Hotel of the Year: Loews Kansas City.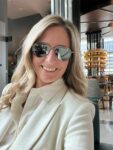 It was quite a long travel day thanks to an extra flight, but a Bloody Mary always makes things a little easier. I left SRQ just after noon, landed in Charlotte 10 minutes too late to make my connection, re-routed to DFW before finally arriving at MCI after 11 p.m. Nearly 12 hours after take-off, I walked into the Loews lobby just before midnight and was kindly greeted as if there was no trouble at all — a very nice way to "bounce back" from my impromptu flight schedule.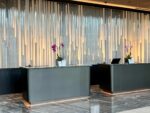 As I arrived in my corner room on the 24th floor, I was grateful to receive perhaps the largest spread I've ever been given waiting for me in my room. So nice, in fact, several social media followers made comments about how lucky I was to be so spoiled, and the only thing missing was a butler to serve such niceties to me! It was indeed the perfect bedtime snack: Fig jam with pickled veggies, roasted pecans, sliced fruit, and a few meats and cheeses were like a soothing balm for my travel woes and helped me fall asleep with a smile on my face.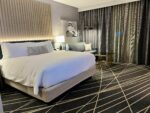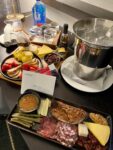 The next morning I was able to take a brief tour of the property and learn a little more about each area. Bar Stillwell is a gorgeous, well-designed lobby bar and lounge with beautiful lighting and a nod to a honey bee hive (if only I'd had time for a beverage, I'm sure it would've been spectacular). The Library is a photographer's dream with high ceilings, clean lines and a beautiful setting for local photo shoots, wedding parties and architecture magazines. I greatly enjoyed snapping a few pics of both areas, pretending to have the professional chops to merit my standing.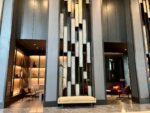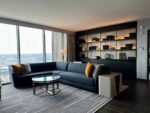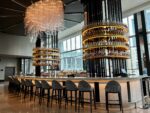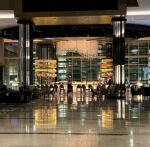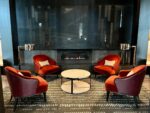 We also toured a few additional room suites, and I asked about the modern take on vintage aviation as inspiration for the property. Mark Champa, director of sales and marketing, explained how although the décor was elevated, the intent was to pay homage to Trans World Airlines. The lines on the carpet are a representation of TWA flight patterns, and several photos throughout the rooms have black-and-white prints of planes, clouds and terminal renderings.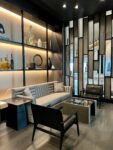 Although it would've been nice to time this visit alongside last weekend's AFC Championship game and perhaps spot a few members of the Chiefs or Bengals, unexpectedly I came across the boys of summer instead. As I waited for my Uber, four Kansas City baseball players checked in on Tuesday morning, carrying large, blue duffel bags with the Kansas City Royals logo printed on the side. I thought it a bit early for baseball season, but for sporty cities like Kansas City, the next season is always right around the corner.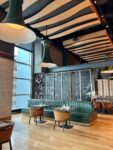 — Carrie Cox, account executive
FX Excursions
FX Excursions offers the chance for once-in-a-lifetime experiences in destinations around the world.
Turkish Airlines recently opened a new lounge in Terminal 1 of New York's John F. Kennedy International Airport. The airline operates three flights per day from the airport and now premium passengers have luxurious, comfortable and hospitable lounge amenities to enjoy in a renovated, rebranded space.
Sponsored Content
Now through May 8, sign up for a free six-month trial of the Global Traveler app and be automatically entered for a chance to win a $500 gift card of your choice for Amazon, Apple or American Express.
It's time to start dreaming of your next trip. Here's some destination inspiration for you. Take a visual journey through these unique museums in Europe with us.