I'm not really a "car girl," but I'd heard about Ford's Garage Restaurant and was curious what I might find inside.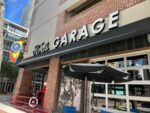 A friend and I decided to visit one of the locations in downtown St. Pete, Florida, after a recommendation from my friend's uncle. The uncle actually is a "car guy," and I figured if he thought it was worth it, we'd likely enjoy it as well.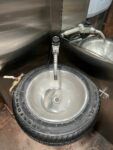 From the outside, Ford's Garage looks like any normal brewery/burger joint. But on the inside, it was plain to see this place was far from ordinary.
A Black Model T replica hung above the bar. Yes — a car, with headlights shining, was hanging from the ceiling where you might normally find an interesting light fixture or dangling wine glasses. I'm pretty sure we sat next to a cleaned-up carburetor, and I giggled at the presentation of silverware wrapped in light blue shop rags with hose clamps serving as napkin rings.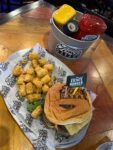 However, no matter how much fun I was having in the dining area, I was completely taken with the restrooms. The door handle leading into the ladies' room was a gas pump and the area was so mechanically inclined, I stopped for a moment to make sure I hadn't accidently wandered into the men's room by mistake! Black tires with a chrome basin served as sinks, and more gas pumps doubled as faucets. The exposed pipes under the entire area added to the powder room's masculine feel along with a large floor mat with the Ford's Garage logo.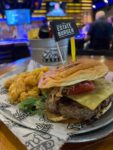 With eight different half-pound, Black Angus beef burgers on the menu, my friend and I couldn't resist trying one. However, we accurately assumed the burgers might be more meal than either of us were prepared to eat, so we decided to share a burger and an order of tots. We also landed on the fried pickle spears with wasabi ranch as an appetizer.
As we waited for our food, I chuckled when I saw an order of onion rings stacked high atop an oil funnel and couldn't help but wonder how our entrée might arrive. When it did, I smiled at the Ford's Garage stamp branded into the top of the bun and a little flag on top, declaring the name of our Estate Burger (loaded with smoked Gouda cheese, sweet red onion marmalade, tomato, arugula and fried onion straws).
Although we didn't have any adult beverages, you could see around 35–40 beers on tap, with vintage oil cans decorating the shelf above. Black and white photos of Henry Ford, wheels with spokes and old-school standing gas pumps reminiscent of a vintage gas station also adorned the area. As we left, we wandered through a separate event room with exposed brick and a separate bar.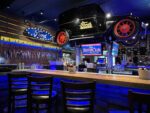 If Ford's Garage can find favor with this self-proclaimed non-car girl, then I'm sure all hungry motorheads in one of Ford's 21 locations will enjoy their trip. Just be sure to watch your speed and leave a little bit of extra room around your waistline when fastening your seat belt.
— Carrie Cox, account executive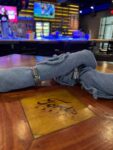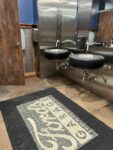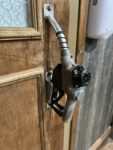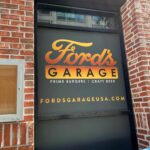 FX Excursions
FX Excursions offers the chance for once-in-a-lifetime experiences in destinations around the world.
COMO Hotels and Resorts offers travelers new immersive luxury retreats for 2022. Perfect for couples, small groups or solo travelers, the new COMO Journeys are available to book in Australia, Bhutan, Indonesia and Thailand.
Sponsored Content
Sweet tea. Soul food. Y'all. Sound familiar? Though these words and phrases are commonly associated with the South, it's understood in any language. If you're seeking a city abroad that will enchant you, capture your attention from start to finish and welcome everyone as family, we cordially invite you to visit Savannah.
Anantara Chiang Mai, the deluxe resort on the banks of Thailand's Mae Ping River, relaunched the city's most famous high tea experience, served on the terrace of the 100-year-old British Consulate that today houses the resort's Service 1921 Restaurant & Bar.