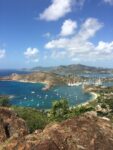 The weather in the Northeast has been cold and snowy the last couple weeks. While I love living in a region that has four seasons, I am not the biggest fan of cold and snow. The recent blast of cold weather has me thinking back to warm-weather trips I've taken over the years and dreaming of places I'd like to visit.
Antigua
I visited the Caribbean island in January 2016 when the Northeast was experiencing a terrible winter storm. While I felt bad listening to my friends and family complain about the cold, I enjoyed every minute of sunshine and warm breezes in Antigua.
Tahiti and Bora-Bora
My husband and I spent part of our honeymoon in French Polynesia. It was the first visit for both of us, and we thoroughly enjoyed a relaxing week full of beach time. In Bora-Bora we went on a hike of the interior of the island, which gave us a different experience of the tropical island.
New Orleans
Our honeymoon started with two nights in New Orleans, one of our favorite cities. While July might not be the most ideal time of year to visit weather-wise, we had a memorable time exploring different parts of the city and making stops along the way for ice-cold drinks.
Granada, Spain
I spent a month in Spain during the summer before my senior year of college for a mini study abroad experience. Spain in July is hot! My friends and I beat the heat by taking a trip to the beach in Nerja and eating plenty of gelato.
There are many destinations on my list of places to visit. Of these, some warm-weather spots include Saint Lucia, Arizona, Hawai'i, Turks and Caicos, Costa Rica and the Maldives, to name a few.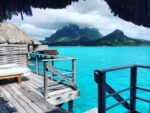 Stay warm, everyone!
— Katie Skrzek, vice president/digital director
FX Excursions
FX Excursions offers the chance for once-in-a-lifetime experiences in destinations around the world.
Manchester, a city already buzzing with energy, welcomes some exciting new additions, from boutique hotels to highly anticipated culinary destinations to historic venues. Plan a trip to Manchester to not only indulge in your favorite soccer team but also to enjoy delicious food, both charming and luxury accommodations, and lively events and venues.
Sponsored Content
TAP Air Portugal, or rather Transportes Aéreos Portugueses, was founded 77 years ago, March 14, 1945, and flew its first commercial flight September 19, 1946, inaugurating service from Lisbon to Madrid, Spain, aboard a Douglas DC-3.
Porvoo, Finland, only an hour from Helsinki, is a medieval coastal town and a cultural haven, well known for its exciting culinary scene, colorful wooden houses and cafés. Here, you will discover the new Runo Porvoo Hotel, a family-owned landmark building and business blending Finnish traditions with contemporary Nordic design, world-class artwork and the rustic-meets-modern allure of American Shaker-style furnishings.