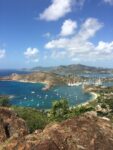 The weather in the Northeast has been cold and snowy the last couple weeks. While I love living in a region that has four seasons, I am not the biggest fan of cold and snow. The recent blast of cold weather has me thinking back to warm-weather trips I've taken over the years and dreaming of places I'd like to visit.
Antigua
I visited the Caribbean island in January 2016 when the Northeast was experiencing a terrible winter storm. While I felt bad listening to my friends and family complain about the cold, I enjoyed every minute of sunshine and warm breezes in Antigua.
Tahiti and Bora-Bora
My husband and I spent part of our honeymoon in French Polynesia. It was the first visit for both of us, and we thoroughly enjoyed a relaxing week full of beach time. In Bora-Bora we went on a hike of the interior of the island, which gave us a different experience of the tropical island.
New Orleans
Our honeymoon started with two nights in New Orleans, one of our favorite cities. While July might not be the most ideal time of year to visit weather-wise, we had a memorable time exploring different parts of the city and making stops along the way for ice-cold drinks.
Granada, Spain
I spent a month in Spain during the summer before my senior year of college for a mini study abroad experience. Spain in July is hot! My friends and I beat the heat by taking a trip to the beach in Nerja and eating plenty of gelato.
There are many destinations on my list of places to visit. Of these, some warm-weather spots include Saint Lucia, Arizona, Hawai'i, Turks and Caicos, Costa Rica and the Maldives, to name a few.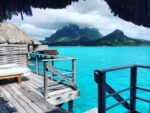 Stay warm, everyone!
— Katie Skrzek, vice president/digital director
FX Excursions
FX Excursions offers the chance for once-in-a-lifetime experiences in destinations around the world.
New Orleans has a full roster of activities, events and festivals enticing guests throughout February and March.
Sponsored Content
Located in the South Pacific, The Islands of Tahiti are just eight hours by air from California. Surrounded by pristine, crystal-clear blue waters, the 118 islands and atolls offer natural beauty, authentic island culture and unique French Polynesian style. The Islands of Tahiti are world-renowned for white-sand beaches, stunning turquoise lagoons and varied landscapes ranging from coral atolls to volcanic mountain peaks. Privacy comes naturally in The Islands of Tahiti and offers visitors the space to relax and reconnect and to be Embraced By Mana. Mana is the life force and spirit that connects all things in The Islands of Tahiti.
With Black History Month and Women's History Month right around the corner, it's time to highlight and recognize South African women working hard to make the travel industry better.