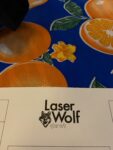 My husband and I recently joined another couple for dinner at Laser Wolf. Named after a character in Fiddler on the Roof, the Israeli restaurant from Philadelphia restaurateur Michael Solomonov specializes in charcoal-grilled meats and a selection of vegetable side salads, called salatim.
Located in Philadelphia's Kensington neighborhood, the restaurant opened in February 2020, right before the COVID pandemic took hold. Despite the challenging timing, the restaurant has since made numerous best-of lists, including GQ's list of best new restaurants in America, 2020. We were excited to experience the restaurant.
We arrived in time for our reservation and were seated immediately at a table near the large, open, garage-style door. The vibe is kitschy, with vinyl tablecloths with fruit patterns and waitstaff in Hawaiian shirts.
Our waiter described the menu and ordering process. Each table receives a salatim platter, then diners can choose from the grilled meat and vegetable selection. Our group of four decided on the special mixed grill, which comes with a variety of meat, including short ribs and lamb, not available on the regular menu. We ordered cocktails while waiting for our meal. Unfortunately, mine didn't arrive, and even after informing our waiter, it still took quite a long time for it to come to the table.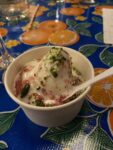 The salatim arrived first, and it included a fabulous selection of hummus, pita, spreads, salads and various preparations of vegetables. Some standouts included a roasted red pepper spread, mushrooms, cabbage with pickled raisins, hummus and the pita. I ordered a glass of wine with my meal, and our waiter brought out the incorrect wine. We joked I had bad luck on beverages! The meat arrived and we dove in. Standouts included the short ribs and chicken. All diners end the meal with brown sugar vanilla soft serve topped with pistachio rice crunch and sour cherry syrup. It was the perfect sweet and cool ending to our meal.
The hits at Laser Wolf are out of this world, but a few dishes and my beverage service were a bit lacking. Overall, it was a great dining experience, and I would dine at Laser Wolf again.
— Katie Skrzek, vice president/digital director
FX Excursions
FX Excursions offers the chance for once-in-a-lifetime experiences in destinations around the world.
With the autumn in full spring, now is time to start planning your fall weekend getaway.  Whether a relaxing weekend on the lake, leaf-peeping or hiking, check out these fall travel trends from vacation rental management company Vacasa.
Sponsored Content
Since its prestige for attracting the world elite grew in the 1960s, Greece remains the go-to destination for glittering holidays. Each step of the journey is enrobed in luxury, from culinary traditions with the highest standard of execution and name-brand, high-end shopping to first-rate wellness locales and elite accommodations, like 5-star hotels, private villas and yachts.
I imagine that when writer Hans Christian Andersen mused, "Life itself is the most wonderful fairy tale," he was standing at the edge of Copenhagen's historic Tivoli Gardens, one of his favorite haunts, enlivened by the swirl of human happiness that surrounded him: children laughing; carousels spinning; games of chance played for prizes; lovers holding hands; hungry people whispering over sweets, hot drinks, beer and towering, open-faced smørrebrød, Denmark's quintessential sandwich. That fairy tale lives on today at the second-oldest amusement park in the world, a spectacle of folly architecture, bakeries, gardens, rides, restaurants, puppet shows and joy ... and which also happens to be one of the city's most storied places to convene for business.