Last week, my friends and I went to Bok Bar in Philadelphia for a fun night out and a couple of drinks. My friend Charlie lives within walking distance of the bar, so we all gathered at his house first and then walked over to the bar, located in the historic Bok Building in South Philadelphia. The building used to be a high school that was converted into a workplace filled with nonprofit organizations, artists and small businesses. The bar really stuck with the school theme, and all the tables were recycled old desks and tables. It was really a cool experience.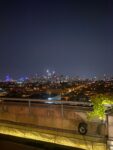 The bar is located on the roof of the building, so you have to take an elevator to the top. When you walk out of the elevator, you are greeted with a stunning view of the city and the iconic Philadelphia skyline. Whether you go at night or during the day, the view is still stunning.
We went on a Thursday night, so it was less crowded than it would have been on a weekend. I was happy it wasn't crowded because we were able to get our drinks right away, take pictures with the stunning view and then sit down and enjoy each other's company.
The bar offers plenty of different drink options such as all different types of beer, options for different wines, a couple cider and seltzer options and about three different cocktails. You can also get food there, as well. The food is on a rotating schedule, so it always has different types of food. Make sure to check the website before you go.
I highly recommend this bar to anyone in Philadelphia for the view alone! Make sure to add this bar to your Philadelphia bucket list.
— Mary Melnick, social media and editorial coordinator
FX Excursions
FX Excursions offers the chance for once-in-a-lifetime experiences in destinations around the world.
Celebrate World Vegan Day Nov. 1, with these vegan dishes from around the world.
Sponsored Content
The Global Business Travel Association's (GBTA) Convention 2021 will be unlike any other convention before it, as we come together in person for the first time since the business travel industry drastically changed and look forward to rebuilding and reshaping the future. GBTA Convention 2021 will bring all of us together to learn from experts and each other, in-person at Orange County Convention Center in Orlando, Florida, Nov. 17–19. The safety of our attendees is our top priority. View health and safety protocols.
The Hotel AMERON Zurich Bellerive au Lac, forged from the collaborative efforts of interior design firm Monoplan AG and other cutting-edge design firms, bills itself as a celebration of the 1920s and '30s aesthetic. The story behind it is compelling as the building dates to 1928 and has connections with the early days of Switzerland's movie industry. However, there are several fun Mid-Century Modern and late 20th-century design touches in the public and private areas. Clearly, it's going for the "modern luxury" vibe Millennial and Gen-X business and leisure travelers look for when seeking a quality smaller property with a great location.