More than 6,000 islands surround mainland Greece, of which only about 230 are inhabited. Beach lovers head to the pebble-covered shores of Corfu, the dazzling white sands of Kefaloniá's Myrtos and the endless stretches of black sand on Santoríni.
Foodies love the Greek islands for their hyper-regional cuisine, fresh-from-the-sea fish (every island has at least one taverna specializing in seafood), amazing soft cheeses (not only feta but dessert-sweet mizithra and peppery kopanisti) and those briny kalamata olives.
History buffs find an abundance of crumbling castles, ancient ruins and tiny whitewashed churches precariously clinging to steep cliffs. You can climb the 223 stone steps to the church of Agios Ioannis made famous by the 2008 hit musical Mamma Mia! Then, relax in a seaside taverna with a glass of chilled ouzo or a local micro-brew and, after dark, dance to wild and traditional bouzouki music. Plate smashing for "good spirits and good luck" started in ancient Greece but became a big thing after the 1964 cult classic Zorba the Greek. It was outlawed in tavernas in 1969 because too many people were being hurt by flying shards of pottery.
Each of the major island clusters presents a distinct character. The Ionian Islands — including Corfu — off the west coast of Greece feel a lot like the Caribbean … 20 years ago. The Argo-Saronic Islands (Salamis, Égina, Poros, Ídra and Spétses) hug the mainland's east coast and prove popular weekend getaways for wealthy Athenians. The northeast Aegean Islands are mountainous, oak tree-covered and jam-packed with impressive ruins. The Dodecanese include Rhodes, famous for its 14th-century Crusader Palace of the Grand Masters of St. John and for the medieval walled town that surrounds it. The Cyclades, a 56-island archipelago, includes the well-known and popular islands of Míkonos, Folégandros and Santoríni. Crete, the largest of the Greek islands, lies almost halfway between Athens and the African coast. Between 6.5 and 17 hours away from Athens by ferry, it is less than an hour away by air. Crete is full of archaeological ruins. Don't miss King Minos' jaw-droppingly spectacular red-and-gold palace, built around 1900 B.C.
Crete, Míkonos and Santoríni rate among the best scuba spots in Greece. Expect reefs, wrecks, caves and marine parks. Certified diving centers offer night dives (a magical experience for experienced divers) in the wine-dark seas to spot bioluminescent plankton, inky squid, octopus and moray eels on their nighttime prowls and fish "sleeping" in small holes. Divers can explore numerous contemporary-era wrecks — the freighter Kyra Eleni, which sank in heavy seas in 1978; Patris, a perfectly preserved paddle steamer that struck a reef and sank in 1868; the British submarine Perseus, sunk by a mine in 1941; and the most famous, the HMHS Britannic (a hospital ship in World War I and sister ship to the ill-fated HMS Titanic), which sank in 1916 and lies off the coast of the little island of Kéa. Diving to ancient wrecks is strictly forbidden.
The many ways to experience Greece are limited only by your imagination, the amount of time you have and, perhaps most importantly, by the size of your wallet.
Pontos Imperial Yachts, Ltd. is the go-to company for high-dollar and high-expectation clients — A-listers, fashion icons, multimillionaire sports figures and European royalty. This third-generation, family-owned company delivers over-the-top luxury. Features include a chauffeur-driven limo from your hotel to your yacht, helo-flights over distant islands, a personal assistant and hard-to-get reservations at top restaurants during high season. Aboard the modern and elegant yachts: king-bedded master cabins; his-and-hers bathrooms; indoor and outdoor dining areas staffed by private chefs; and a wide variety of water toys including Sea-Doos, water skis, wake-surfing boards and stand-up paddleboards, plus a crew to instruct all the adults and children on board. Each yacht is helmed by a captain experienced in Greek waters who can take you to swim in secluded bays; explore clifftop villages; hike spectacular, deep-cut canyons; or allow you to simply relax on the sundeck.
Abercrombie & Kent offers 10-day Greek island cruising via chartered small ships (148 guests) with private balconies and personal butler service. The A&K onboard team includes local guides, archaeologists and cultural experts. The ship visits iconic sites such as Míkonos and Santoríni, as well as lesser-known gems like Pátmos, Delos and Síros. The cruise also presents exclusive wine tastings, behind-the- scenes visits to museums and monasteries, visits with artisans in their studios, beach breaks (on wind-sheltered beaches, with lounge chairs, hors d'oeuvres and drinks) and other fun adventures like lunch and cooking classes at local rustic restaurants and organic farms.
In June Silversea launched a new ship christened Silver Moon to sail the Greek islands, featuring 298 suites and a 1:1 crew ratio. Two 10-day voyages — both beginning and ending in Athens (Piraeus) — offer different itineraries and different islands to visit. In addition, the ship introduces Silversea's S.A.L.T. (Sea and Land Taste) program to immerse passengers in the cuisine and culture of the Greek islands. Aboard, the S.A.L.T. Lab offers tastings and workshops with local chefs and experts, and the S.A.L.T. Kitchen serves freshly imagined drinks and locally sourced foods. Ashore, visit cheese makers and olive mills, local growers and chefs. All food-centric experiences are curated by Adam Sachs, former editor in chief, Saveur magazine.
The most romantic way to see the islands is from the deck of a sailing ship. Windstar boasts a trio of four-masted sailing ships (as well as a trio of all-suite small cruise ships) that visit the small, "hidden" ports of the Aegean such as Náfplio, Monemvassía and Pátmos. Star Clippers' four-masted schooners with teak decks, mahogany rails and polished brass fittings epitomize the dream of Swedish entrepreneur Mikael Krafft to bring back the golden age of sailing ships. You can mingle with the crew and, with supervision and a harness, climb the 65 feet up to the crow's nest. Sea Cloud Cruises sails the majestic Sea Cloud (built in 1931 for socialite Marjorie Merriweather Post, the Post Cereals heiress) and sister ship Sea Cloud II, which exemplify the elegance and glamour of a bygone era. Think marble fireplaces, gold (swan-shaped) faucets, antique French beds and armoires, and dinners in the wood-paneled restaurant on the Promenade Deck. Both ships feature a wide variety of dishes with a Greek-island influence.
If you want to hop to some of the unspoiled, under-visited islands, throw caution to the wind and jump on a ferry, catamaran or hydrofoil to places like the small Cyclades (Iráklia, Shinoússa, Áno Koufoníssi). It helps to know a little Greek and have a flexible schedule. If you're looking for luxury, don't bother; accommodations are clean and simple. The same goes for the tavernas. There are more donkeys than cars; the internet service is spotty; and there's not much to do except swim (expect some nude bathers), eat, sleep and toast the slow, glowing sunsets. This is beginning to change as the islands become increasingly popular with sun-loving Italians and free-body-culture Germans.
LODGING
Pontos Imperial Yachts, Ltd.
This third-generation, family-owned company features a chauffeur-driven transfer, a personal assistant, king-bedded master cabins, his-and-hers bath- rooms, indoor and outdoor dining and a wide variety of water toys — all with a touch of serious luxury.
pontosimperialyachts.com
Silverseabr
Accommodating 596 passengers, Silver Moon, one of the largest ships in Silversea's fleet, maintains the small-ship intimacy and spacious all-suite accommodation hallmarks of the cruise line.
silversea.com
Star Clippers
Consider a sail on a four- masted tall ship through the northern Cyclades, with Pátmos, Amorgós, Míkonos and Spétses among the ports of call. Enjoy the adventure and romance of the legendary era of sailing ships paired with present-day comforts and amenities.
starclippers.com
DINING
Avra Garden Restaurant
Avra is known for its excellent Mediterranean and international food, friendly welcome and elegant garden courtyard setting. It stocks a wide selection of the finest Greek red and white wines, with experienced mixologists standing ready behind the bar.
N. Kalogera St. 27, Míkonos Town, Míkonos
$$$
Etrusco
Enjoy artful Mediterranean culinary delights in the warm and friendly environment of this award-winning restaurant. Choose from a long or short tasting menu, or order à la carte. The chef can also prepare a personalized menu at a minimum of two days' notice.
Kato Korakiana, Dassia, Corfu
$$$$
Pergeros Restaurant
Overlooking the stunning caldera, this all-day dining venue at the 5-star Aeifos Boutique Hotel serves freshly prepared dishes inspired by Greek and Mediterranean cuisine. A perfect spot to sample the unique flavors and wines of Santoríni.
Aeifos Boutique Hotel, Imerovigli, Santoríni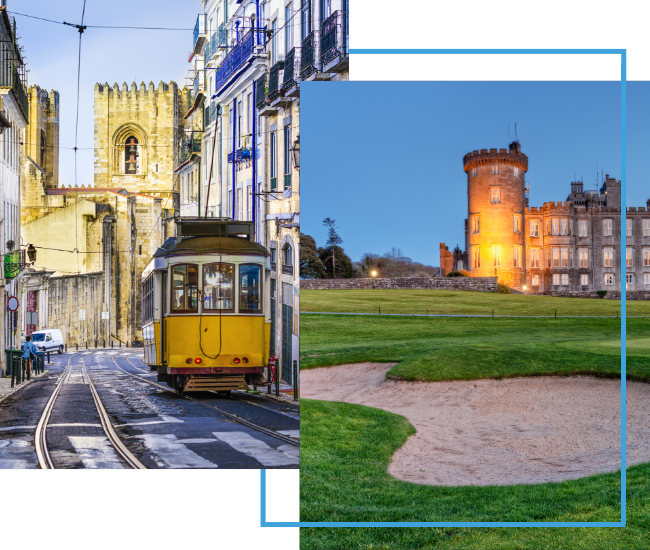 FX Excursions
FX Excursions offers the chance for once-in-a-lifetime experiences in destinations around the world.
Explore Excursions
Corsica with steep, gray cliffs overlooking the Mediterranean and sandy beaches attracting summer visitors, is a French-governed island sometimes confused with Sardinia and Sicily, Italian islands to the south. Fortunately, all three islands share the same love for good wine, food and sun-splashed beaches.
Sponsored Content
The Saronic or Argo Saronic Islands of Greece call travelers to explore its seven small islands and islets brimming with history, natural sites and more. With most easily accessible by boat, the islands' proximity to ports of Athens make the Saronic Islands an ideal destination for those preferring shorter boat rides. In fact, trips from Athens ports to the islands take only between 10 minutes and two hours, depending on the island you choose, making them perfect for day or weekend trips. From Piraeus port, you can access Hydra, Spetses, Aegina and Poros directly. Come explore these stunning islands with us and find the inspiration to plan your next trip to these islands. Hydra Hydra town curves around a slope overlooking the Argosaronic Gulf like an amphitheater and is considered one of the most romantic destinations in Greece. Most unique to the island is its lack of vehicles. People on the island get around on mules and donkeys as well as water taxis, making for a peaceful and laid-back day. Hydra lies a two-hour ferry ride from Piraeus port in Athens.
If you're ready to do a little holiday catch-up with your besties, make a beeline for Conrad New York Downtown. The lobby metamorphosed into a holiday forest of heavenly scented, decorated Virginia Spruce trees. Make your first stop ATRIO Barista Station in the lobby for a complimentary hot spiced apple cider (until Dec. 3) or hot chocolate (Dec. 22­–24).