Consistently ranked as one of the most livable cities in the country, Portland, Ore., is a progressive urban center nestled among some of the country's most pristine natural settings. No wonder Portland — nicknamed "Rose City" — attracts some of the nation's best and brightest citizens.
Especially popular among the young and educated, Portland is a tolerant, beautiful city whose early settlers had the foresight to encourage the conservation of green space. The result? Portland today is home to the nation's largest urban wilderness area — the 5,000-acre Forest Park. This legacy of environmental awareness and responsibility continues as Portlanders recycle a whopping 54 percent of their waste — more than any other city in the United States.
Sure, the city has experienced a few rough years recently, but the economy is on the upswing and Rose City is making strides in some key areas. For starters, the gastronomy is hot, hot, hot as Portland continues to attract top culinary talent from all over the world. Chef Vitaly Paley, whose resume includes New York City's Union Square Cafe, moved here to open his own restaurant called Paley's Place. Rolland Wesen, another Manhattan transplant (Gramercy Tavern, The Rainbow Room), recently brought his talent to Rivers restaurant at the Avalon Hotel and Spa.
Why all the interest in Portland?
"Because the city has easy access to the freshest local ingredients — produce is grown as close as 30 minutes from downtown," said Erik Wolf, CEO of the Oregon Culinary Tourism Association. Wolf, who hails from the Midwest by way of New York City, said Oregon's status as the first U.S. affiliate of the International Culinary Tourism Association — a huge deal among foodies — stems from its lead-the-way heritage.
"Oregon has always been a pioneer state, so why shouldn't it lead in culinary tourism as well," said Wolf. While it's been less than a year since Wolf spearheaded the ICTA affiliation, he's already working on other ways to put Oregon on the map alongside other noted culinary capitals (think Paris or Rome). Next up? Wolf is getting ready to launch the first-ever Oregon travel guide for foodies, Culinary Escapes.
Another burgeoning business sector is Oregon's wine industry. It is just a few decades old, but vintners are already producing wines that are competing with — and often outshining — some of the world's best. Oregon wines have been winning national and international acclaim since 1979 when David Lett (aka Papa Pinot) of The Eyrie Vineyard in Yamhill County (see Fine Vines, page 27) entered his 1975 Pinot Noir in an international wine competition, earning third place.
Oregon's wine country continues to expand, both as a tourist destination and in production. Today there are more than 250 wineries in the state, putting Oregon second in the nation behind California. It's fourth in the nation in terms of product output, but signs point toward growth. In 1992 Oregon wineries sold 430,200 cases around the world. In 2003, the number grew to nearly 1,200,000 cases — a 279 percent increase. Today, Oregon's seven designated vitacultural areas produce more than 40 varietals.
"Oregon has, to a large extent, channeled its drive for quality through sustainability," said Kirsten Wall Jagne, deputy director of the Oregon Wine Board. "Our industry has taken a stance to support sustainability in how we farm and make wines, not only because we believe it is better for people and our environment, but because sustainable practices produce exceptional wines."
In November of last year, 60 wineries participated in what will become an annual event called Oregon Bounty. Wineries opened their tasting rooms every weekend for the month of November and offered not only free, or inexpensive, flights, but tastes of other locally grown goods (last year they offered pears and hazelnuts). Year one proved successful, with participating wineries reporting an average 47.7 percent increase in sales during the month of November in 2004, compared to 2003, from their tasting rooms.
Portland is in the heart of a high-technology region. One obvious success story is Intel, which has a huge presence in Oregon, the company's largest site in the world. Intel is also Oregon's largest employer and has made quite an impact on the state's economy. Intel's operations in Washington County, just outside Portland, produced $6.12 billion in output in 2001, and directly employed 15,319 people who raked in $1.51 billion in wages, salaries, cash bonuses and stock options.
Another hugely successful business based right outside Portland is Nike, Oregon's only Fortune 500 company. The sports apparel and footwear maker pulled in $12.3 billion in revenue for the 2004 fiscal year.
Gov. Ted Kulongoski has made it his mission to encourage other successful companies to set up shop in Portland and throughout Oregon. He is intensifying his business recruitment efforts as part of a new campaign called "Brand Oregon," which takes the principles of private sector branding and applies them to a government entity. The brainchild of Debby Kennedy, former international brand manager for Nike, Brand Oregon combines the marketing efforts of the state's tourism commission, department of agriculture, the forestry department and other government sectors to communicate one consistent message.
As part of the Brand Oregon initiative, Portland-based ad agency Wieden & Kennedy (of Nike fame) has developed a unique ad campaign that tells the story of Oregon. Less than a year into the project, the economic results are difficult to tally. But if imitation is the sincerest form of flattery, it's interesting to note that two other states (Kentucky and Pennsylvania) and a country (Australia) are developing similar marketing programs.
This spring you'll start seeing Brand Oregon's business recruitment ads in various media, including billboards and magazines. "Our initial target market is California, and the ad that is going to break first really just talks about quality of life issues and how great it is to live here," said Kennedy, who is not affiliated with the ad agency. "But it also talks about the cost of workers' comp here compared to California. We're around 60 percent lower than California, our energy prices are lower, and all those kinds of data."
When Kulongoski spoke at the third annual Oregon Business Council Economic Leadership Summit last December to an audience of more than 1,000 leaders from Oregon's business community, he focused on promoting higher education and turning out a highly skilled, educated new generation of workers. Figuring out how to contain spiraling health-care costs was also a top priority on the agenda (one in six Oregonians lacks healthcare coverage, exceeding the national rate), as was creating jobs.
The good news for Portland is that there are a number of passionate, talented and proactive people determined to keep the city, and state, on the upswing. Oregon ended 2004 by adding more jobs than usual for December and dropped the unemployment rate from 7.2 percent to 6.8 percent. It's not excellent, but the economy is punching back.
---
LODGING
HERON HAUS BED AND BREAKFAST
The Heron Haus Bed and Breakfast is just a few blocks above Nob Hill's 23rd Avenue, which buzzes with diners, shoppers and people-watchers. This 10,000-square-foot mansion was built in 1904 and is covered in ivy, giving it that old English charm. The property is gorgeous and includes a secluded orchard and swimming pool. There are only six bedrooms, each of which has a private bath, a fireplace and data ports, so book ahead. $$-$$$
HERON HAUS BED AND BREAKFAST
2545 N.W. Westover Road
Portland, OR 97210
tel 503 274 1846, fax 503 248 4055
www.heronhaus.com
AVALON HOTEL & SPA
The new Avalon Hotel & Spa overlooks the Willamette River and offers a luxurious and relaxing stay. The sophisticated artwork, vintage décor and the adjacent Rivers Restaurant are pluses, but the 13,000-square-foot spa will seal the deal for the weary traveler. Amenities include high-speed Internet access, same-day laundry and valet service and personalized voicemail. $$$$
AVALON HOTEL & SPA
0455 S.W. Hamilton Court
Portland, OR
tel 503 802 5800 or 888 556 4402
www.avalonhotelandspa.com
JUPITER HOTEL
If you want to be part of Portland's hip LoBu (Lower Burnside) crowd, Jupiter Hotel is the spot to lay your head. The Jupiter's rooms include wireless Internet service, luxurious bedding and Egyptian cotton-blend towels and sheets. The Jupiter is within spitting distance of the trendiest bar in Po rtland, the newly opened Doug Fir. And the price is right. $
JUPITER HOTEL
800 E. Burnside St.
Portland, OR 97214
tel 503 230 9200
www.jupiterhotel.com
HOTEL MALLORY
Portland's historic Hotel Mallory is on the edge of downtown near the Pearl District, an ideal location for the curious traveler. Built in 1912, this hotel is simple yet elegant. The crystal chandeliers, leaded glass and ornate, golden, lobby ceiling alone are worth the stay. Make sure to stop in for a nightcap at the attached Driftwood Room, a retro lounge that appeals to Portlanders and visitors alike. Amenities include wireless Internet access, room service, a 24-hour fitness center and a daily newspaper. $$
HOTEL MALLORY
729 S.W. 15th Ave.
Portland, OR 97205
tel 503 228 8657, fax 503 223 0522
www.hotelmallory.com
THE BENSON HOTEL
The Benson Hotel in the heart of downtown is a longtime favorite among rock stars and politicians traveling through town. You'll feel the prestige the minute you walk into the lobby and see its hugely vaulted ceilings and dark wood accents. The rooms are just as beautiful in a traditional, velvet-throw-pillow-and-brass-lamp way. Amenities include his-and-hers plush terry-cloth bathrobes, honor bar, two phone lines and a data port — even Nintendo games and movies. Located on the lower level of The Benson is the London Grill restaurant, which was recently awarded four diamonds from AAA for service and style — the only restaurant in Portland to be so honored. $$-$$$
THE BENSON HOTEL
309 S.W. Broadway
Portland, OR 97205
tel 888 523 6766, fax 503 471 3920
www.bensonhotel.com
---
DINING
CLARKLEWIS
With Chef Morgan Brownlow at the helm, Clarklewis offers a highly seasonal Italian menu that rivals the best of New York's hot spots. The wine list is equally impressive. Located at a former loading dock, this industrial chic restaurant, complete with an open kitchen so you can see your food as it's prepared, offers a candlelit experience you're not likely to forget. Call ahead for reservations. $$$
CLARKLEWIS
1001 S.E. Water Ave.
Portland, OR 97214
tel 503 235 2294
www.ripepdx.com
J&M CAFE
At the risk of exposing a local favorite, we have to mention this breakfast spot because it's likely to be the heartiest meal you'll have in Portland (at least before 11 a.m.). This east-side eatery teems with personality. The serve-yourself coffee and mug selection will make you feel at home, and the freshly squeezed orange juice is the perfect complement to your just-right Harvest Scramble. The food here is so tasty you won't leave a crumb on your plate — and that's saying a lot because the portions are huge. $-$$
J&M CAFE
537 S.E. Ash St.
Portland, OR 97214
tel 503 230 0463
PALEY'S PLACE
Paley's Place is located on the main floor of a house on Northwest 21st Avenue. A former chef at New York's Union Square Cafe, Chef Vitaly Paley and his wife, Pastry Chef Kimberly Paley, are celebrating 10 years of serving some of the finest cuisine in Portland. Here you'll find only the freshest of local organic ingredients used in an ever-changing menu of Pacific Northwest bistro fare. There's also an admirable wine list that includes Oregon's finest Pinots. $$$$
PALEY'S PLACE
1204 N.W. 21st Ave.
Portland, OR 97209
tel 503 243 2403
SAUCEBOX
Saucebox doesn't seem like much from the outside, but once you walk through the doors you're in for a treat. The dim lighting and Alexis Rockman's mammoth oil painting gives this insider hot spot that "see and be seen" vibe. The menu is a mix of Hawaiian regional and Pan-Asian cuisine. The New York Times called Saucebox's signature Javanese Salmon dish, "As good as salmon gets." $$$$
SAUCEBOX
214 S.W. Broadway
Portland, OR 07205
tel 503 241 3393, fax 503 243 3251
www.saucebox.com
---
NIGHTLIFE
Portland's newest happening neighborhood sits just across the Willamette River from downtown. Once the sun sets, LoBu (Lower Burnside) is hopping with activity. Slow Bar (533 S.E. Grand, tel 503 230 7767) is famous for its eclectic jukebox. Nearby is Produce Row Café (204 S.E. Oak, tel 503 232 8355), which has more than 200 types of beer, and when the temperature rises, the patio buzzes with friendly locals. Stop by on a Friday — and pack your harmonica 'cause it's open mike night. Doug Fir (830 E. Burnside St., tel 503 231 9663) is a popular stop among Portland's hip crowd. The interior resembles a 1950s log cabin, complete with a fireplace in the lounge area. The music venue in the basement has spectacular sound quality and attracts up-and-coming bands. And when the liquor stops flowing at 2:30 a.m., Doug Fir keeps its doors open, offering comfort food (how about a stack of pancakes?) until 4 a.m.
If late nights aren't your thing, there are ample happy hour spots in the Pearl District, Portland's very own Soho. This hip neighborhood is within walking distance — or just a three-minute streetcar ride — from downtown. Oba! (555 N.W. 12th Ave., tel 503 228 6161) offers snacks and inexpensive signature cocktails in a dimly lit, buzzing atmosphere. Henry's 12th Street Tavern (10 N.W. 12th Ave., tel 503 227 5320) is located in the historic Weinhard brewery building and is separated into an upscale restaurant and a two-story bar, with poolroom, that has a phenomenal happy hour menu (try the gorgonzola fries). Nearby, Bluehour (250 N.W. 13th Ave., tel 503 226 3394) is a slightly more upscale favorite among locals and visitors. Hunker down at the bar and order a martini, or, if you happen to be in town on the first Thursday of the month, snatch one of the few outside tables that overlooks 12th Avenue. It's the perfect vantage point to see the endless stream of folks exploring the neighborhood during the First Thursday celebration, a monthly event when the area's many art galleries open for extended hours, prompting locals and visitors to wander the neighborhood, weaving in and out of galleries, bars, shops and restaurants.
Thanks to Oregon's ever-growing wine industry, wine bars have sprung up all over Portland. A couple worth checking out include the Pearl District's 750ml (232 N.W. 12th Ave., tel 503 224 1432), where the couch booths offer a cozy contrast to the industrial-style cement floors; and on the other side of town is Noble Rot (2724 S.E. Ankeny St., tel 503 233 1999), where you can order a flute and experience an impressive variety of what Oregon has to offer wine lovers.
Downtown Portland has plenty in the way of culture, from the Oregon Ballet Theater (tel 503 2BALLET, www.obt.com) and the Portland Opera (tel 503 241 1802, www.portlandopera.org) to the many cutting-edge performances that stream through town.
---
Business Resources
PORTLAND DEVELOPMENT COMMISSION
The PDC (tel 503 823 3200, www.pdc.us) is the place to go for information about small business loans, business recruitment and retention, retail opportunities, new retail information and more.
OREGON ECONOMIC AND COMMUNITY DEVELOPMENT DEPARTMENT
This is a comprehensive Web resource (www.oregon4biz.com) for all your business questions, whether you're already here or thinking of relocating.
OREGON PROSPECTOR
The state's official Web site for site consultants and businesses interested in relocating or expanding a business in Oregon. This site (www.oregonprospector.com) provides a comprehensive list of available sites and buildings, and includes a contact list of statewide economic development professionals. Includes a link to search for available commercial land and buildings.
PORTLAND ONLINE
The official site of Portland (www.portlandonline.com) provides information about Portland services, businesses, news and government.
THE PORTLAND OREGON VISITORS ASSOCIATION
You'll find an extensive calendar of events at this organization's site (www.TravelPortland.com), including information about new happenings in the city in the way of cuisine, arts and culture.
---
INFO TO GO
Portland's transportation system is an easy and efficient way to navigate the city. Pick from the MAX Light Rail, buses or streetcars. Fares range from 65 cents for senior citizens to $1.35 for adults, $3.50 for an all-day pass. Best of all, the MAX offers service between Portland International Airport (PDX) and downtown; the cars are clean, and the ride is smooth and quick (about 20 minutes). Once in the downtown area, you've entered the "Fareless Square," which means you can ride the bus, MAX or streetcar for free throughout the majority of downtown. For more information, call 503 238 RIDE or visit www.trimet.org.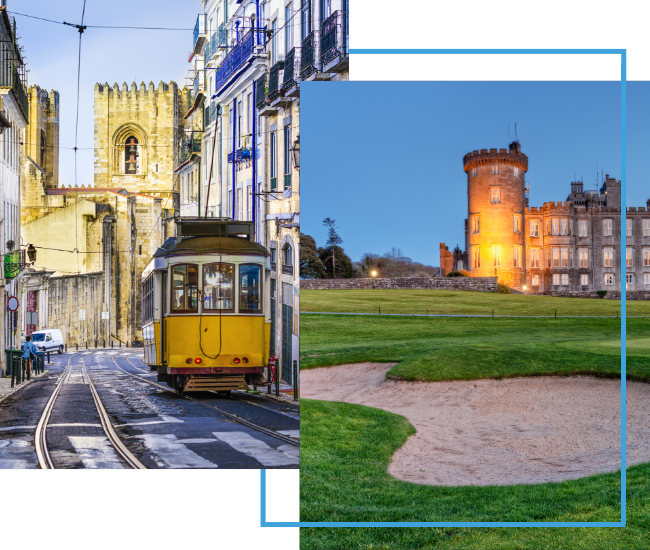 FX Excursions
FX Excursions offers the chance for once-in-a-lifetime experiences in destinations around the world.
Explore Excursions
Pleasant weather, autumn foliage and vibrant flowers are among the many delights awaiting nature lovers at botanical gardens and arboretums across the United States. However, some of these green spaces take on additional color this month and through Halloween when enterprising gardeners, landscape architects, management and other creative minds cast a spell with themed environments running the gamut from spooky to utterly bewitching.
Sponsored Content
Experience the life-changing destination of Greece by exploring its island gems in the Ionian Sea. Scattered off the western coastline of Central Greece, to the south of Peloponnese, the Ionian Islands are an island group comprising large and small islands.
For travelers who love all things autumn, Crystal Springs Resort, New York City's closest destination resort, features special offers and experiences to meet the demands of everyone's fall bucket list. Located only 80 minutes outside New York City in Sussex County, New Jersey, Crystal Springs Resort offers a quick getaway to enjoy fall foliage. Are any of these new offers or experiences on your bucket list?