MICE Buenos Aires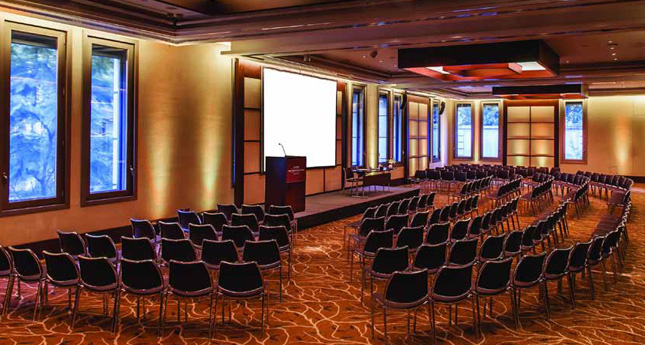 Photo: Palacio Duhau – Park Hyatt Buenos Aires meeting room © Palacio Duhau – Park Hyatt Buenos Aires
By
Mark Chesnut
- May 1, 2016
It may not be the largest city in South America, but Buenos Aires is definitely in the big leagues when it comes to attracting international meetings and conferences. In fact, Argentina's capital consistently beats all other cities in the region according to the International Congress and Convention Association's annual rankings based on the number of international events hosted in major cities worldwide. In 2014 (the ICCA's most recent data), Buenos Aires hosted 91 international events, making it the 21st most popular destination in the world and No. 1 in Latin America.
The allure of Buenos Aires for expos and incentives is multifold, according to Lucía Bo, director of sales and marketing, Palacio Duhau – Park Hyatt Buenos Aires, one of the city's most upscale group-friendly hotels. "Buenos Aires is a dynamic and vibrant destination for MICE groups in Latin America," she said. "The city combines modern infrastructure with the charming lines of European architecture; [it's] known as the Paris of South America. People from Argentina are attentive, warm and friendly. The diversity, the culture, the neighborhoods offer a myriad of experiences that make this city a unique spot for events."
A quick run-down of numbers provided by the Buenos Aires Convention & Visitors Bureau and the Buenos Aires Tourist Board offers still more insight: The metropolis boasts more than 30,000 beds in 3-star to 5-star hotels, as well as 36 universities, more than 200 theaters, 144 museums and more than 7,200 bars and restaurants.
All of which create strong selling points for Buenos Aires that will likely guarantee its leading position in the MICE market for decades, according to Tilo Joos, general manager, Hilton Buenos Aires. The 419-room hotel provides event space for up to 4,500 people and customized planning assistance for groups looking for authentic local experiences. "Argentina and Buenos Aires provide very compelling options when it's time to choose a destination for an international event, and it continues growing in popularity on a grand scale," Joos said. "We believe that the city will continue to receive many more international events since it's an attractive destination from a tourism and cultural perspective."
To connect groups with unique experiences, Palacio Duhau offers options like Tango, Wine & Cheese, a tasting headed by the hotel's sommelier and chef fromager and accompanied by a tango show in the hotel's gardens. The hotel also offers group excursions to Estancia La Bamba, one of Argentina's oldest ranches, where they learn about gaucho traditions and equestrian sports.
At the trendy Faena Hotel Buenos Aires in the Puerto Madero district, groups of 15 to 600 use the hotel's ballroom as well as the Faena Arts Center for a variety of activities including private group tango lessons, yoga and meditation classes, tastings of famed Argentinean wine and private viewings of the hotel's popular Rojo Tango show.
InterContinental Hotels Group — represented in Buenos Aires by the InterContinental Buenos Aires, Holiday Inn Express Puerto Madero and Holiday Inn Buenos Aires Ezeiza Airport — also trumpets the destination's attractiveness for the MICE segment. "Buenos Aires has everything, from a bustling city to an abundance of shopping options [and] plenty of fine dining options, as well as modern Andean cuisine, delicious wines, tapas and lots of beef-oriented meals," said Gerardo Murray, regional vice president, distribution and commercial marketing for Mexico, Latin America and the Caribbean, IHG.
Murray praises the diversity of off-site activities in Buenos Aires. "There are various cultural arts venues that are rich in history and present a nice break after a long day of meetings," he said. "Buenos Aires is dynamic and fascinating. One can find beautiful architecture, like that of Plaza de Mayo, which reflects Spanish traditions, and the Colón theater, which looks like it belongs in a European country."
Buenos Aires will get a big boost in meeting space when the Buenos Aires Exposition & Convention Center opens in 2017 in the Recoleta district. With space for 5,000 people, the new facility will raise the city's convention and expo capacity by 10 percent. Existing convention centers include La Rural, offering more than 860,000 square feet of exhibit space with seven pavilions and capacity for 8,900 people; and Centro Costa Salguero, with more than 335,000 square feet of exhibit space and room for 6,000 people. Located near Jorge Newbery Airport and set among lakes and gardens, the Golden Center features 48,000 square feet of exhibit space and room for 2,500 people.
Groups can enjoy the ambience of unique venues in Buenos Aires such as the magnificent Teatro Colón, opened in 1908 and one of the city's most recognized landmarks. Renowned for its architecture as well as its acoustics, the venue includes a 2,654-seat auditorium and multiple salons that provide elegant backdrops for private events. Also noteworthy are the Metropolitan Design Center (10 breakout rooms and a 200-seat auditorium) and the Modern Art Museum (two breakout rooms and a 200-seat auditorium). Usina del Arte, an arts center in the tourism-popular neighborhood La Boca, occupies a former electrical power plant and has two auditoriums, seating 250 and 1,200. The Buenos Aires Tourist Board helps MICE planners connect with these venues.
The nine public and 20 private universities in Buenos Aires also offer a variety of meeting and event spaces, as do the city's 20-plus sports venues, ranging from giant soccer stadiums to tennis courts. So whether a group's interests tend toward cuisine, culture, history or sports, they're likely to find a memorable place to meet and enjoy time together in Buenos Aires.