Q&A with Haley Fogarty, Advertising Manager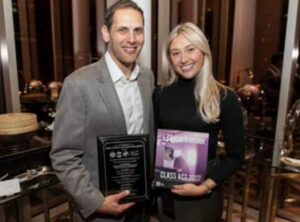 We are excited to announce the winners chosen by you, our readers, for the 2022 GT Tested Reader Survey awards. Did your favorite brands make the winners' list?
Tell us. Email us at [email protected]
Q&A Time
In our November 2022 issue we asked: Do you prefer to stay closer to home for the holidays, or do you use the break to see a new place? A few readers wrote in:
Because my family is spread out across the United States, seeing family during the holidays is a vacation in itself. With some family in Minnesota, some in Florida and a few in Arizona, we like to rotate where we host our Thanksgiving and Christmas get- togethers so everyone has the chance to escape the cold (or heat, in Florida). It would be nice, however, to travel somewhere completely different for a change, but we must wait until the kids head off to college for that to happen!
DAISY UNDERWOOD, VIA EMAIL
The holidays are my favorite time of year, as my wife and kids like to travel somewhere new each year. We never really had traditional holiday meals with family, as most of them live outside of the United States. Last year we went to Las Vegas and the Grand Canyon. This year we plan to visit the Oregon coast. The only catch to traveling during the holidays is staying off the roads the day before and after Thanksgiving, as well as the few days before and after Christmas, as traffic piles up quickly.
DANIEL GAMBLE, VIA EMAIL
United Airlines Threatens to Drop JFK Service 
In the Sept.14 issue of eFlyer, we told readers United Airlines announced its plans to pull service from New York's John F. Kennedy International Airport unless the airline was granted more slots. We asked: How might this affect your travels should the airline pull out of JFK? Which airport do you prefer for international connections: New York (JFK) or Newark (EWR)? Two readers wrote in:
Since reading this news when it initially came out, I've learned United Airlines officially announced its decision to leave JFK temporarily. As someone living in Manhattan who travels frequently for business, this means I have fewer options. I often flew United Airlines at JFK, so this change entails me turning to other airlines at JFK or venturing to Newark. I prefer JFK for international flights, as I experience fewer delays than I do at Newark, and the loss of United Airlines at JFK will, no doubt, affect many others like me.
ANTONY SANTOS, VIA EMAIL
When I first heard the news of the airline potentially withdrawing from JFK should it not receive more slots to compete with other domestic airlines, I thought either United Airlines or the Federal Aviation Administration would give way to prevent something like this from happening. I hope it is only a temporary departure and that United will return to JFK soon.
KACY WILKINSON, VIA EMAIL
Japan Opens Borders Without Heavy COVID-19 Restriction
In the Sept. 28 issue of eFlyer, we told readers Japan officially opened its borders for the first time in two years since the beginning of the pandemic. We asked: Are you planning a trip to Japan now that its borders are open? One reader wrote in:
I had planned a two-week vacation to Japan for 2020. Of course, I had booked this trip in early 2019, and little did I know a pandemic would ruin these plans and the plans of countless other travelers. I contacted some of my family and friends the minute I heard about Japan reopening its borders.
As I had a two-week itinerary planned for more than three years now, I will adhere to that schedule as best as possible. I expect some places on my itinerary to be closed or have restricted access as the country slowly adjusts to post-pandemic life, but I am beyond thrilled to head to Japan next summer. Fingers crossed the COVID pandemic doesn't plan to return!
EMILY COCHRAN, VIA EMAIL
Will Airlines Ban Tracking Devices in Checked Baggage
In the Oct. 19 issue of eFlyer, we told readers about a recent mix-up over Lufthansa's statements regarding the use of tracking devices on checked baggage. We asked: Do you use tracking devices like AirTag on checked luggage? One reader wrote in:
Yes, I recently completed my first trip using AirTags. We were able to see our bags were still on the dock at a near point to the ship leaving. We alerted the ship's team and told them exactly where our bags were located. Some minutes later, our found bags were brought to us.
On the way home, the trackers worked well, but two of our bags didn't have trackers. Of course, these were the two bags left at the terminal. A port agent has them en route to us after seeing they were the only bags left in the terminal.
Do they work? Yes, and if we had tags in our left bags, we would have been notified and had time to turn around and get them before going on our way to the airport. We are home now, and the bags will reach us soon via UPS.
TERRI CALABRESE, VIA EMAIL
FX Excursions
FX Excursions offers the chance for once-in-a-lifetime experiences in destinations around the world.
FXExpress Traveler of the Year Contest 2023
Sponsored Content
Copa Airlines is celebrating its 75th anniversary by showcasing a Boeing 737-800 NG in an aircraft livery that harkened back to the airline's look in the 1990s. During that time, Copa Airlines launched an expansion of their network to become the Hub of the Americas®, changing the way to travel to and connect in our Continent.
Envisioned as one of Asia's most sustainable skyscrapers, a proposed 63-story, mixed-use downtown development project in Singapore takes cues from bamboo forests to create an indoor-outdoor vertical community with public spaces, offices, retail, a hotel, event spaces and luxury residences.