From wild coasts and cliffs dotted with puffins to mysterious glaciers and colorful fishing villages, Iceland is an adventure traveler's dream come true. While established coach tours along the country's famous Ring Road and Golden Circle routes are readily available, Hidden Iceland can help you plan a bespoke journey, allowing you to experience landmark highlights from a different perspective while sharing off-the-beaten path destinations the guidebooks may have missed.
The company's team of vetted and qualified guides has been handpicked for proven skills in mountaineering, trekking, cultural and historical knowledge and a wide range of skills and attributes. Ryan Connolly, co-owner, Hidden Iceland, works alongside Dagný Björg Stefánsdóttir and Scott Drummond, a group of friends who came together to set up this personalized tour company.
Global Traveler recently spoke with Connolly to get his take on Iceland trip planning.
Global Traveler: Now that travel restrictions have lifted and many travelers head to Iceland, do you have any advice on having an authentic experience?
Ryan Connolly: No. 1 would be travel with an experienced guide, for sure. That could be a local who's been here their whole life, a trained adventure guide or an expert scientist — anyone from a geologist to a glaciologist or a volcanologist. One way or another, they are going to add a whole extra dimension to your time in Iceland. They might even get you off the beaten path to see some parts of the country less visited, such as the highlands of Iceland, the Westman Islands, the Eastfjords or even as far north as the Westfjords. The second tip would be to give yourself as much time as you can. Iceland is expensive, but when a local destination management company recommends two or even three days in the Vatnajökull National Park in the southeast instead of a long daytrip, trust them. Aside from glacier hikes, ice caves, icebergs and black-sand beaches, an area like that (a UNESCO World Heritage site) has a whole treasure trove of hidden spots and forgotten hikes that deserve a little more time. So, I'd say in general, if you only have a week in the country, it's better to focus on one or two places well than to tick off boxes and travel around the whole island.
GT: What do you think surprises people most about their first journey to Iceland?
Connolly: The wildlife, especially in summer. This so-called barren tundra in the middle of the Atlantic Ocean skirting the Arctic Circle is quite the enigma. It is a far cry from the wasteland most people imagine, especially when compared to other places in a similar lofty latitude. Thanks to the Gulf Stream, Iceland enjoys a temperate climate all year-round. That means hundreds of bird species flock to Iceland every year. In fact, more than 10 million Atlantic puffins call Iceland home during breeding season. Along the coast, the oceans teem with fish, seals and more than 20 different whale species. Further inland, you can see reindeer, mink, free-roaming sheep, Icelandic horses and — if you're really lucky — an elusive Arctic fox. This is all possible due to the lush vegetation that covers the island, from purple Alaskan Lupine to bright green pillow-like moss to the unlimited blueberries. The diverse flora makes Iceland look like a veritable rainbow at times. Don't worry if you're coming in winter, though, as these rich summer and autumn colors make way for radiant blue glacier ice, vibrant green northern lights and unpolluted fresh snow. There isn't really a bad time of year to come to Iceland, just a different time.
GT: One more insider tip?
Connolly: The Westman Islands (Vestmannaeyjar) are best enjoyed from mid-May to mid- August, when Atlantic puffin breeding season is at its peak, though going there as early as April and as late as September is still wonderful. The views of the entire archipelago, including the newly created volcanic island of Surtsey, are best seen from the top of Eldfell volcano, which erupted in 1973.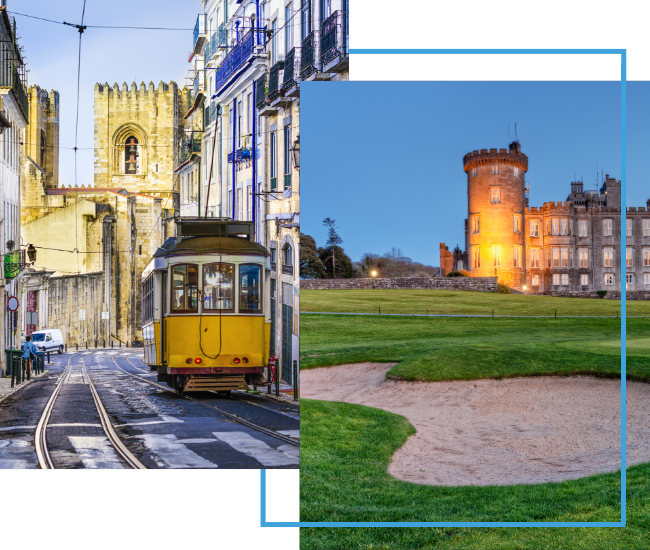 FX Excursions
FX Excursions offers the chance for once-in-a-lifetime experiences in destinations around the world.
Explore Excursions
While the 372-passenger Viking Polaris expedition ship, launched in September 2022, falls midway in size between Viking Cruises' intimate river cruise ships and large-scale ocean ships, it is operated with the same attention to detail and personalized service.
Sponsored Content
The Global Business Travel Association (GBTA) believes business travel is a fundamental force for good and brings the industry together to connect, innovate and set new standards. With members from across the globe, GBTA engages the many voices of business travel to build a collective future, providing a platform for buyers and suppliers to come together, connect with peers, grow their network and shape the future of the industry.