In 2004, when the published issues of Global Traveler still numbered in the single digits, GT publisher and CEO Francis X. Gallagher and I were at a meeting in Boston when we stumbled upon a celebration: A local magazine was marking its 10th anniversary. Back then, the concept of celebrating our own decennial seemed like a dream on the far horizon.
We passed that milestone last year, and in January 2015, we mark yet another landmark with the publication of our 150th issue.
What happened to that other magazine? It's gone, merged into a publication group that, in turn, also folded, leaving only dated Web references and media coverage of its demise.
But Global Traveler is still standing — and expanding — providing need-to-know information about the travel industry and how changes, advances and landmark initiatives play out in the lives of our world-wise and well-traveled readers.
Issue by issue, we've covered some of the most stunning landmarks in travel innovation. From the debut of superjumbo jets, the introduction of in-flight residences and designated butler service at 5-star hotels to increased parity for women business travelers, smartphone technology that simplifies the travel experience and global initiatives to decrease the environmental impact of travel, we've traced the evolution of luxury business travel in the 21st century.
TECHNOLOGY-ENHANCED TRAVEL is a major benchmark in a comparison between then and now. Showcasing how young executives juggled family responsibilities and business travel, the cover of our debut issue in February 2004 featured a young and very pregnant female business traveler calling home from her hotel room.
What's wrong with this picture? Absolutely nothing — unless, like viewing those quirky "can-you-see-it" photos circulating via social media these days, you zoom in for a close-up. The beaming young woman is conversing via her hotel room landline.
When was the last time you made a call, other than to order room service, from a hotel room phone?
Fast-forward to 2015, and a cellphone is so much more than a communication device.
"The mobile boarding pass has had a great impact on how I travel," said Katie Skrzek, digital media manager, Global Traveler. "I appreciate the convenience of being able to show my phone to airport staff rather than finding a printer or waiting in line to print the pass at the airport."
True: If you play your cards right and effectively utilize available technology, waiting in line is just oh-so-20th-century.
Asked to name the biggest difference between business travel circa 2004 and now, frequent business traveler Sue Castorino cited do-it-yourself options. "Hands down, it's traveler autonomy," said Castorino, president, The Speaking Specialist and a member of Global Traveler's Globility Board. "We can book our flights and compare schedules, prices and more online to do exactly what we want, when we want.
"We can choose our seats and make seat changes right up until boarding — how cool is it to see the chart? — print our boarding passes or mobile passes, check upgrades and standbys, all without bugging the gate agent."
Technology today even makes it possible to get an up-close look at a destination you've never seen in person — often right up to the front door of the hotel or rental home you're booking. A few years ago while planning a vacation, I considered renting a property in Provence. I plugged the listed address into Google Earth and cyber-navigated right down the street of a tiny village in Luberon to take a 3-D look at the house.
Globility Board member Eric Ludwig, vice president, JPMorganChase Global Network Services, cites similar experiences.
"The biggest change in 11 years is the ability to do so much more online, from research to booking rooms and flights to checking in," said Ludwig. "Sites like SeatGuru and TripAdvisor have been invaluable. Even the satellite view from Google Maps helps me make decisions."
FORGET PINK SLIPPERS and low-calorie room service options. Women who travel for business have spoken: The best way to keep us happy and to cultivate long-term relationships is to give us the same respect and deferential treatment afforded our male counterparts.
Asked to name her all-time favorite Global Traveler article, longtime GT associate and, need I say, very frequent business traveler Olivia Falcione didn't hesitate:
"The 'What Women Want' feature from our August 2014 issue," said Falcione, advertising manager, Global Traveler. "As a female in business travel, it was refreshing to read more about other women in the industry, their needs, preferences and tips for traveling on business at ease."
Donna Childs, a charter member of Global Traveler's Globility Board, shared her insights as a female business traveler.
"Of all of the changes in the travel industry over the past 150 issues of the magazine, the one that has made the most impact on me is the improved treatment of women business travelers," said Childs, founder and CEO, Prisere LLC and author of Prepare for the Worst, Plan for the Best: Disaster Preparedness and Recovery for Small Businesses. "I can remember a trip I took over a decade ago; and because I was wearing a St. John's knit suit (wrinkle-free and comfortable for traveling), a fellow passenger assumed that the reason I was in the first-class cabin was because I must be a flight attendant.
"It is much, much better now," added Childs. "Hotels are more aware of the security concerns of women travelers. Airlines are just as likely to offer upgrades to women passengers as to men. The equalization of treatment improves the travel experience for everyone."
EVEN UPGRADES have been upgraded, offering potential access to first- and business-class cabins featuring comforts and amenities that were the stuff of dreams when Global Traveler debuted.
In early 2004, I flew from Los Angeles to Brisbane in the first-class cabin of a Qantas Boeing 747. Seated on the upper deck of the iconic aircraft, I reveled in the luxury of my comfortable lounger-like seat. I reclined to the full degree, popped up the leg rest and dozed in comfort for most of the flight.
It's almost funny in a nostalgic sort of way to look back and realize the innovations that were state-of-the-art when we produced the first issues of Global Traveler are now run-of-the-mill. These have been superseded by aircraft equipped with ambient lighting, lie-flat seats and herringbone-style configurations that enabled lie-flat-at-an-angle to become truly lie-flat. Perhaps most noteworthy? Premium-class cabins that I described in a 2011 GT Tested review of Emirates first-class accommodations as reminiscent of the fantastical genie's-bottle abode depicted in the 1960s American television series I Dream of Jeannie.
WHILE BENCHMARKS in increasingly comfortable air travel encompass innovations on all makes and models of commercial aircraft, there's no question the advent of the superjumbo jet opened the gateway to revolutionary advances that hit the tarmac at almost lightning speed.
"The increase in and popularity of the Boeing 787 Dreamliners and Airbus A380s stand out to me as a big moment and change in travel history," said Global Traveler's Olivia Falcione. "Luxury travel has been taken to another level with the onboard lounges, lie-flat beds and premium services offered on these new and luxurious aircraft."
Monique Barrett, eFlyer editor/associate editor, Global Traveler, expanded on the subject: "From cockpit to cabin, airlines around the world have set so many new industry standards in the past 11 years, ranging from Etihad Airways' new super-luxury offering, The Residence, on its Airbus A380 aircraft to United's new Boeing 787-9 Dreamliner offering unprecedented operating efficiency and comfort.
"Innovative technologies at airports such as Chicago O'Hare and Incheon are playing more significant parts in the airport journey, pioneering self-service experiences and considering all passenger needs from arrival to departure. Hotels worldwide, such as Marriott, Conrad, InterContinental and Starwood properties, provide guests with greater convenience at the touch of a button with pioneering technologies such as mobile check-in. I look forward to seeing and experiencing what comes next."
Even experienced business travelers like GT Globility Board's Sue Castorino cite breakthroughs in in-flight comfort as benchmark advances in the world of travel, not only from the consumer's point of view but also in terms of airlines maximizing the potential of comfort to optimize customer loyalty.
"Fabulously upgraded first-class suites with flat beds, comfy blankets and a wide array of entertainment options are a real wow factor — and are necessary for a veteran traveler," said Castorino.
WHEN IT COMES TO WOW, the 2008 debut of in-flight shower cabins on board Emirates' Airbus A380s is most definitely a pivotal innovation in the world of luxury business travel. Just as premium travelers were beginning to take airport lounge shower facilities for granted, the flagship carrier of the United Arab Emirates took the concept of freshening up to a whole new level, offering passengers traveling in the first-class cabin five-minute-per-person access to private shower spas.
Six years later, Etihad Airways upped the ante with the debut of The Residence, a private in-flight apartment capable of accommodating two passengers in ultimate luxury at a price that can beat the cost of a private jet charter.
For an outlay of about $20,000, The Residence accommodates two passengers in a suite comprised of a sitting area, a full shower and a separate bedroom. But that's not all: The experience includes a designated onboard butler trained at London's legendary Savoy Butler Academy and an in-flight chef on call to prepare an assortment of gourmet dining options or, with advance notice, the guests' favorite dishes.
OUR PARTNERS count among our most loyal fans.
"As a long-time supporter, we've found Global Traveler to be a premier source of the latest travel news and trends," said Vibhat Nair, general manager, JPMorgan Chase. "We are humbled to have been recognized with awards for the Marriott Rewards Credit Card from Chase."
"Programs like our 2014 photo contest partnership are proof that working with Global Traveler expands Tamron's reach to very qualified photo enthusiasts," said Stacie Errera, chief marketing officer, Tamron. "The quality and creativity we saw in the images entered by hundreds of readers who travel the world was fantastic.
"GT's integrated programs, like social media-sponsored posts, have boosted Tamron's own social followings, allowing Tamron to now connect with GT readers in numerous ways, including print, online and social media, to optimize Tamron's photo educational initiatives at events and online. It's a great partnership."
Alitalia's Maria Sacconi gave a nod to Global Traveler's unrivaled reach when it comes to targeting luxury business travelers.
"This important milestone reaffirms your commitment to delivering valuable and current information about luxury travel to the most discerning frequent business and luxury travelers," said Sacconi, vice president regional manager North America, Alitalia. "We are proud of our longstanding and valued relationship and look forward to continuing our partnership for many years to come."
So with a nod to our past and a salute to our future, we invite you to join our journey. Cheers to 150 as we look forward to our next landmark moment.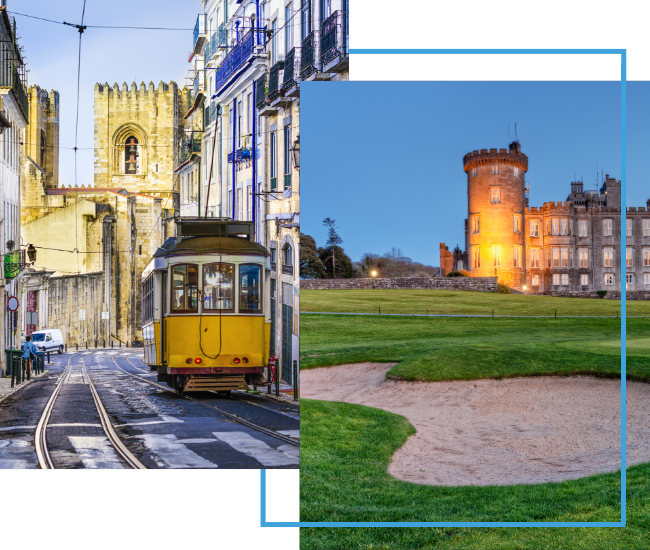 FX Excursions
FX Excursions offers the chance for once-in-a-lifetime experiences in destinations around the world.
Explore Excursions
If fabulous food and beverages are a must-have for any weekend getaway, then look no further than the City of Brotherly Love. Whether your palate has a penchant for vibrant Latin American fare or cozy French cuisine, whether you're an oenophile looking to swirl, sniff and sip your way around the globe or you'd rather sample farm-to-glass cocktails, Philly's got it all this fall. (With the exception of Bolo, which is a short taxi or Uber ride away and definitely worth the trip, the rest of these spots are all within walking distance of each other.)
Sponsored Content
In an increasingly digital and interconnected world, the Global Business Travel Association (GBTA) Convention remains an indispensable platform for business travel industry professionals seeking to make the most of the power of face-to-face connections. Taking place August 13–15 in Dallas, the 2023 GBTA Convention provides the unique opportunity for professionals and companies to join visionaries, thought leaders and industry experts for meaningful networking, cutting-edge insights and inspiring innovation.
From Santoríni to Dubai to New York, some hotels just have that "it" factor that draws visitors far and wide. For some hotels it's their proximity to popular landmarks and attractions, for others it's their amenities. But these hotels have something few can claim: a true room with a view.