I have found time and again Delta Air Lines' economy-class service is one of the most consistent in terms of comfort, cleanliness and staffing — all critical for any flight more than two hours. This is what prompted me to spend a little extra on its Comfort Class when Viking Cruises' agent booked my return on Delta rather than Air France.
The drawback with flying Delta's economy or Comfort+ out of Paris is the CDG terminal serving the airline at the time was not representative of its much-hyped luxury shopping and dining experience. After connecting from Budapest (BUD), it took about an hour to get to that terminal via shuttle. The terminal was freezing, with an uninteresting assortment of routine souvenir shops, grab-and-go eateries and one sit-down place with rude management and weird hours.
However, from the moment I boarded the Los Angeles-bound flight, I was richly rewarded with an environment shouting "business class lite." Although the seats themselves weren't arrayed in a semi-private "pod" format now commonplace in business cabins, the arrangement of space reminded me a lot of old-school business class with roomier seats, good legroom and nicely presented cotton sleeping linens and amenity kits. A bright, cheerful flight attendant immediately figured out I had an injured leg. Minutes after reaching 30,000 feet, she returned to my seat with pillows to support my leg during the 12-hour flight and, from there, regularly checked on me.
The food service was "business class," down to ceramic plates, metal cutlery, fabric linens, restaurant-like multicourse presentations and generous portions, along with crisp baguettes, and a wine selection in keeping with a French sensibility. I emerged in Los Angeles refreshed and feeling like my extra investment was money well spent. Six weeks later, when I returned to Europe on a roundtrip from New York City to Milan, I gamely invested in an upgrade for the international part of the flights.
Given the shorter distance between Milan and New York, the upgrade cost on the JFK–MPX flights was lower. However, the Comfort+ on this route was a different breed and, perhaps, a little less pedigreed. On the flight home, the Comfort+ section did not seem separate from the economy section. The flight attendants were accommodating and pleasant, but not as warm as the CDG–LAX crew. The food service, meanwhile, fell squarely in between economy and business in presentation and execution, though there were clever Italian touches, including a welcome Bellini cocktail.
The sturdy plastic trays used at mealtime had arty, irregular shapes and the cutlery packaging rolled out into a full-sized placemat. The dishes served were served in utilitarian packaging, but ended up being pleasantly flavorful and fresh tasting. In other words, the Milan service was fast casual bistro in comparison to Paris' white tablecloth dining.
However, several aspects of the Comfort+ proposition were in place, justifying payment for the upgrade: early boarding, amenity kits and easy access to flight attendants. I napped well, ate well and worked comfortably. However, what separates Comfort+ from standard economy was less pronounced on the full flight returning to JFK than it was en route to Italy.
Many of Delta's strengths as a domestic carrier translate to its international flights to and from European destinations. However, the Comfort+ experience will vary based on where in Europe you fly to or from and how long the flight is. The commitment to passenger comfort in this category, nevertheless, seems pretty solid. It will be interesting to see how the product develops over time and how it will play out on flights to other parts of the globe.
Delta's business lounges at JFK are undergoing renovation, and were not yet completed during my experience. The T2 lounge in particular promises to bring back the exclusivity and excitement of high-end travel of a half century ago with new additions such as a sky lounge, mid-century chic décor and a major upgrade on the fresh food offerings. When I checked in to the lounge en route to Italy and back to Los Angeles, the staff members were apologetic about the offerings consisting of cold sandwiches, chips and sweets. However, there was a good selection of decent-sized, fresh sandwiches and salads for both omnivores and vegetarians, as well as a Starbucks espresso machine, spotless bar area and cold, health-oriented welcome drinks served by the crew at the top of the escalator. These amenities can only make lounge regulars excited for what is on the horizon.
Delta Air Lines
Delta Comfort+ Class
Paris (CDG) to Los Angeles (LAX)
New York City (JFK) to Milan (MPX)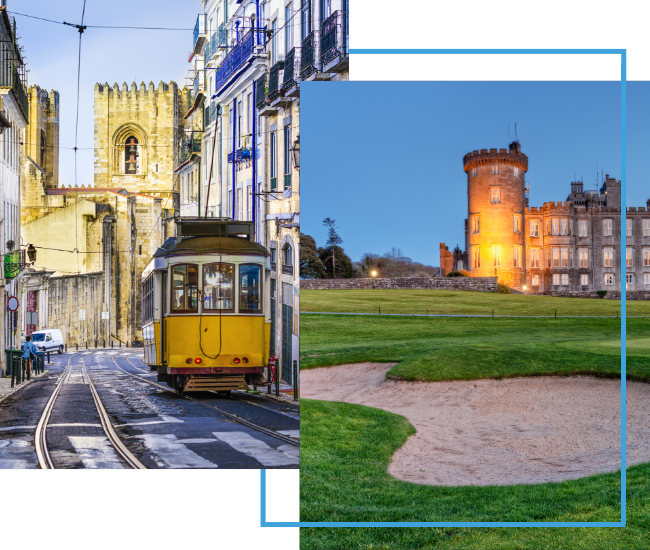 FX Excursions
FX Excursions offers the chance for once-in-a-lifetime experiences in destinations around the world.
Explore Excursions
More than 22 million visitors pour into Bangkok each year, adding to the roughly 11 million residents of the Thai capital famous for its bustling streets. Packed with food carts, markets and cultural spectacles, life in Bangkok is unusually defined by its vibrant street scene, both day and night. That means you don't necessarily need a solid plan when heading out on any given evening.
Sponsored Content
One affordable plan can protect an entire year of trips: business or pleasure, short or long, domestic or international.
As first-time restaurateurs, but with plenty of hospitality-related experience, Ria and Kevol (Kev) Graham were not entirely comfortable opening their first restaurant in the Brooklyn neighborhood of Williamsburg, where several upscale restaurants and 5-star hotel dining is just a block away. And to make matters worse, they opened in July 2020, when New York City was in the middle of the COVID-19 pandemic.