Lovely Brussels, with its soaring spires, charming passageways and landscaped parks, had quite modest beginnings. Back in the year 580, when the Senne still flowed freely through the Belgian landscape, settlers established a small village and erected a chapel on an unassuming island within the river, surrounded by marshland. (In fact, the name Brussels, derived from Old Dutch, essentially translates to "home in the marsh.") Bolstered by its proximity to other riverside cities — Brugge, Ghent and Cologne — commerce increased at a steady rate, and the marshes were gradually drained to accommodate 12th-century urban sprawl.
Later, during the 1300s, walls went up around the city. By the late 1800s, these structures had been largely dismantled and replaced with roads and avenues. The old part of the city, laid out as a well-defined pentagon, is now marked by a ring road, and very little of the original wall remains. The most notable surviving memento is one of the original seven colossal city gates, the magnificent Porte de Hal (Halle Gate), located on Boulevard du Midi.
An 1830 performance of Auber's La Muette de Portici at the Théatre Royal de la Monnaie opera house (www.lamonnaie.be) is historically credited for kicking off the Belgian revolution. This event resulted in the eventual formation of the Kingdom of Belgium, the naming of Leopold I as the new monarch, and the separation of the largely French-speaking Catholic population in the south from the rule of the Dutch King William in the north. A few years later, during a conference in London, Europe's major players officially recognized the country's independence. Today, French and Dutch are the official languages, and public signs are usually presented in both.
Headquarters for NATO and recognized as the center of the European Union, Belgium's capital city is situated within the Brussels-Capital Region (one of three federated regions within the country) and divided into 19 politically separate municipalities. The flourishing urban center offers an exhilarating mix of art, history, culture and cuisine. The birthplace of actress Audrey Hepburn, Brussels also lays claim to Agatha Christie's brilliant and fussy detective, Hercule Poirot, who began his illustrious, albeit fictional, career as a member of the city's police force — and who grew famously impatient with anyone who dared to mistake him for a Frenchman.
Brussels has decreed 2009 as the official year of the comic strip. The Belgian Comic Strip Center (20 Rue des Sables, www.comicscenter.net/en/home) features permanent and special exhibits celebrating all things related to the art of the comic strip. Space is dedicated to the creation by artist Hergé of beloved comic book hero Tintin, the Belgian newspaper boy-reporter who, with his faithful canine sidekick, Snowy, solves mysteries and embarks on numerous adventures.
The Musée Magritte Museum (3 Rue de la Régence, tel 32 2 508 32 11, www.musee-magritte-museum.be), opened in June, pays tribute to the droll mind of surrealist artist René Magritte. In addition to paintings and other works, the collection includes photographs, texts and interviews housed on five separately themed floors.
Brussels is quite serious — and equally sophisticated — about its cuisine. The most important thing to know about Belgian waffles (gauffres to the locals) is that they come in two versions: the Brussels and the Liege. In pâtisseries and cafés throughout Brussels, you'll find rectangular waffles with a honey-brown exterior and plenty of deep nooks and crannies to hold strawberries, confectioner's sugar or your favorite toppings. The Liege style — denser, crisper and sweeter — is offered by street vendors. Themed culinary tours of the city can be arranged through Vizit (tel 32 9 233 76 89, www.vizit.be).
Other local options include moules frites (mussels with fries) and luscious, handmade chocolates (look for labels from chocolatiers Wittamer, Leonidas, Neuhaus and Mary). There are many excellent beers, including Lambic, a Brussels-brewed style produced from local yeasts.
One popular type of Lambic beer is kriek, fermented with sour cherries. There's no scarcity of pubs and cafés — the real challenge is to decide which establishment has the terrace with the best view for watching the bustle of Brussels while you sip.
---
INFO TO GO
Brussels is served by Brussels Airport (BRU). Rentals and taxis are available at the airport, but since traffic moves uncomfortably fast and parking is at a premium, the better option is the train shuttle (abut $4) departing for the city center every 20 minutes. Visit www.visitflanders.us or www.visitbelgium.com.
---
LODGING
COMFORT ART HOTEL SIRU
Themed floors and 101 guestrooms are decorated with contemporary Belgian art and poetry. Located on the expansive pedestrian mall. $$$
COMFORT ART HOTEL SIRU
1 Place Rogier
tel 32 2 203 35 80
www.comforthotelsiru.com
LE DIXSEPTIÈME
This luxurious palatial structure in the historic area, restored during the 17th century, has suites named for Belgian artists. $$$
LE DIXSEPTIÈME
25 Rue de la Madeleine
tel 32 2 517 17 17
www.ledixseptieme.be
THE DOMINICAN
Opened in 2008, this eclectic and elegant property sits behind the city's celebrated theater and opera house. $$$$
THE DOMINICAN
9 Rue Léopold
tel 32 2 203 08 08
www.thedominican.be
---
DINING
COMME CHEZ SOI
A Brussels classic, boasting two Michelin stars and seasonal menus. Closed Wednesdays for lunch, all day Sundays and Mondays.
COMME CHEZ SOI
23 Place Rouppe
tel 32 2 512 29 21
www.commechezsoi.be
LA MARÉE
Friendly, relaxed ambience with a wide selection of fresh seafood. Located just behind the fish market at Metro Sainte-Catherine. Closed Sundays and Mondays. $$$
LA MARÉE
99 Rue de Flandre
tel 32 2 511 00 40
www.lamaree-sa.com
ROTISSERIE VINCENT
Kitschy seafaring décor but a good menu of Belgian fare, including generous beef dishes and moules et frites. $$$
ROTISSERIE VINCENT
8–10 Rue des Dominicains
tel 32 2 511 26 07
---
DIVERSIONS
Deemed a UNESCO World Heritage site, the central marketplace — La Grand-Place (or Grote Markt) — reflects a stunning amalgamation of the various architectural styles that define the city. The fabulously ornate Le Cornet (6 La Grand-Place), built in Italian-Flemish style, is a testament to nautical motifs, from the anchors and rigging in the façade to the angular pediment, designed to suggest the aft deck of a ship. Le Cygne (9 La Grand-Place), which owes its name — The Swan — to the carving above the entrance, was once the setting for meetings hosted by Karl Marx and is where he reputedly penned The Communist Manifesto.
Just off La Grand-Place, the city's infamous bronze fountain, Manneken Pis (known in French as Petit Julien), the figure of a young boy in the process of urinating, draws legions of camera-toting tourists. Perhaps more fascinating than the many legends surrounding his presence here — or the fact that this small statue has become symbolic of Brussels — is the Manneken-Pis Costume Collection, located in the neo-Gothic La Maison du Roi (tel 32 2 279 43 50), a display of the 700-plus outfits that have been fashioned over the years expressly to cover the statue's naked exterior. La Maison du Roi (the King's House) is l ocated opposite the impressively Gothic Hotel de Ville (Town Hall), home to the city's historical museum (tel 32 2 279 43 50).
You can't visit the king (unless you've been invited), but you can visit the Palais Royal (tel 32 2 551 20 20) overlooking Brussels Park during summer months. Get in tune with the city at the Musée des Instruments de Musique (2 Rue Montagne de la Cour, tel 32 2 545 01 30), with more than 7,000 pieces on exhibit. View national treasures, including works by Brueghel and Rubens, at the Musées Royaux des Beaux-Arts (tel 32 2 508 32 11, www.fine-arts-museum.be). Note that most museums, some restaurants and public attractions in Brussels are closed on Mondays.
One of Europe's most beautiful churches, Cathédrale des Saints Michel et Gudule (www.cathedralestmichel.be) is a golden-colored Gothic masterpiece, still used for royal weddings. Brussels is known for its mansions, and one of the more interesting is Musée Horta (tel 32 2 543 04 90, www.hortamuseum.be), once home to Art Nouveau pioneer and architect Victor Horta.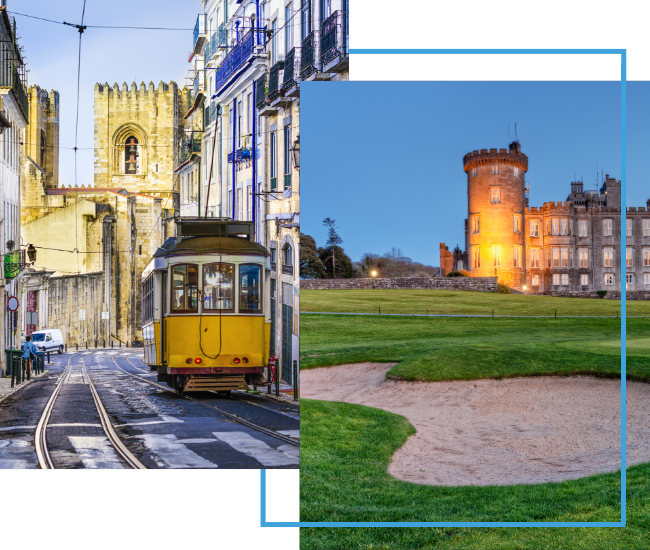 FX Excursions
FX Excursions offers the chance for once-in-a-lifetime experiences in destinations around the world.
Explore Excursions
Mazatlán, Mexico, has long been an attractive home destination for Canadian and American retirees, but, in recent years, young, digital nomads have also discovered the charms of this coastal city, finding inexpensive accommodations, beautiful weather and plenty of bandwidth for working remotely. The laid-back beach scene definitely eases the transition of relocating to Mexico's West Coast.
Sponsored Content
Learning more about our readers' travel habits and preferences ensures Global Traveler delivers the content you desire. As the travel industry has adapted and changed over the last few years, it's more important than ever to connect. To best meet your short- and long-term travel content needs, please help us!
For its third year, Global Traveler awards the airline, cruise line and hotel brand best representing diversity, equity and inclusion within the travel industry. Over the past year Global Traveler analyzed many airlines, cruise lines and hotel brands to determine which companies prove most committed to changing the world through diversity and inclusion.