Bogotá: Brick By Brick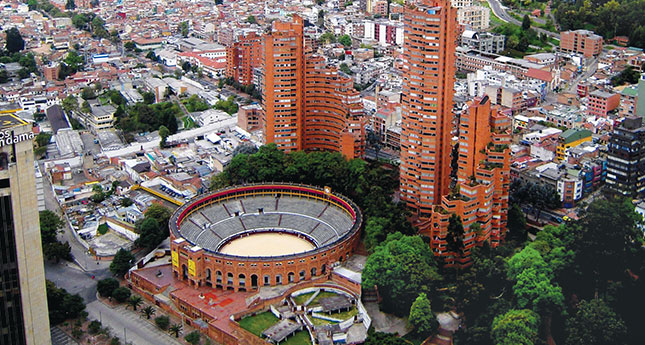 By
Richard McColl
- November 1, 2010
Prepare to have the air knocked out of you as you exit the plane in Bogotá. Colombia's cosmopolitan and breezy capital city stretches from east to west along a high Andean plateau at an altitude of 8,530 feet.
But even before you land, the city will take your breath away. On the final descent into Bogotá, flights dip down over the páramo of the Andean highlands, an area that is still largely agricultural. Dairy cattle graze nonchalantly all about, and greenhouses that produce bundles of cut flowers for the international market — roses and carnations in particular — reflect the sun in a blinding glare. Then, as if from nowhere, the sprawl of a chaotically industrialized city appears with its disorderly tangle of buildings, high and low, declaring the Bogotanos' love affair with the brick.
It was the noted Colombian architect Rogelio Salmona who was responsible for much of this contemporary fad of employing the ruddy brick in design and urban landscapes. His recently completed Gabriel García Márquez Cultural Center — his last project before his death in 2007 — offers a smooth, curved contrast, seemingly lacking corners, to the capital's antiquated colonial Candelaria district.
Salmona is also recognized for his efforts to humanize and rescue formerly downtrodden areas of the city center, in particular Avenida Jiménez with its Environmental Axis (Eje Ambiental) that incorporates some of the city's ancient rivers into pleasant tree-lined pedestrian areas. But perhaps even more striking is his Torres del Parque residential complex, a defining element of Bogotá's cityscape. Designed to follow the line of the city's eastern mountains, the two apartment towers reach skyward as if signaling a new beginning for a city once strafed by violence and the catastrophe of 1948's Bogotazo riots.
While much of the business crowd and their offices have relocated to the north of the city into more salubrious neighborhoods such as the high-rent districts of Quinta Camacho and Rosales, Torres del Parque is situated in the once bohemian yet still edgy barrio of La Macarena, opposite the one-time hub of international commerce, the Centro Internacional Tequendama.
Just a few years ago, the idea of a foreigner taking a stroll through this barrio would have drawn surprised looks from locals, but now La Macarena's about-face, equal only to that of Bogotá itself, has become international news. Independent restaurants, curious shops and boutiques have sprung up, making the neighborhood a destination that differs from the habitual attractions of the world-class Museo del Oro and the austere and imposing Plaza de Bolívar downtown.
It is this wealth of culture and architecture, both contemporary and colonial, that allows visitors to understand the pride Bogotanos justifiably exude when discussing their city. But despite fantastic cultural phenomena such as the yearly Bogotá International Book Fair (with almost 400,000 visitors in 2010) and the biannual Ibero-American Theater Festival (next held in 2012), the international emphasis is often predictably placed on the topic of security.
It is for this reason that Bogotá — a city that feels more village-like with its small barrios, rural settings and pine-clustered hillsides — is constantly attempting to repackage and resell itself to the international crowd. The city's gastronomical offerings, nothing short of spectacular, have been carefully packaged into zones: Zona G for gourmet in Rosales, Zona C for the Candelaria and Zona T for the traditional nightlife district. And in terms of hotels, international chains are returning once again with Radisson, Hilton and Marriott leading the charge. Of course, there's the continual problem that occurs with rapidly expanding cities, that of transport.
Bogotá's fleet of unseemly and terrifying buses careen through narrow streets, passing at breakneck speeds, defying any lane laws and spewing out low-grade fuel fumes. This is not to say that taxis are a great improvement, and the local and national politicians continue to debate the benefits of a metro in addition to the flawed TransMilenio bus system already in place. A metro would appear to offer some respite, and the hope is that when or if this happens, Bogotanos will channel some of their well-educated and cultured nature into caring for it.
Much has been made of Bogotá as a bike-friendly destination, and while there are miles upon miles of designated bike lanes — a project planned and executed by former city mayor and one-time presidential hopeful Antanas Mockus — you are advised to stick to two options. The first is to rent a bicycle and head out on the city's Sunday-morning ciclovía, where many of the main thoroughfares are closed to traffic and opened to cyclists, joggers, skaters and dog-walkers. Or sign up for American expat/journalist Mike Caesar's guided Bogotá Bike Tours for a warts-and-all insight into the city and its attractions.
For the time being, though, Bogotá continues to blossom culturally. Well-patronized libraries, fine universities and international businesses are making this city a hub, all accompanied by a hearty local specialty of ajiaco soup to stave off the chill that blows along this Andean cordillera. Bogotá is a business city rapidly embracing its newfound status as a destination that can draw in the tourism dollars — beguiling with regal accommodations, fine dining and a savage yet compelling history.
---
Diversions
It is said that you could spend a year in Bogotá and never repeat the same evening out on the town, there are so many options. The most bubbling location presently in Zona Rosa is the new Andres Carne de Res (Calle 82 No. 12-21, tel 57 1 863 7880), essentially a kitschy and uniquely Colombian steakhouse that morphs into a nightclub later on. Sing along with the actors, enjoy the artwork and dance the night away. If something a little more staid is to your liking, head eight blocks north of Zona Rosa to the Parque de la 93 (Calles 93A–93B between Carreras 11A and 13), which is ringed with quality eateries.
To whet your cultural appetite, explore Bogotá's rich variety of museums. The Museo del Oro (Calle 16 No. 5-42, tel 57 1 343 1424, http://www.banrep.gov.co/museo) in the colonial Candelaria district displays the biggest selection of pre-Hispanic gold work in the world. The Museo Arqueológico (Carrera 6 No. 7-43) houses a collection of pre-Columbian ceramics, and the Museo de Arte Colonial (Carrera 6 No. 9-77, tel 57 1 286 6768) exhibits works dating back to the colonial period. While in La Candelaria, experience for yourself the fluid architecture of the Gabriel García Márquez Cultural Center (Calle 11 No. 5-60), which features art exhibits, cafés, retail shops and outdoor terraces in addition to a vast library of Spanish-language books.
---
Lodging
Charleston Casa Medina
Located in desirable and leafy Rosales within walking distance of a dozen world-class restaurants, Casa Medina offers modern guestrooms in an atmospheric setting. Carrera 7 No. 69 A-22, tel 57 1 217 0288, $$$$
Hotel Casa de la Botica
This colonial house near Plaza de Bolívar features 10 beautifully restored and modernly equipped suites surrounded by gardens and courtyards. Calle 9 No. 6-45, La Candelaria, tel 57 1 281 0811 $$$
Hotel de La Ópera
The hotel, set among La Candelaria's cultural and historic landmarks, features stylish guestrooms; the spa and dining options are a pleasant surprise. Calle 10 No. 5-72, La Candelaria, tel 57 1 336 2066, $$$
---
Dining
Criterión
The Rausch brothers preside over Bogotá's (if not Colombia's) best French restaurant. Try the ample sample platter and tasting menu of five wines. Calle 69A No. 5-75, Zona G, tel 57 1 310 1377, $$$$
La Esquina
An unpretentious locale gives way to the wonders of Colombia's seafood, which heralds from both coasts. Carrera 4A No. 26 A-04, La Macarena, tel 57 1 283 8685 $$$
Leo Cocina y Cava
In a stylish and elegant space, Chef Leonor Espinosa excels at sourcing Colombian specialties; don't miss the sea bass in plantain leaves. Calle 27B No. 6-75, La Macarena, tel 57 1 286 7091